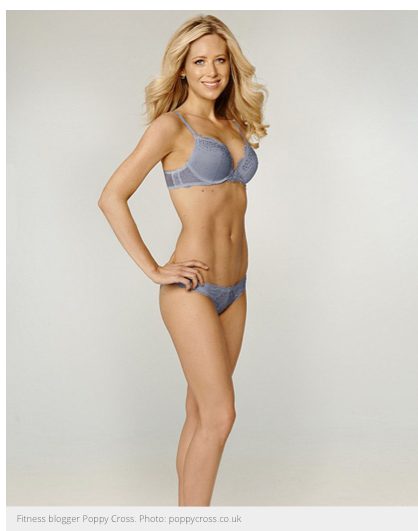 Poppy's Secret is out now on iTunes and Amazon Kindle! Download now to follow my 12-week fitness plan that got me the body of a Victoria's Secret catwalk model (statistically any way!) as seen in The Daily Mail.
I've always loved health and fitness and recently obtained my level 3 Personal Training qualification from YMCA via Train Fitness. I love writing about health and fitness and you can find my work in  The Mail on Sunday, You magazine, Tatler, Health & Fitness mag, Psychologies and The Evening Standard. I've consulted for premium lifestyle and wellness brands and have recently started a new role presenting a very exciting project that I can't wait to tell you about as soon as I can!
My work allows me to access  the best doctors, nutritionists, personal trainers, fitness establishments, member's clubs, detox spa's and beauty practitioners across the globe and I'll always give my honest opinion on what's hot and what's not.  I'm driven by facts not fads so just because something may be "trending" doesn't necessarily mean it's worth your time and investment. Needless to say, I'll only write about companies/individuals whom I trust and rate highly – no exceptions.
I hope to inspire you to live a healthy, happy life – whatever that means to you. Everybody is different and what's right for one person may not be right for another. So I invite you to be smart (i.e. don't believe everything you read about 'miracle' diets with no evidence but do take note of scientific guidance)  and constantly strive to improve your health – whether that means exercising more often, trying new workouts, eating better, taking time to slow down and de-stress, getting more sleep, drinking more water – do whatever you need to do to be the best possible you! Please do share your triumphs as well as your struggles with me and let's create a positive, motivational platform to inspire and encourage each other to be the best versions of ourselves.
Poppy x
Poppy is available for PT sessions, freelance commissions and personal/corporate consultations. Please get in touch – poppy.cross.co.uk@gmail.com