A couple of months ago I returned to London after racing in Riga with some sore muscles. Nothing serious but enough to make me take a step back, significantly reduce the mileage and concentrate mostly on building strength before beginning the next phase of my training. I'm committed to ensuring my legs stay strong so I can nail all the trails and set some super challenges!
Yet, it's amazing how cutting the running so significantly effected me. Running has become so integral to my life and without it I was surprised by just how much my mood and energy dropped. Perhaps this seems counterintuitive to any non-runners. You'd be forgiven for thinking that a little time-out from running and gentle strength and Pilates work could be a welcomed break. Well – not for me. Whilst I definitely don't feel I need to run every day I nearly always feel so much better for getting outside and running. It's one of my greatest passions (juuust in case you hadn't guessed…) especially when I get to run in beautiful wild environments.
After a run some people experience what's known as a "runner's high": a feeling of euphoria coupled with reduced anxiety and a lessened ability to feel pain. For decades, scientists have associated this phenomenon with an increased level in the blood of β-endorphins, opioid peptides thought to elevate mood.
It didn't help that for the first time in ages I got sick. I tried and succeeded to power through though, not wanting to miss friend's birthday's, night's out and continue working on some exciting projects. I wasn't sleeping well due to the hot summer night's and was slipping further down that slippery slope picking up speed with instant 3 in 1 Nescafe sachets (sugary milky coffee in powdered form) and quick sweet fixes in the day then a little alcohol in the evening's to give me the energy I didn't have. Unsurprisingly all this compiled (barely any running, not sleeping well, bad eating habits and modest alcohol consumption) made me feel pretty rough. Obviously the thing I needed to do was rest, eat healthily, sleep and stay sober. But instead I continued down the dark path and ended up with a fever and no voice. Well done me.
So now I had to slow everything down rest up and stop being stupid. I knew that the Nescafe 3 in 1 dairy instant coffees that I had discovered in Latvia had to go for starters and the sugary sweets. For one thing I'm vegan (except on odd celebratory occasions with friends or very occasionally I'll eat fish/seafood). The Nescafe sugary milky sachets were not the nourishment I needed. Where I was sipping caffeine, sugar and milk and snacking on sugar I should have been blending seasonal fresh fruit and vegetable smoothies or snacking on something that would properly fortify me. Although my meals were still balanced my snacking wasn't and I felt terrible. My energy was minimal and my mood had meandered from positive to pretty pessimistic. Not only was I not getting the "runners high" I've become so accustomed to but I was dampening my mood and vitality further by consuming dairy milk and sugar which is unusual for me. (The Goop podcast has recently released an episode discussing how food effects our mood with psychiatrist and professional chef Uma Naidoo which is definitely worth a listen if you're interested to learn more about the effects of food on our mood.)
It was time to get back on the healthy wagon and back to feeling good.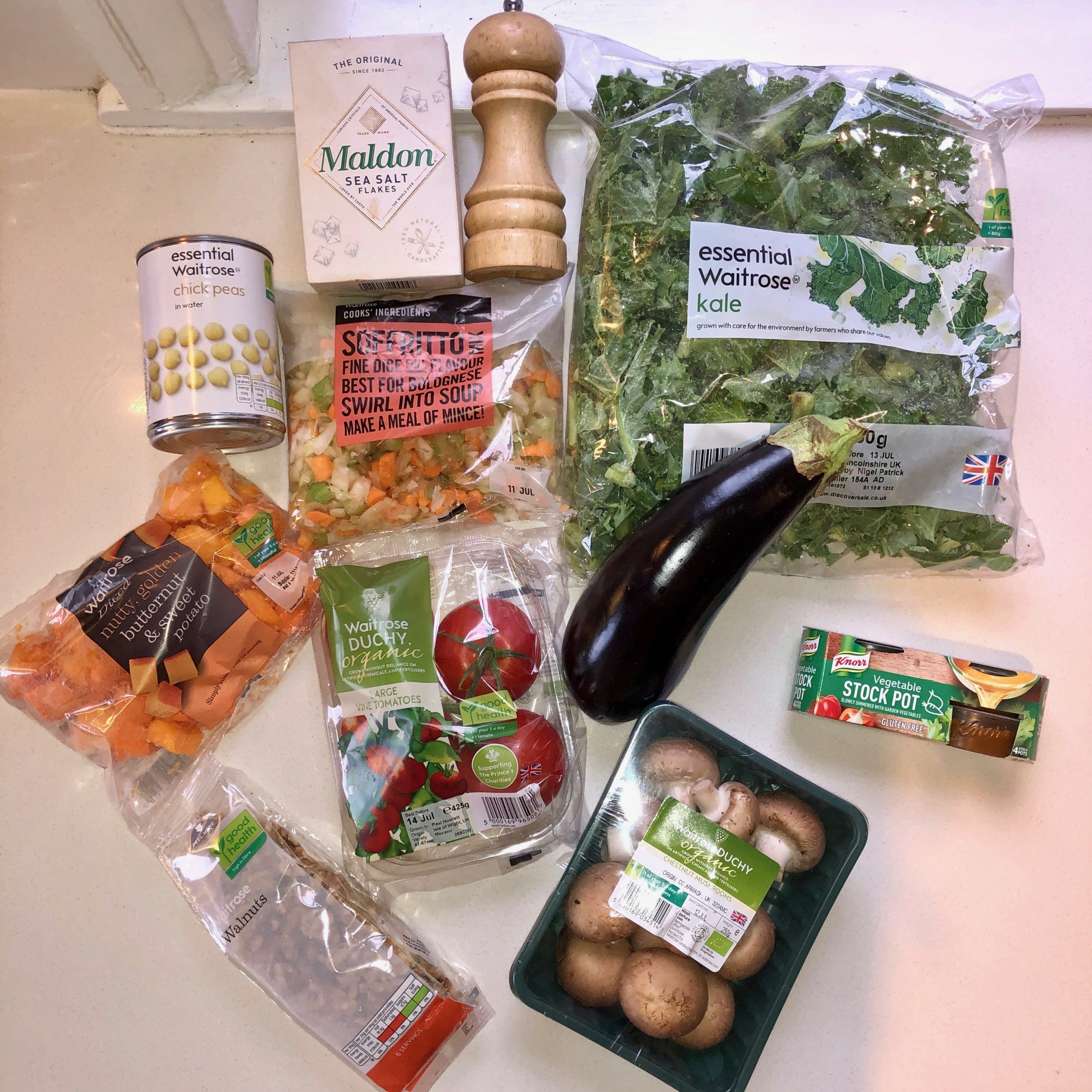 The timing of Hello Fresh's invite to road test one of it's recipes couldn't have been better. Most of the time when it comes to cooking I throw something super simple and quick together in the space of five minutes, but Hello Fresh helped remind me what pleasure I take in buying fresh wholesome ingredients and putting just a little more effort in. I chose a vegan recipe of course, the shawarma roast aubergine and chickpea, and invited one of my besties round to enjoy it with me.
The recipe was simple – no slaving over a hot stove here. Thirty minutes from when the aubergine went in the oven and everything was chopped we were both sitting down with our steaming fresh plates of goodness and having a grand old time. What's more the food made us both feel great. Light, satiating, flavoursome and energising – it was perfect.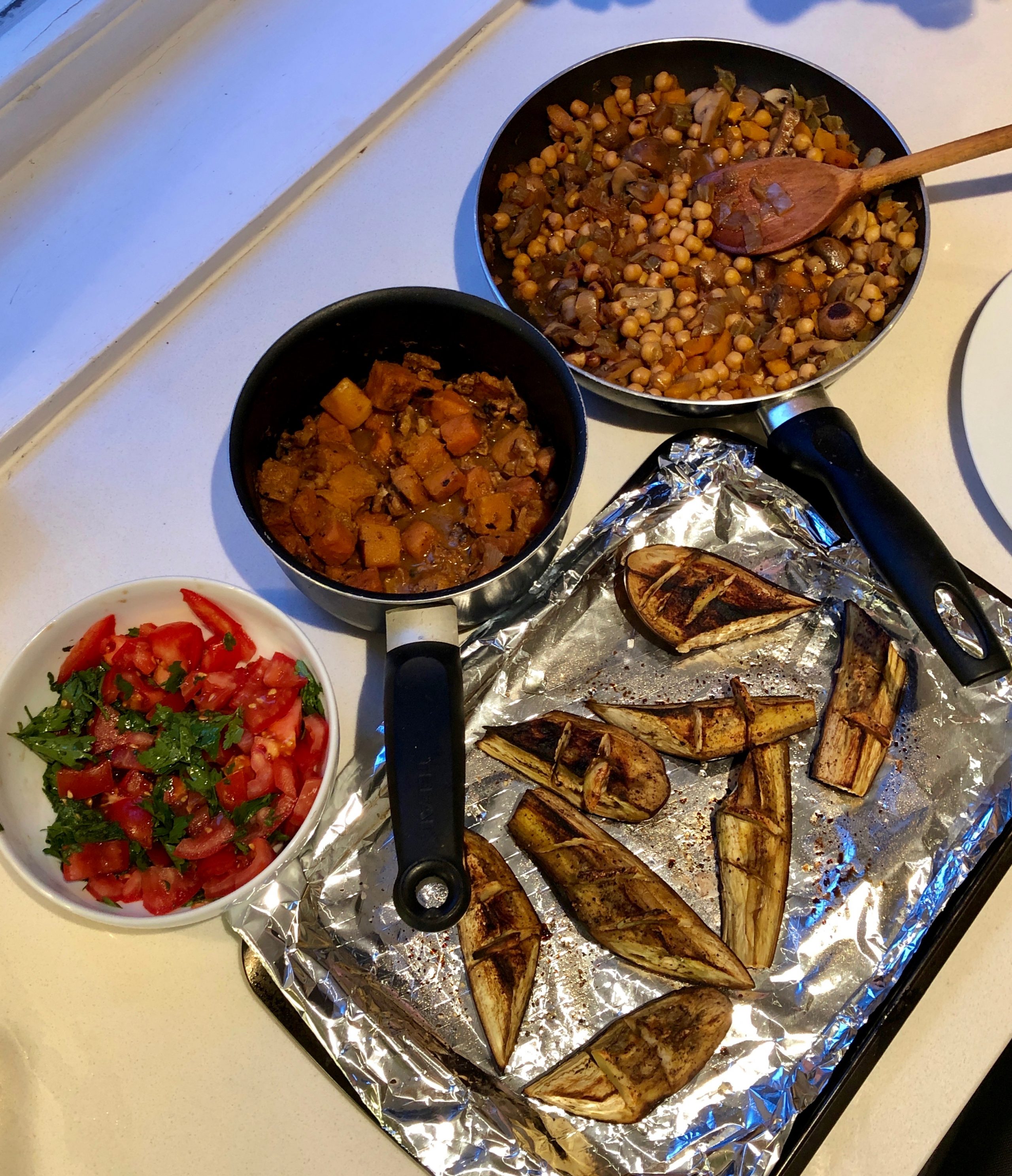 This little episode of poor eating habits compiled with the reduction in my running reminded me of just how fortunate I am to know and appreciate the value of eating well and looking after yourself. This is not to say that I believe one should never let one's hair down and enjoy treats – I'm all about moderation and living life to the full. To me though, the key word here is moderation. These "treat" times should be occasional and not frequent habits if you want to feel your best and perform at your best.
For a few moments I took my health for granted and didn't think much of how quick sugar fixes and a change in my workouts could effect my mental and physical wellbeing. I felt more anxious and lethargic and just not myself. Getting back to preparing a meal with just a little extra care and thought was really rewarding, especially with such fresh wholesome ingredients. It gave me the incentive just at the right time to quit the sugar fixes and switch to fresh, wholesome food and I instantly felt better. Now the miles are increasing again and I'm getting the best nourishment to sustain optimal performance and wellbeing.
*This post is in collaboration with Hello Fresh
Get £10 off your first delivery with HelloFresh,click here.