If you want to skip my memories of Cornwall (I can get a little carried away sometimes) and scroll straight to inspo for a nourishing and wholesome Cornish weekend please go right to paragraph 4!
Above images curtesy of Visit Cornwall
It can be easy to forgo Cornwall in favour of a firmer promise of sunshine from warmer climes but if you take a chance on Cornwall it will be in your heart forever.
From as far back as I can remember and even before then every Summer since I was born started with the family trip to Rock – a village in North Cornwall on the north-eastern bank of the River Camel. My parents would pack up the car and drive the 4-5 hours from Oxfordhsire to a little cottage by the sea near Rock. My two sisters and I would squabble and squark in the back for most of the journey and when those waves finally came into view and we'd descend the steep hill to Polzeath beach (where we "boogie boarded" aka body surfed most days of our stay) our excitement was barely containable.
Cornwall quite simply equalled happiness. I have the fondest golden memories of long, sunny days spent crab fishing, playing crazy golf, water-skiing, sailing, playing games of hide and seek in the sand dunes, smokey barbecues in the back garden, cliff-top walks, bike rides, post-surf ice creams on the beach, my father having to help push the ice cream van when it got stuck in wet sand, consuming all sorts of cool candy including Popping Candy, Fizzy Chewits and Neon Nerds and the most indulgent Cornish cream teas – think cakes, scones, flapjacks, brownie's – at my Grandpa's house. When it rained we'd still surf and swim then come back to hot showers, a feast of piping hot treats and then play hours and hours of monopoly.
In later years Rock became a bit famous. Anyone remember that programme Posh Rock? In a nutshell when I was about fourteen Rock ended up transforming into a teenage toff playground and Posh Rock documented some of the sloanes hanging out at The Mariners (the pub where we'd all pour out onto the street and do all the obvious  – drink, smoke, snog etc etc). Luckily I dodged the cringeworthy filming and a few years later much of the hype had flown the nest and Rock was restored to its charmingly Cornish refined and quaint best.
OK the distant memory lane ends here. I think you get how fond I am of Cornwall now. Let's hop to last weekend when I stayed with my amazing friend Freyja who I recently wrote about (click here to read her poignant story) at her house near Newquay.
It's a 5-hour train from London to Newquay which is about 40 minutes from the scenes of my childhood dreams, Polzeath and Rock. The ride is stunning and I revelled in the chance to be still whilst sitting warmly in a sunlit carriage that sped past country towns, glistening, sparkling rivers and seaside. September had so far been blissfully balmy maintaining a consistent temperature of about 23 degrees centigrade with bright blue sunny skies. I meditated, listened to music, penned some thoughts in my journal and started reading Mark Manson's new book "Everything is Fucked". (LOVE IT. Compelling, poignant, powerful, thought provoking, relevant… hopeful). Needless to say that when I arrived in Newquay I felt intensely chilled.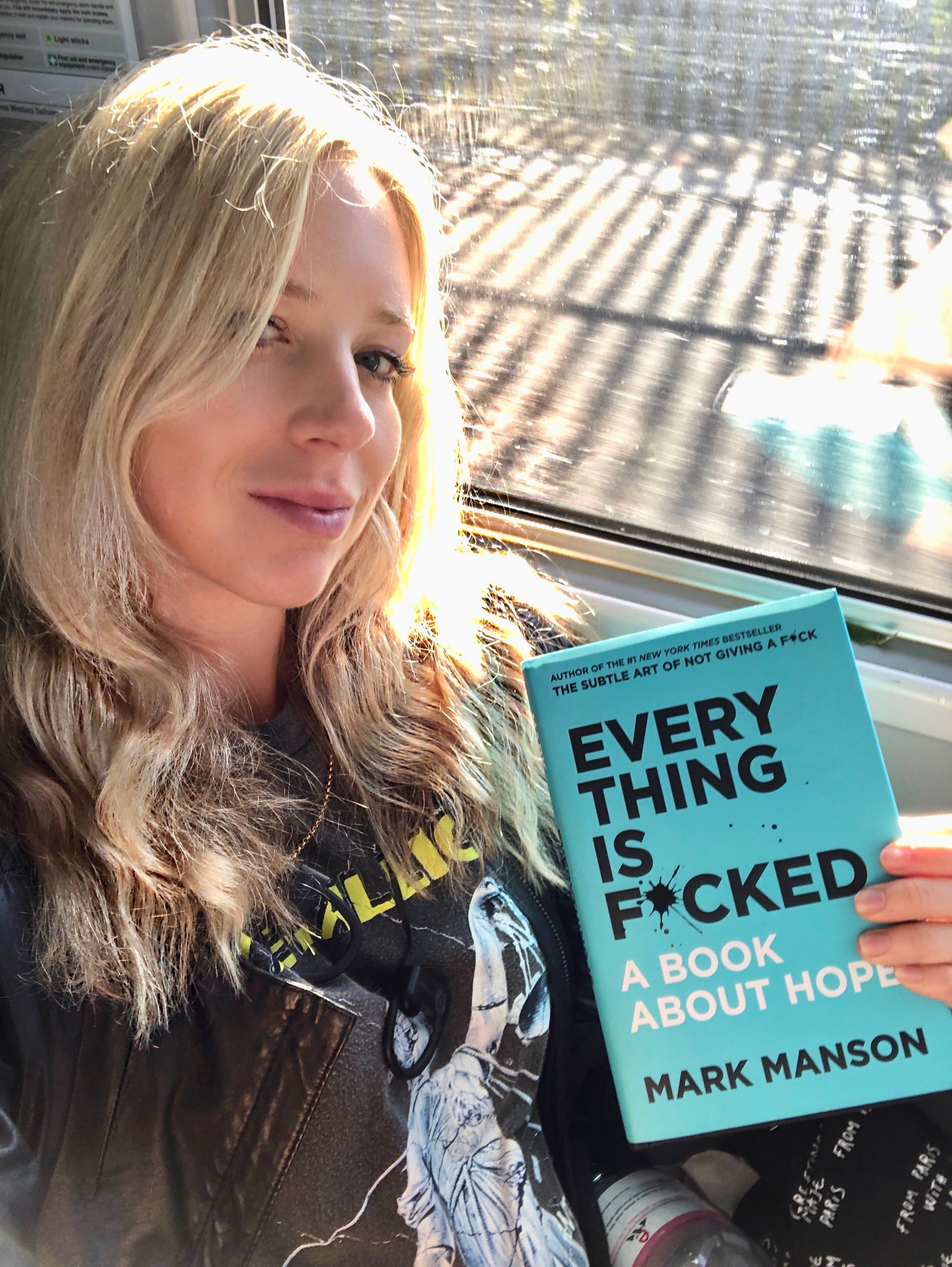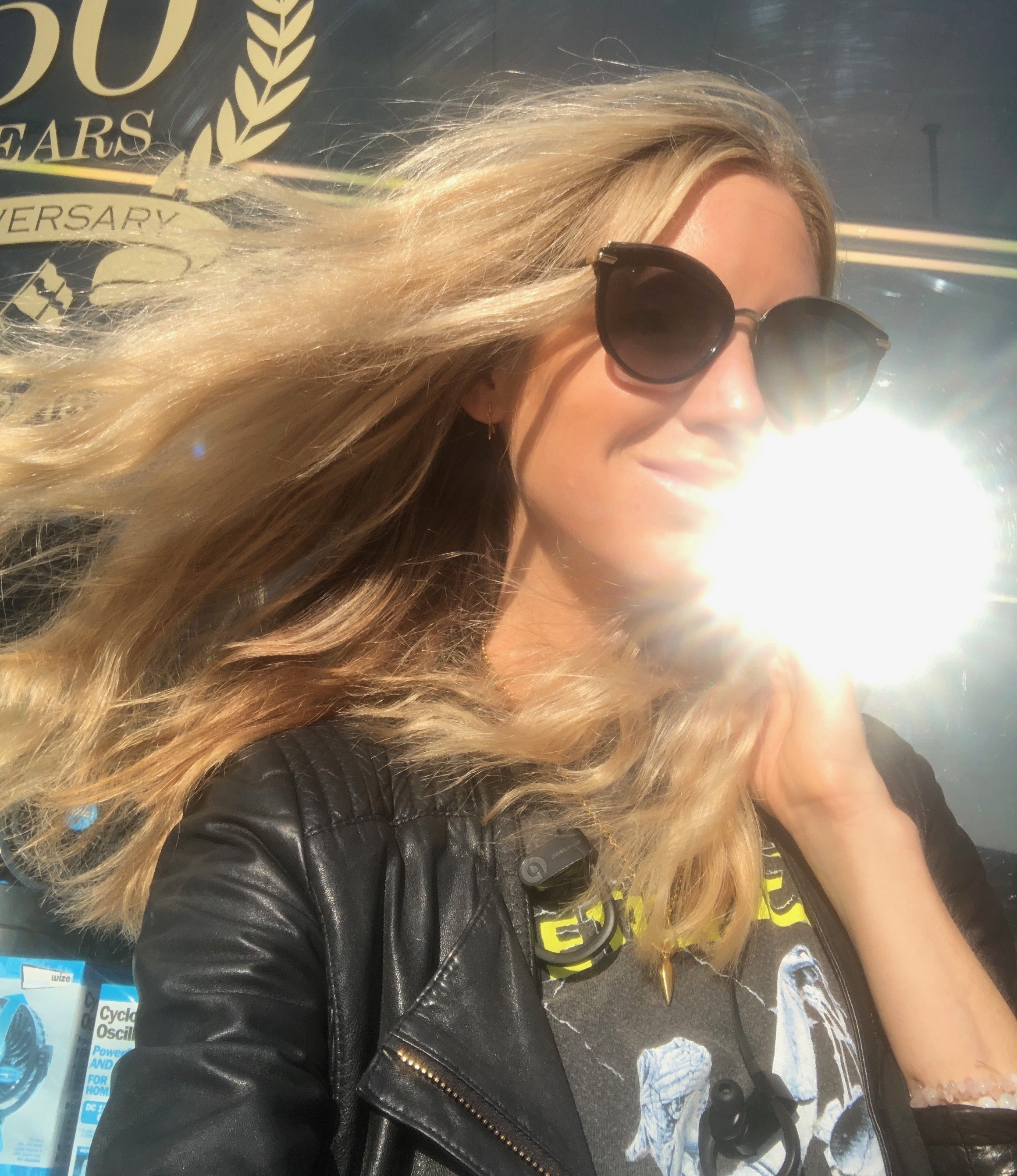 As soon as I saw Newquay's quaint coffee and surf shops I felt that familiar happy innocent beachy goodness seep and spread through me like honey. Freyja met me and we went straight for a walk on the beach beckoned by the brilliant sunshine and light breeze. I felt like I was doing life right as we laughed and larked around on the sand whilst panting dogs played in the surf.
That evening from the deck of  Watchful Mary, (a tapas restaurant) we watched a red sun sink into a shimmering sea and listened to a band sing beautiful soulful tunes. We drank wine and ate tapas and talked and laughed and it was pure perfection. Later back at Freyja's the sky was so clear you could see the Milky Way. The sparkly splendour was dazzling and we couldn't help but crane our necks and gawp in awe. It felt like the universe was sending a majestic message meant just for us. Remember what magic exists in this cosmos. Keep believing, you got this. That's what I liked to takeaway from it anyway. ***
I was awoken the next day to a slew of slobbery wet licks plastered with wild abandon across my entire face before I could so much as open my eyelids. This was curtesy of Nalu (Freyja's adorable Rhodesian Ridgeback and the best kind of alarm clock, though, I could have perhaps done without the lip licks). Freyja had also accompanied Nalu and given me a much more dignified wake-up in the form of a foamy cappuccino. That's how Freyja roles. She is quite simply the sweetest and most loving human.
Weather-wise outside resembled what would have been a potential Monopoly situation from my youth. The rain drizzled but did not bucket down so we headed to the woods for a soggy walk. Before, for a brief moment the sun shone so Freyja picked some fresh tomatoes and strawberries from her garden which tasted at least ten times better than the ones I buy from Ocado.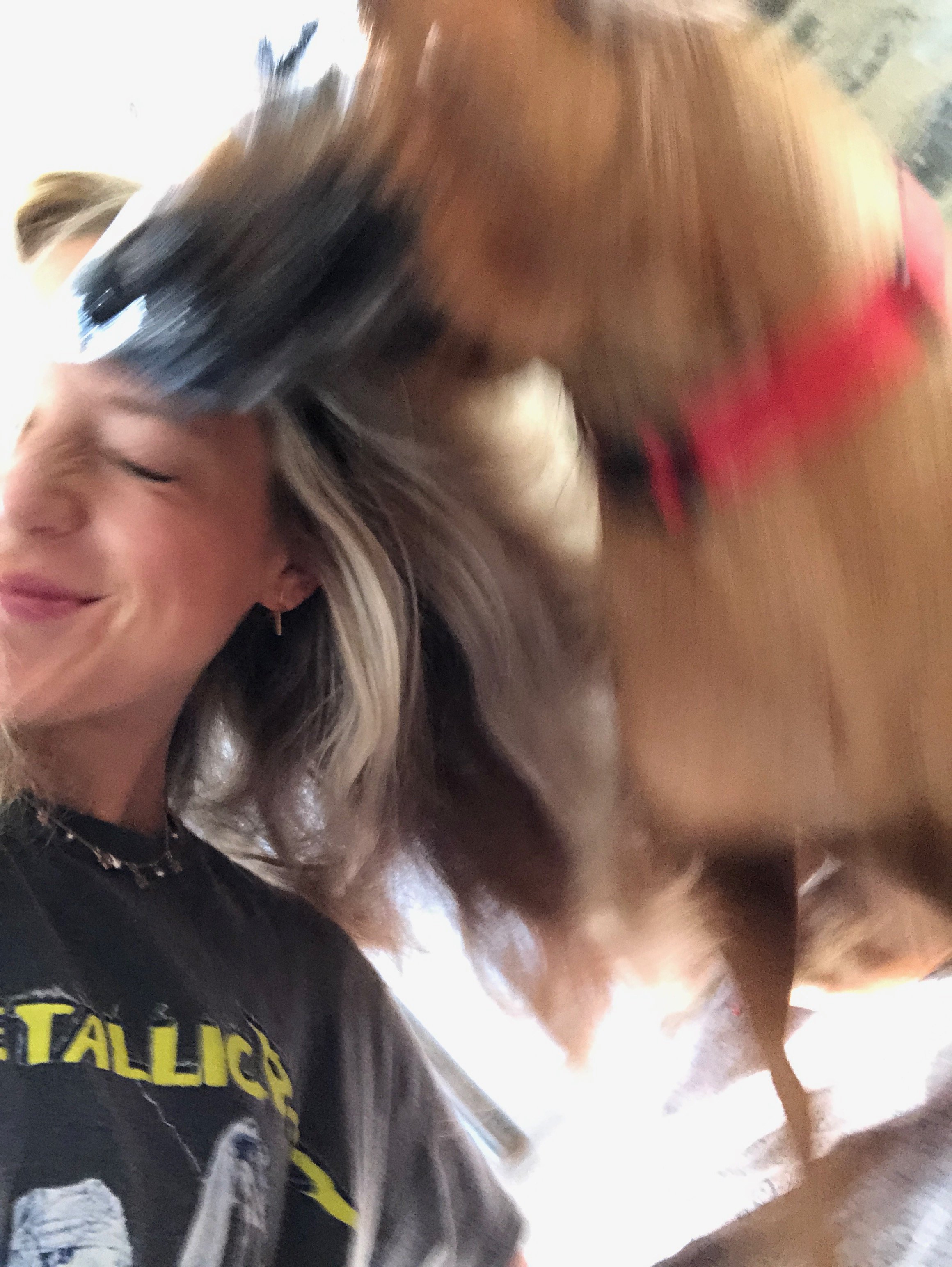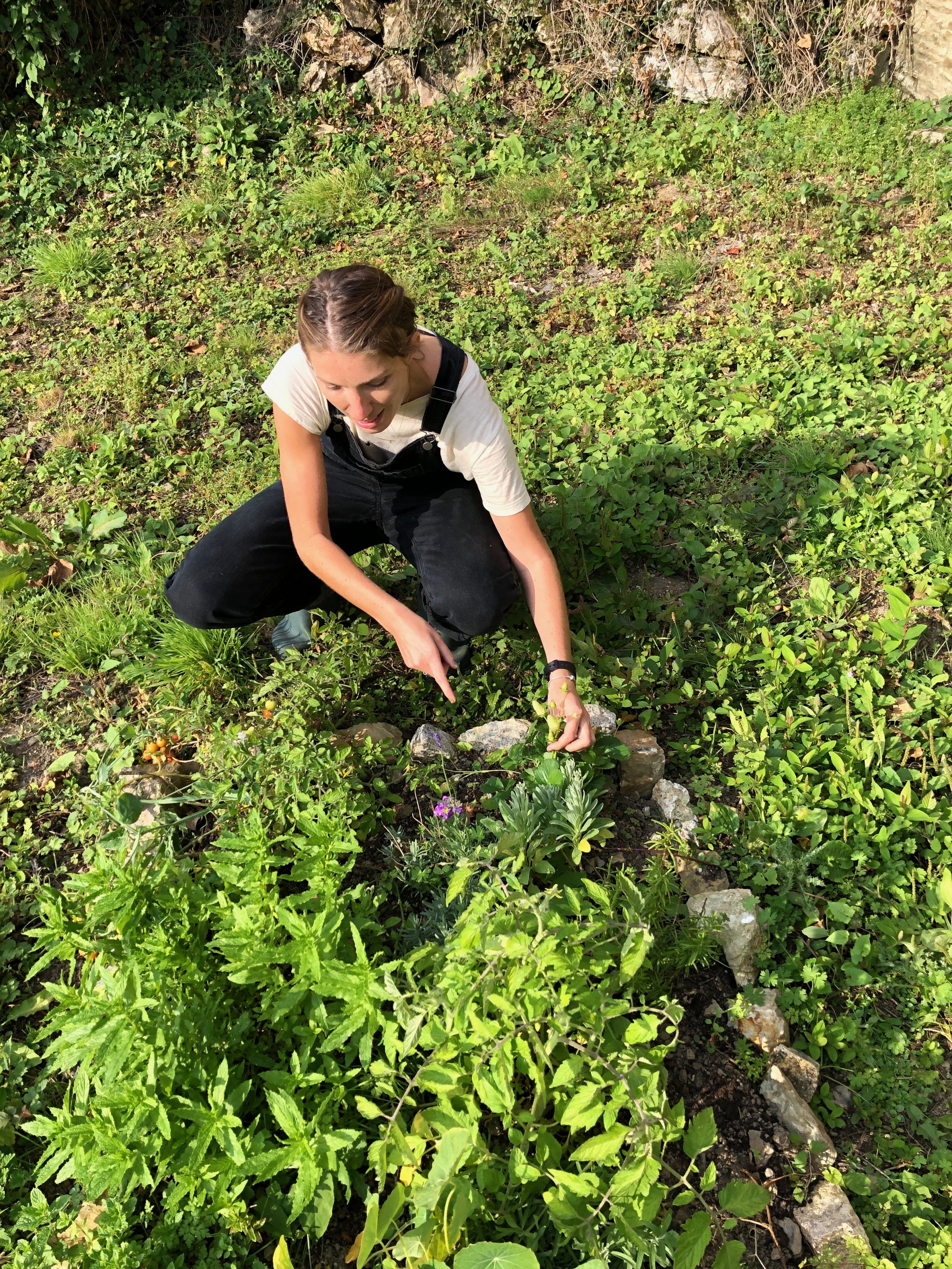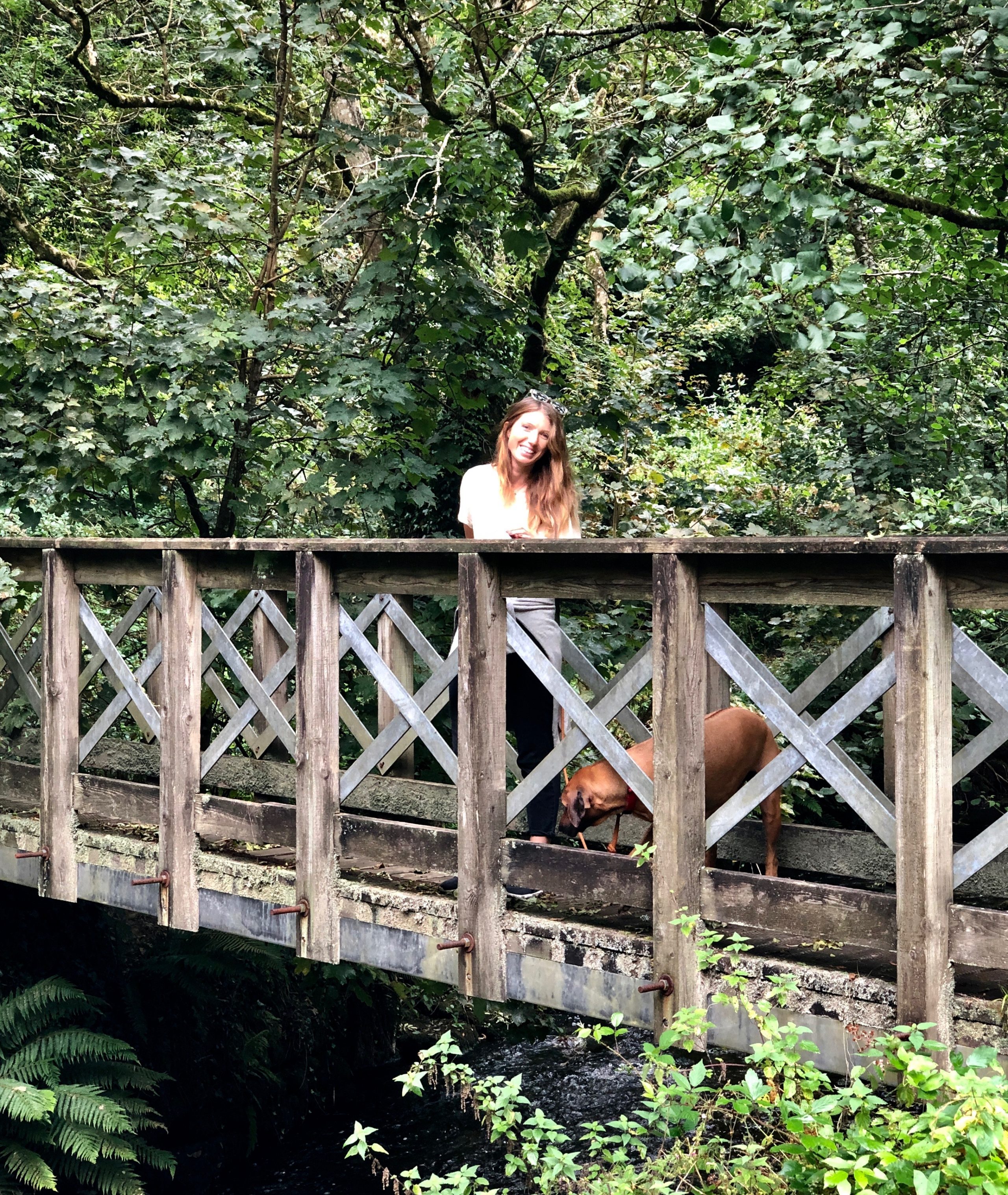 Post walk it was a big slice of freshly baked, zero sugar, wholesome heaven – thank you again Freyja. If you'd like the recipe download Freyja's app Wholesome World.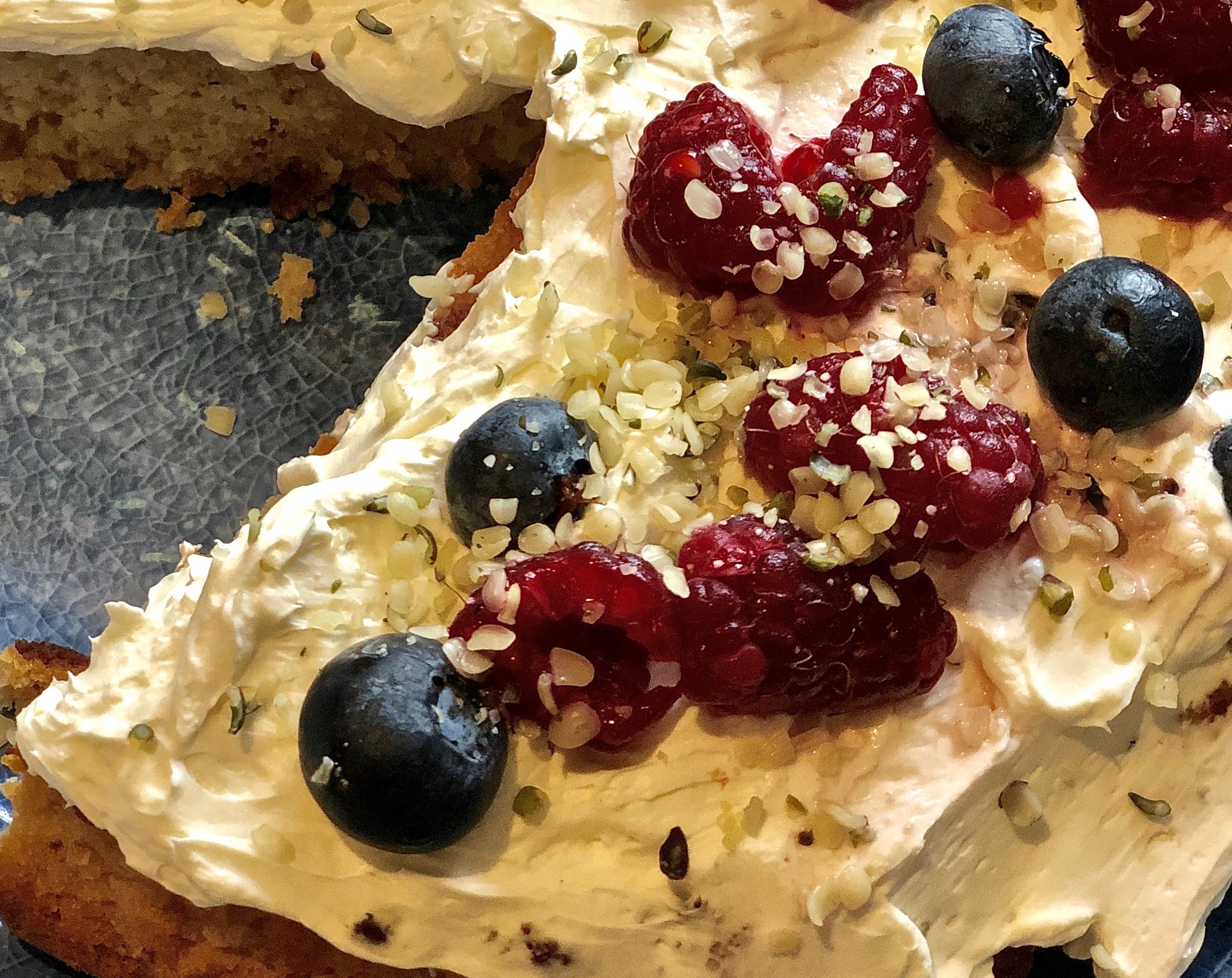 This was followed by a swim in a pool with some of Freyja's guy friends joining. We must have looked mad to anyone else who happened to be there. Imagine four faux grown-ups pretending to be kangaroos and race each other the length of the pool. Yup. That's the kinda thing we did. Handstand comps and doggy paddle races also happened.
After all of these shenanigans we were hungry so hit a beach restaurant called Wax at Watergate Bay (stunning surf beach) for dinner and some of the most amazing peppercorn G and T's that had me pretty plastered within a few sips. (I'm a super duper lightweight but can always keep my cool… I like to think anyway). We talked about life and philosophy and how humans don't have free will (the verdict was split on this but I'm still working on Freyja to come round to my side of course!) love and well – everything – and it was all wonderful.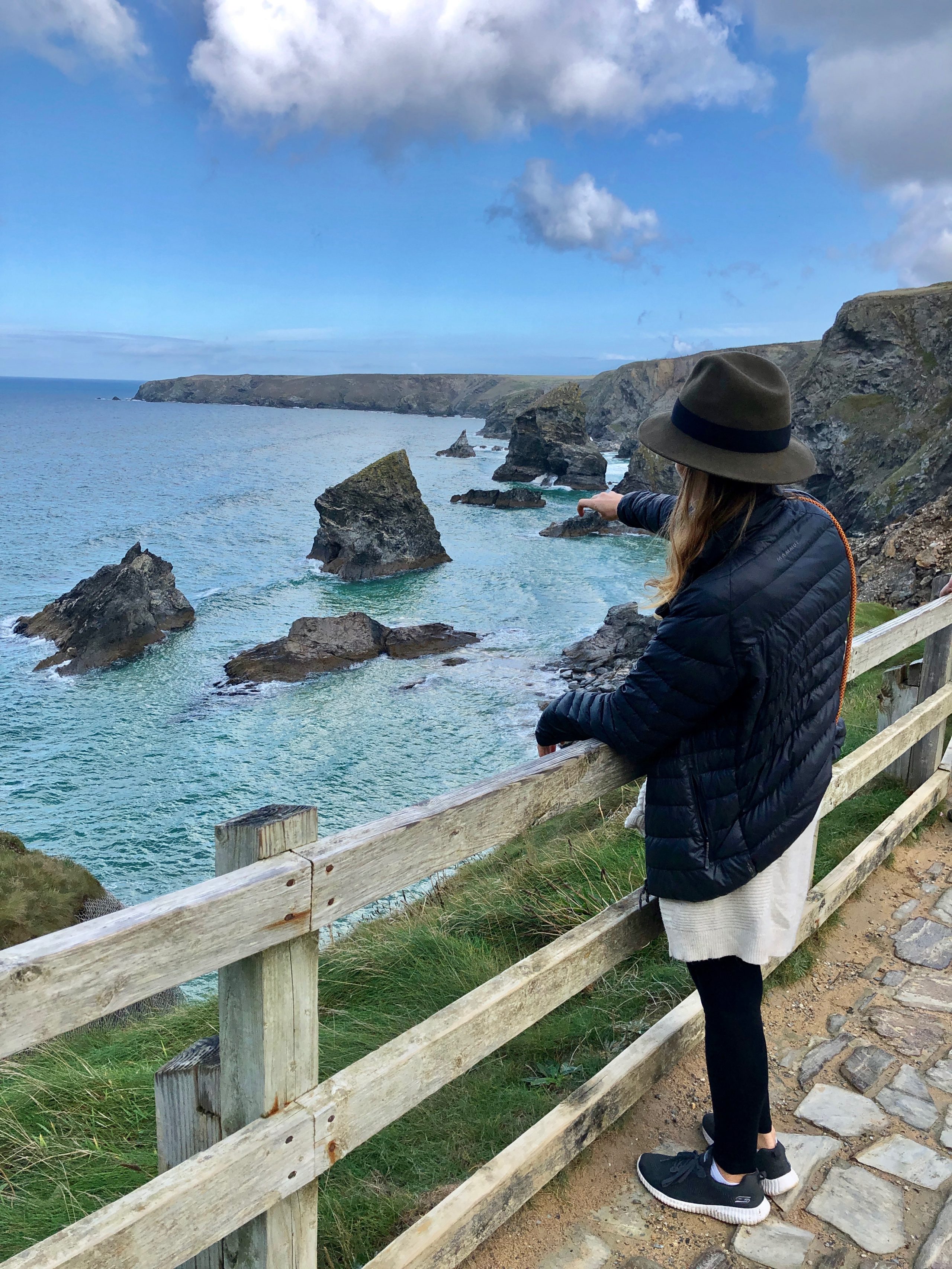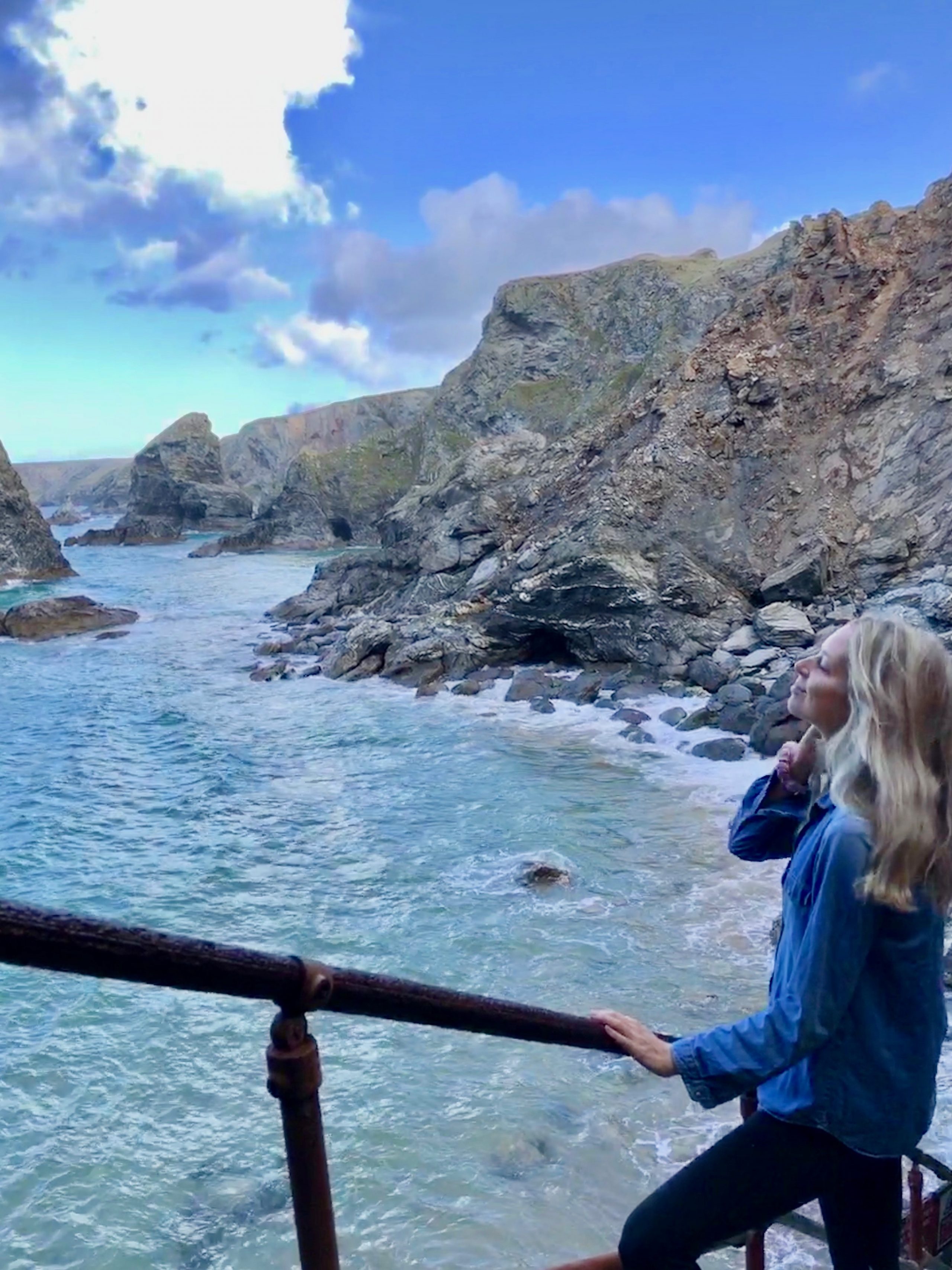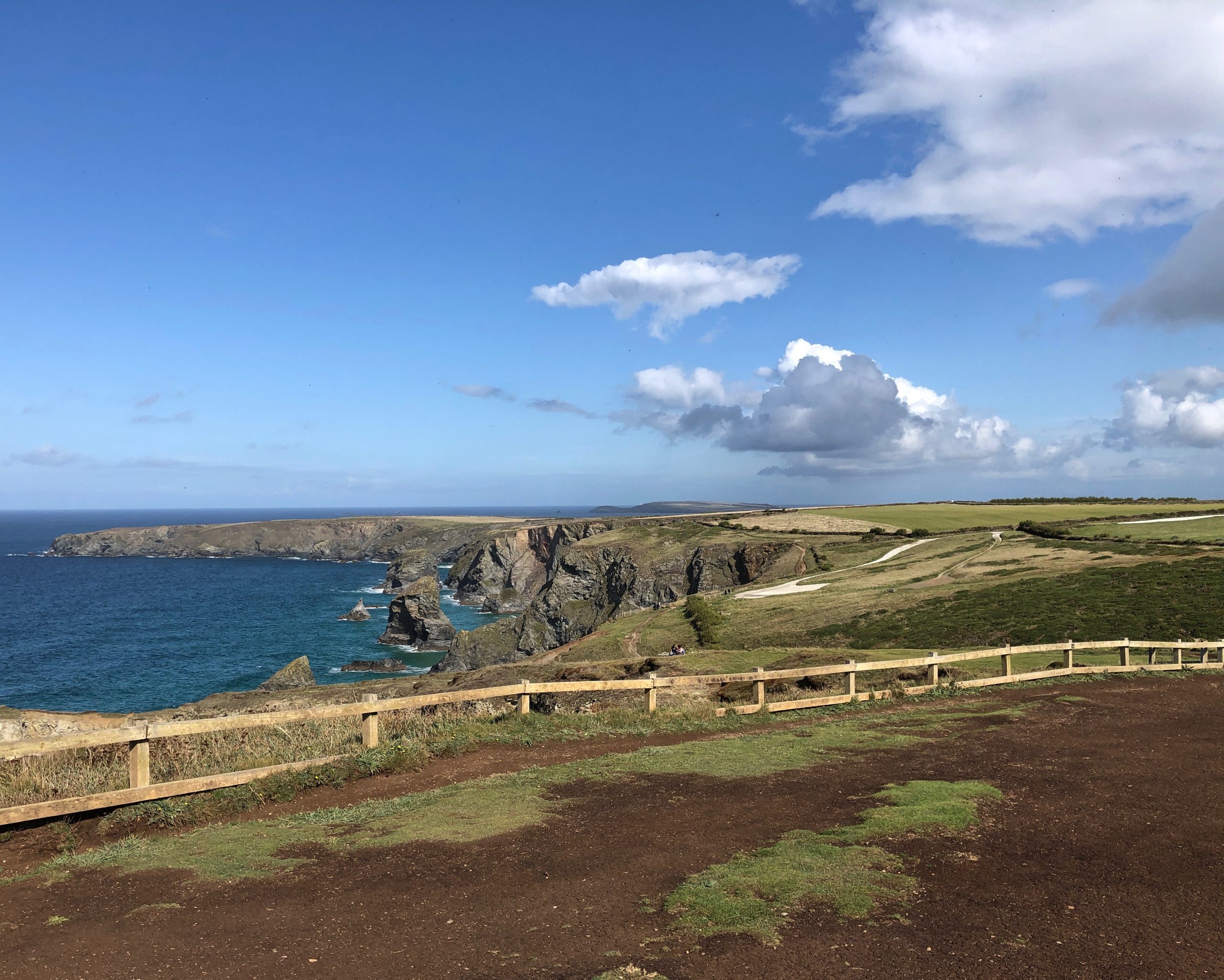 The next day the sun was shining brightly again so Freyja and I took to the cliff-tops. We hiked Bedruthan steps and then over to the Mawgan Porth beach cafe Catch, (about 40-minute walk from the steps and serves delicious coffee and food) for hot pain au chocolate and oat milk cappuccinos. People smile in Cornwall. They look you in the eye and they make light chatter. Everyone has dogs too. So at any cafe (Catch is a great example) there will be equal dog bowls to glasses.
This was a weekend for unwinding. A recent ankle strain meant no running and I knew my body was telling me to take it easy. So where better to just bumble along than here? It was alas all too soon over and time to take the train back to London. Had I been feeling better I'd have definitely got in the sea and surfed. I arrived back to London happy but the next day I woke up with flu! I knew it had been coming but I think my body knew to wait until it had been to its happy place.
If you want to take a trip to Newquay I recommend staying at Watergate Bay Hotel which I've stayed in before (see post). It is absolute heaven. Floor to ceiling windows which make for mega views of Fistral beach. The hotel is situated right on it. This is a popular surf beach and you can get lessons if you want to, go for long cliff top walks, swim in the pool, make use of the spa and live the Cornish dream.