Wake-up
I woke up at 6AM after a very sound solid night's sleep. Funnily enough I didn't feel nervous. Perhaps it was the hormones casting me into a daze or perhaps it was blissful ignorance of what was to come. Having had ten days off I think I'd forgotten some of the challenges of training and running long distances! But either way I felt good and ready to run. The forecast for the race was 23°C which I knew was on the warm side but I was prepared with a cap and sunscreen and just counted my lucky stars it wasn't extreme conditions like the freezing rain that hit Boston Marathon earlier this year or the 28°C that was forecasted a day later.
At 6.10AM I ate my over-night oats with half a mashed banana. After the spaghetti bolognese the night before it was a bit of a challenge to get it down so early but I knew my body would need it later. By 6.30 AM I'd had breakfast, a warm bath and my race gear was on. The next hour was spent looking at the course map once again, seeing where the hydration and electrolyte stations were situated, making sure my race bag had everything I needed pre and post race and moving my body with some dynamic movements.
Arriving at the start
I left the hotel with a couple of other runners and we walked half way to the start and cabbed the rest. The start area was hectic. 45,000 runners were lining up to get access to the start arena and once inside the challenge was to find your allocated race bag tent which corresponded to your race number. I thought an hour would be ample time but it turns out it wasn't. By the time I'd got inside the arena, taped my adductors and found my race bag tent I only had twenty minutes before my kick off time. This made me a little anxious since I'd planned to run for ten minutes forty minutes prior to starting and do some dynamic stretches and all I had time for was a few minutes jogging and one or two dynamic stretches. Getting to the actual start line was chaos too. With so many people there was a big pile-up and many of us had to climb a fence just to get in the starting pen. There was no knowing which wave was where, so I just found two 3.45 pacers and stuck by them. At this point people were singing and music was blaring to get everyone in the zone. Within five minutes we were off.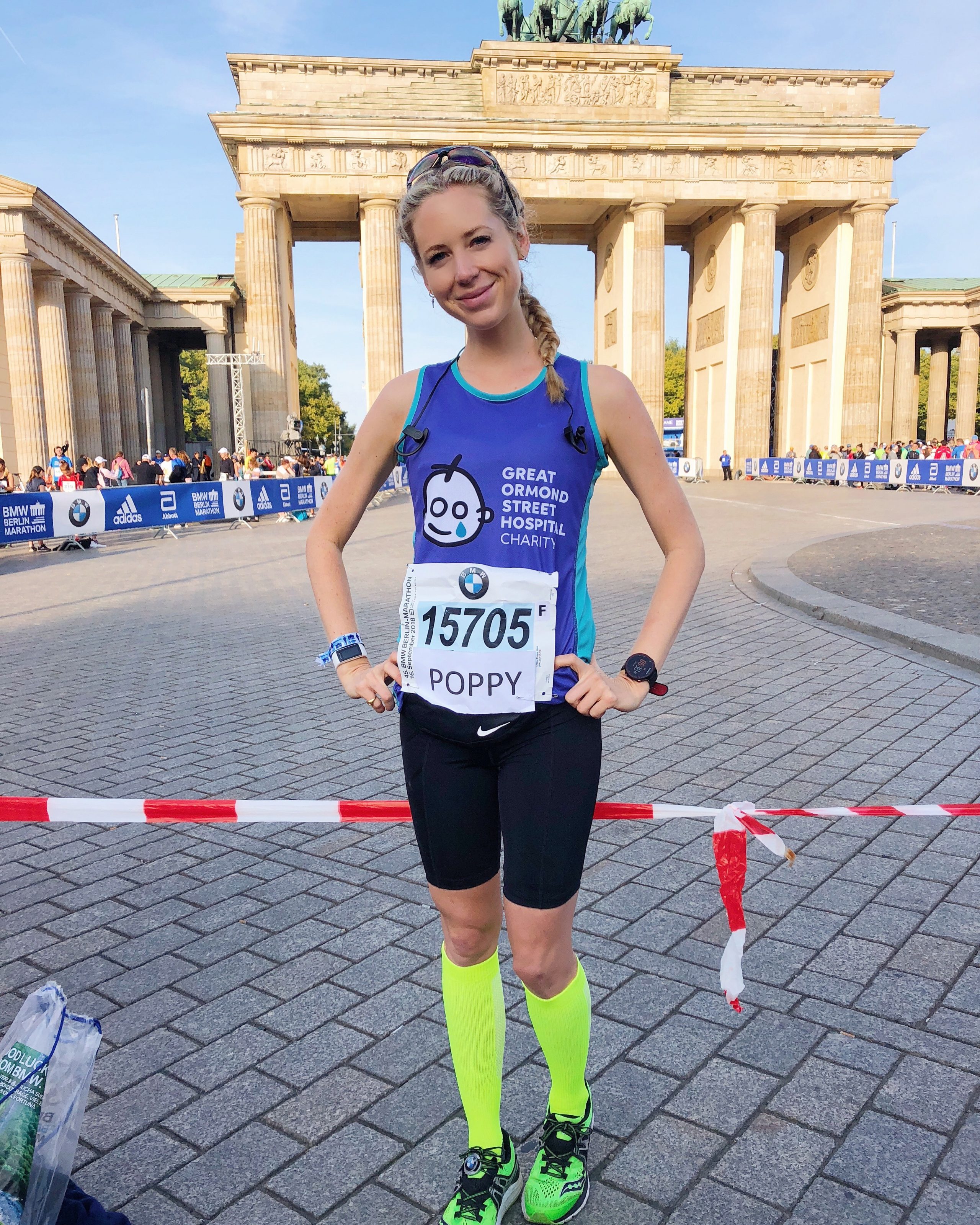 running to start below click here to play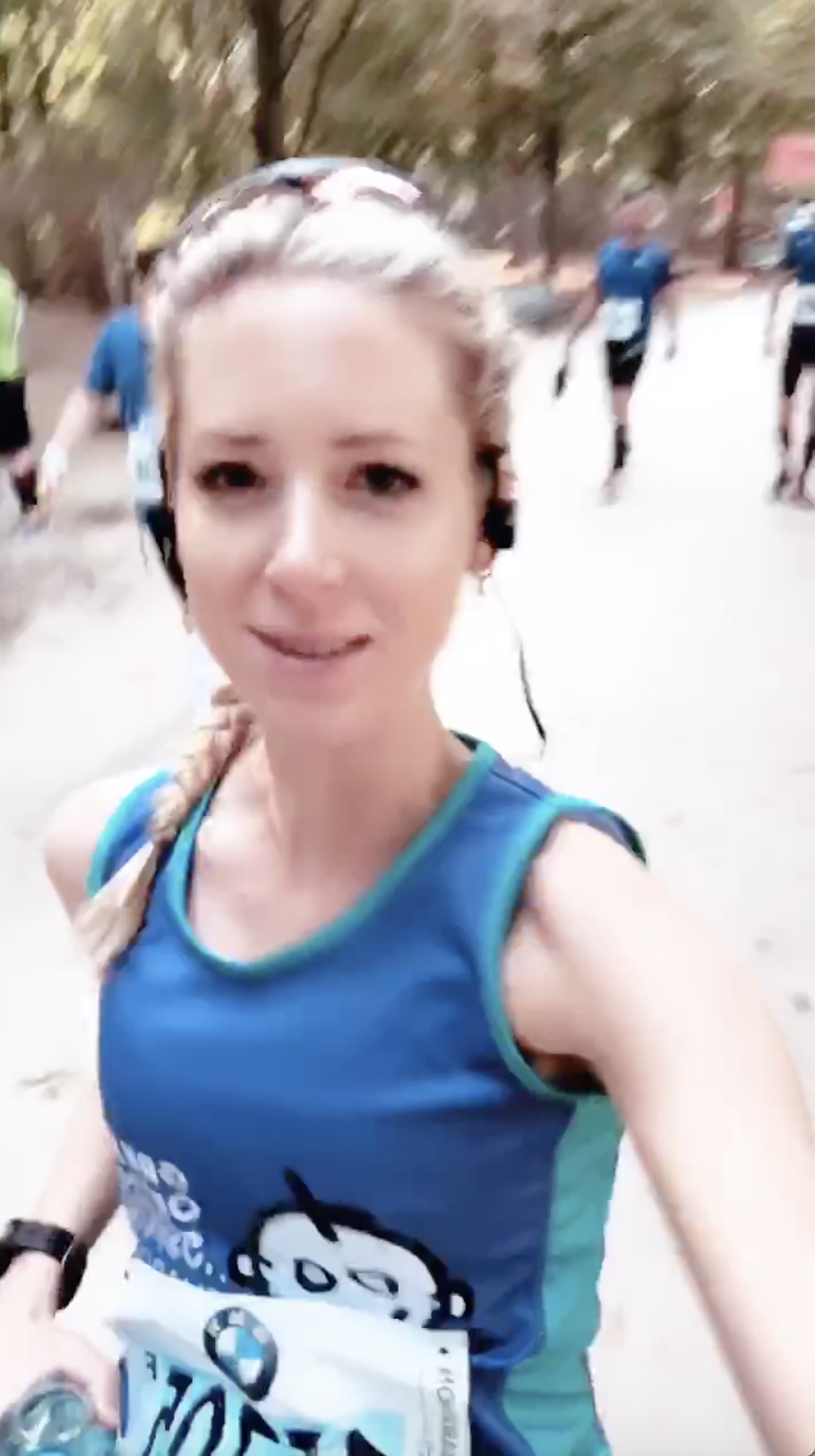 The beginning of the race
It was jam-packed. Staying close to the 3.45 pacers was a challenge. Some sections were super fast to make up for any time that was under-pace due to over-crowding. I felt very focused and didn't listen to any music. I just wanted to concentrate on weaving in and out of other runners and keeping pace.
At about 10K I found myself diving head first through the air. I landed hard on my knees. It all happened so quickly. A runner behind had just clipped my foot and it sent me flying. I didn't really notice the pain I was just concentrating on getting back up and making the time back. I prayed I'd still be able to run and that an injury wouldn't arise at any moment as a result. The guy who clipped me was very sweet and apologetic and made sure I was ok a couple of times when I got back up on my feet. I really couldn't blame him. There was quite a bit of elbowing at the start which was all unintentional but inevitable with that many people on the course.
The Crowd
The streets were packed with cheery faces who clapped and waved support banners on the sidelines. On the occasion someone shouted my name it really gave me a great boost. I won't forget the sweet cardboard flower cut outs that some people held up with the caption "Tap here for an energy boost" and another sign that made me smile was "If an arsehole can run America you can run a marathon!". Damn straight.
Hydration Stations and Energy Gels 
My coach, Jane Vongvorachoti had advised me to approach the hydration stations from the middle point and not the beginning to ensure as little hold up as possible. This was great advice as the middle had less of a pile-up and was easier to get in and out of but still guzzled some time due to the vast numbers of runners on the course. I stopped for water about every 30/40 minutes. In terms of energy I consumed about five and a half Gu energy gels during the race. (I had half 15 minutes before I started then one every 40 minutes.) Jane had said I'd need one extra gel than usual due to my period. Tactics for the gels was to consume half just before a water station and the rest directly after. Gels are thick and it was a hot day so having the whole thing all at once would have been too much to swallow quite literally. Because of the heat I made sure I had electrolytes twice on the course too, ensuring I took them separately from the gels.
Pace and strategy
The first half of the race was ran at 3.30/3.45 marathon pace. An hour in however, and my adductors began to complain. They just felt tight. At half way I had to slow the pace down to manage the discomfort. From this point on the discomfort continued to increase. I switched my music on to see if it could help distract me from my complaining adductors (it didn't but nevertheless it was a nice mood booster to have it playing softly).
I also kept in mind that I was anything but alone in this marathon! I tried to "loose my ego" in terms of just thinking about my experience and opened up my perspective to the collective endeavour of all us runners united and running as one rather than just many separate individual entities. It felt powerful to run with so many people and it struck me as a powerful metaphor for life. We are all on the same quest. We are all in this together.
I made sure I smiled continuously (I've read studies that show that just the action of smiling can actually make you feel physically more positive) and I just concentrated on each step. I really believe that my recent meditation practise helped me keep focus and run through the pain. I was surprisingly clear-headed and never once doubted my ability to finish the race. I had to forget about my pace and just do whatever my legs would allow.
Energy-wise I felt frustrated as I wanted to run faster but my biomechanics were only allowing a certain cadence due to my adductor complaints. But I kept repeating positive affirmations. "I'm so grateful, I'm so grateful for a healthy able body that's carrying me through these miles", and "I'm doing great, go me, keep it up!" were my inside chatter! When the pain got particularly difficult I remembered what Paula Radcliffe had said about her marathon strategies and how she counted backwards from 100 so I did that too.
I'll confess that I used my phone too and little voice notes of encouragement from my family who were tracking me throughout the course gave me extra strength in my mind and body. It meant the world how they and those close to me routed for me. In the last quarter though all I could do was focus on the job in hand. No music, no voice notes. I just needed to keep putting one foot in front of the other until, finally, I'd cross that finish line.
What running means to me 
Growing up I'd got used to excelling in something. This was eventing. Yet once I'd reached a high level and had British Olympic coach Yogi Breisner training me I knew it had to be all or nothing. For the first time in my life at 18 years old, I chose to press pause on the all-consuming competing and training that eventing entailed and see what life without horses and the pressure of competition would be like. However, soon I felt very average. I didn't know what I could excel at any longer and being average at things just didn't give me satisfaction or feel right.
When I got to university I felt lost. I enjoyed my course in communications, media, culture and film studies but I didn't really know exactly where I was going and who I wanted to be. I started to run and began to look forward to this time to gather my thoughts, gain perspective and come back feeling more enthused about my present and future. Ever since then running has been my main way of de-stressing, dealing with difficult emotions, getting outside, seeing the world and keeping active.
Grief doesn't break you it reveals you. I love this quote. I think it resonates a lot with me because I've experienced its truth starkly a couple of times in my life. For me, I find that the hard moments in life offer you an opportunity for introspection and a chance to learn, grow and rise up stronger than before. You can sink, keep afloat or you can soar and running has been a way for me to remain afloat and rise up higher than before. Immersing yourself in activities that will make you stronger is empowering and you cannot fail to learn and grow as a result. In the words of the 20th century Vikto Frankl, "When we are no longer able to change a situation – we are challenged to change ourselves." As I ran the marathon I thought back to the times in my life I felt grief-stricken. I spoke to the girl who I was at each of those times and told her that it was all going to be ok and that I'd learn to realise that the only love I needed was my own, that humans are imperfect, that everyone will let you down at some point, that it's ok and that this is life. Life will be challenging but it's how you choose to rise up after the falls that will make your high points and all the bits in between.
Running a marathon also gives you a great feeling of capability at what your body can do. As a slender, white, middle-class, west-London female oftentimes people (mostly men) have presumed I don't have much strength or stamina and completing the marathon felt so good to prove to them that there's a lot of fight in this dog!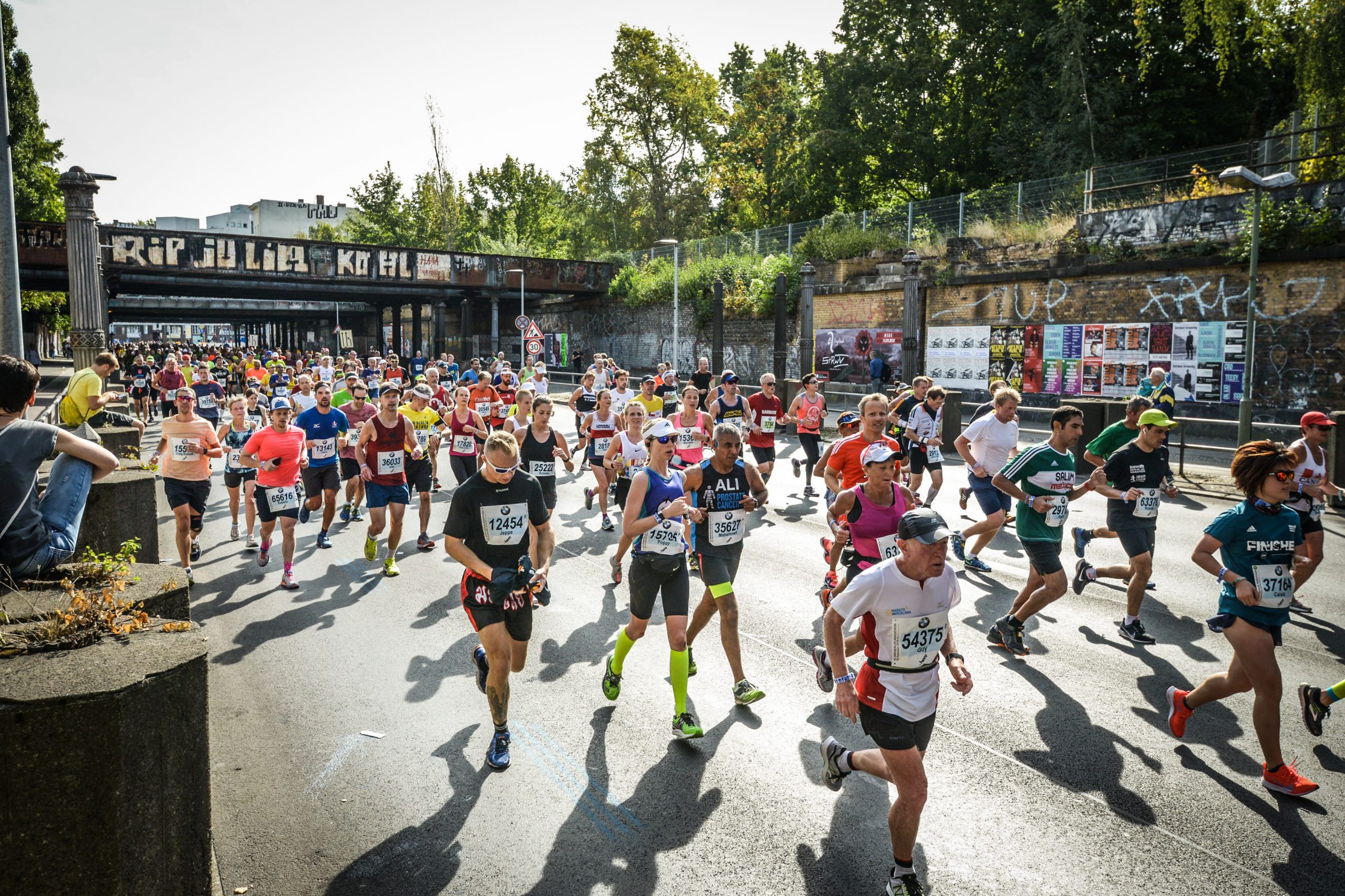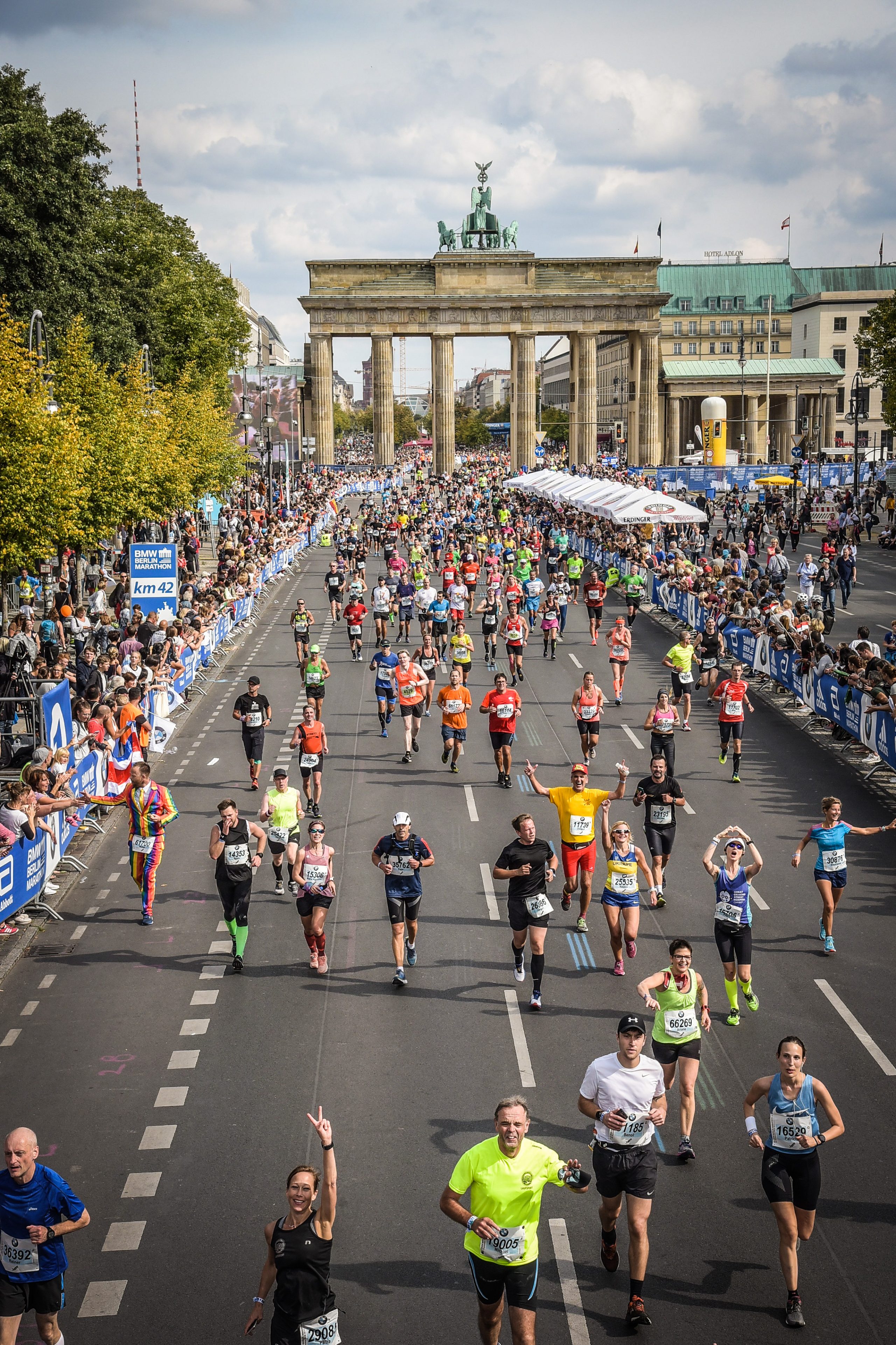 Bottom right corner just minutes from the finish making a heart sign with my adductors on fire and my knees all bloody from my early fall. This sums up what running has been for me. It's about setting goals, extracting the most out of life, never giving up and coming through the other side stronger than ever before. 
The Finish
When my Garmin watched buzzed 25 miles I couldn't believe it. On one hand it felt like I'd been running a fair while (!) but on the other 25 miles had suddenly seem to just come. I think because I wasn't focused on counting down the miles and just getting through the adductor pain I'd entered a kind of high concentration meditative state. But in that last mile tears started to roll down my face. All the commitment, energy and anxiety of training and wondering if I'd be able to run in the marathon with my adductor issues and how I'd get on were being released together with everything that the marathon stood for. Bryan Adams "Summer of 69′ was blaring from the stands. "Ain't no use in complaining when you've got a job to do." How apt those lyrics were. I'd done it.
Running for GOSH
I chose to run for Great Ormond Street Charity. I wanted to fly the flag for all the incredible life enhancing work they facilitate for the seriously sick children that go into their care. There are so many incredible charities out there but when it came to which one I wanted to represent and pay homage to, for this race it had to be GOSH. I believe every human should have the opportunity to know and experience just how wonderful life can be. It is heartbreaking that any life should have to know so much suffering, especially when it hasn't even had the chance to start living yet. If you'd like to find out more about what happens at GOSH please click here. I gained so much strength from keeping these kids and their bravery in my thoughts whilst I ran. To donate please visit the website; gosh.org. It was a privilege to run on behalf of GOSH and I look forward to doing more with them in the future.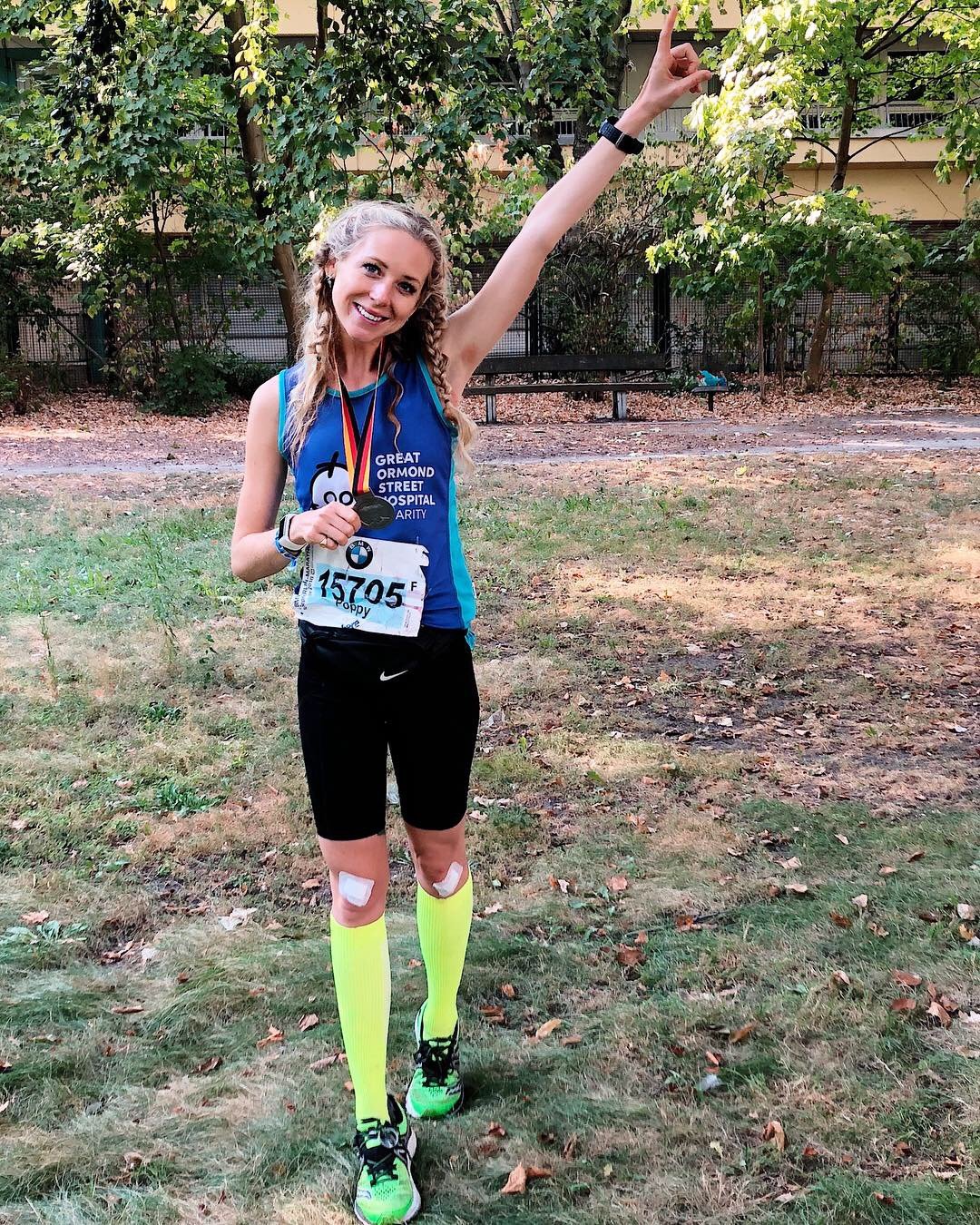 With my war wounds above and chaffing from my vest. Note to self – don't shrink race vest before race next time…!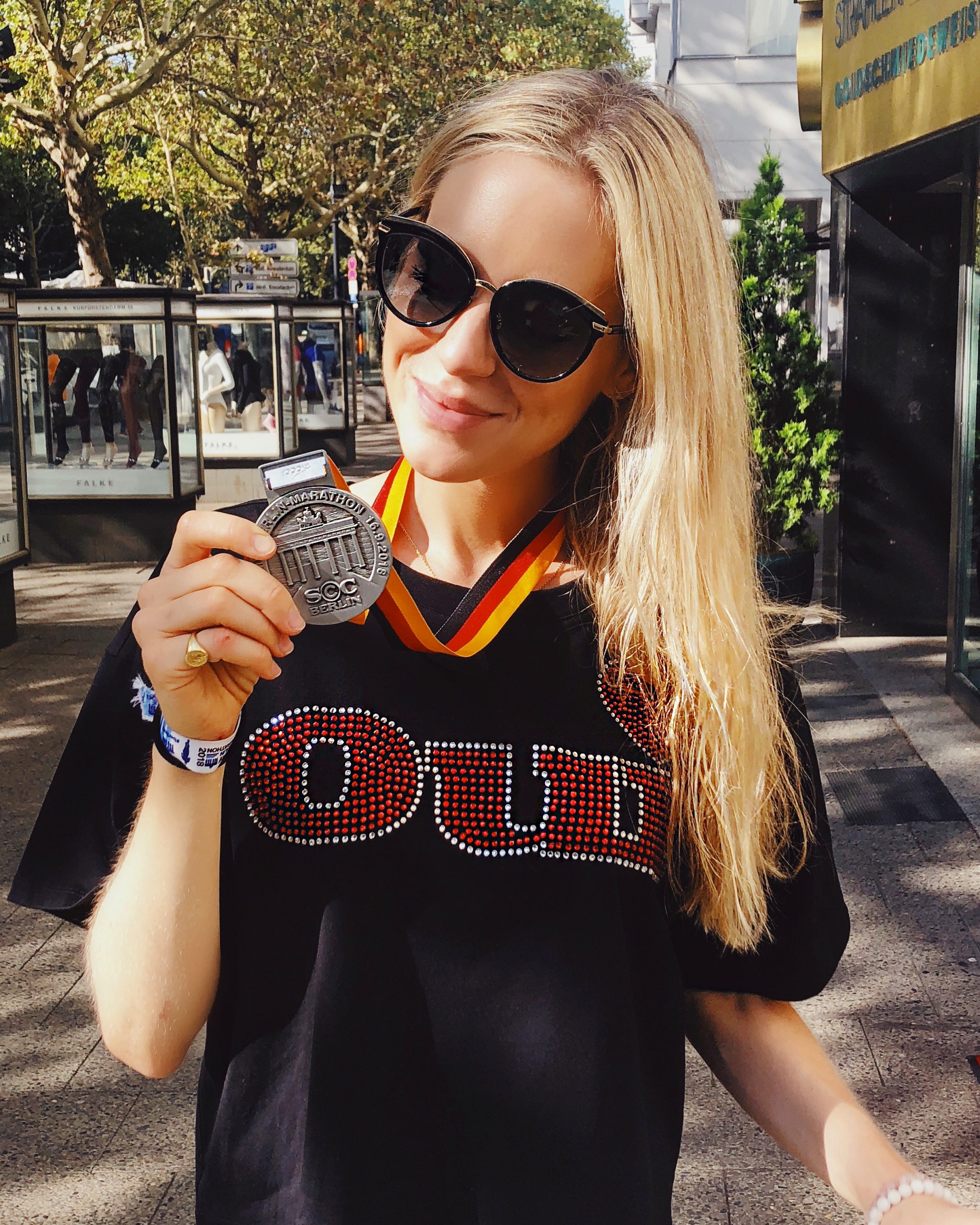 Leaving Berlin on a high.
Running a marathon is about so much more than just going the distance. It's a metaphor for life. Keep training, keep getting stronger, pick yourself up when you fall, keep believing in yourself, love yourself, love each other, keep encouraging yourself and others, treat your body well, honour your health and never give up. Keep striving to learn and be more.
This is just the beginning for me. I am more motivated than ever to now get my strength up and set new goals. I can't wait to try trail races as well as road races and who knows, maybe in time I'll hit the ultras.
My Race Kit:
Compression Socks similar here
Power Beats Wireless Headphones