When I started training for the Virgin London Marathon I wanted everything to be "perfect". I wanted the perfect running shoes, the perfect sports bra, the perfect training plan and the perfect diet to enable me to run the strongest, fastest marathon I could muster. I put pressure on myself to have everything "perfect". I mean hell I even stressed about which water-carrier vest would be best! But of course attempting perfection has its pitfalls. I was putting a lot of pressure on myself and having made the decision to run the VLM very last minute, I felt anxious already about not wasting a second to become an uber runner.
I thought it was all going so well. I was as fit as a fiddle and flying through the miles. But my big mistake (apart from trying to be little miss P?) I totally underestimated the toll that the many miles have on the body and I didn't support my miles with adequate strength training. When you run long distances your muscles are constantly being broken down. You need to ensure you have a good strength and conditioning programme to ensure you maintain strength to support your body whilst running. This is what I neglected to do and I could only get away with it for so long before my current "runner's knee" injury cropped up and made itself well and truly comfortable.
I'd thought running a marathon was mostly a "mind over matter" type deal coupled with good cardio fitness. I've never been short of determination and I had every confidence I could not only complete the marathon but run it swiftly (my aim was 3.30). But as I've said, I totally underestimated the impact of the miles and one day after about 3km my right leg started to cramp. I thought I could just run it off but after another km the cramp was still there. Next day, same thing. So I saw a physio. Fast forward a month and a half – I haven't run since.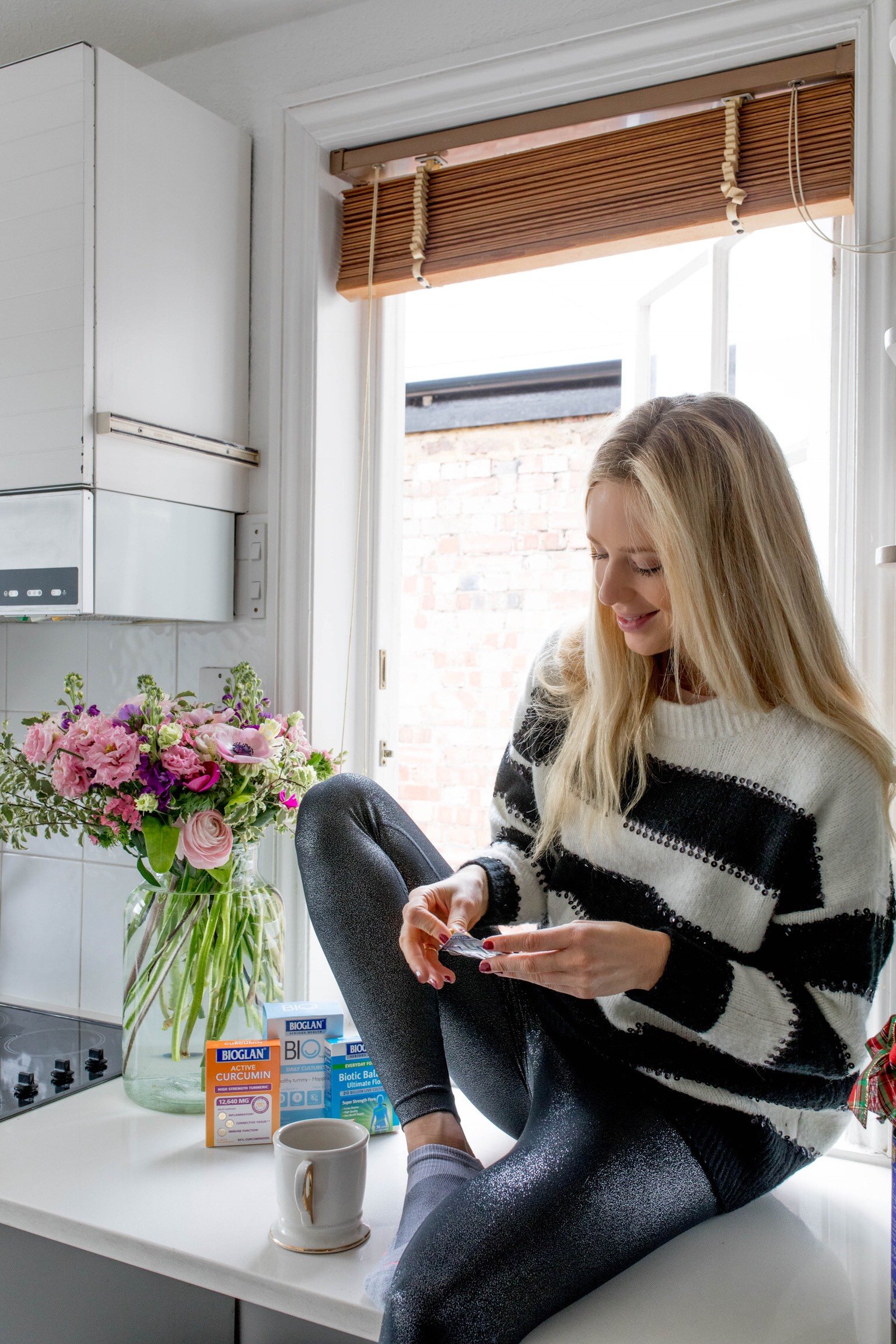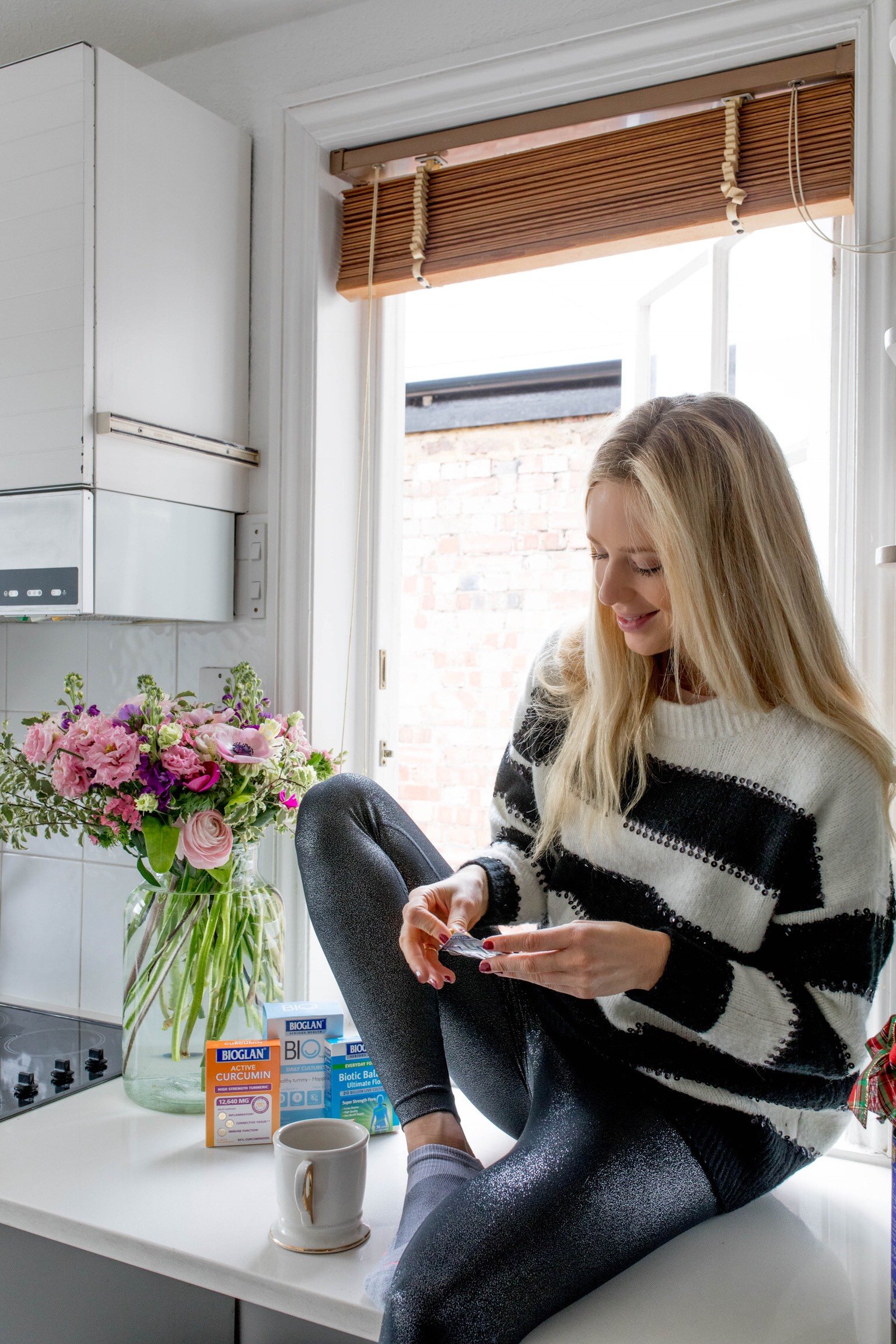 As well as resting my knee, sticking to low impact exercise and adding in a lot of strength and conditioning work I've been taking Biolglan's Curcumin supplement, hoping it will help aid my recovery. If you don't know about Curcumin then you need to get clued up! Curcumin is the active ingredient in the Turmeric plant- which has been used for many years to help fight inflammation. The reason I favour Bioglan's version is because the Active Curcumin is a high strength standardised formulation containing 95% curcuminoids, the effective compounds within the plant, for maximum benefit compared to standard Turmeric products. It also contains black pepper extract to enhance the absorption of curcumin by the body to help manage inflammation. This wonder ingredient is well-known for boosting the immune system and keeping bones healthy.
I know many of you reading this will be in my situation and wondering how you can aid your recovery from injury. Or perhaps you're running this weekend and simply want to do all you can to help your body regenerate after the 26.2 miles. Maybe you just want to boost your immune system. Whatever your situation – I really can't think of a reason not to take this supplement.
I can't tell you how disappointing this time has been with an injury. I was so excited to run my first ever marathon and would be just days away from it had I not sustained this injury. But c'est la vie! I have to make the best of it, learn from my mistakes and come back stronger, more knowledgable and with my ego in check! I know now that it's not about getting everything "perfect" since this is impossible especially to a newbie marathon runner like myself. Your first martahon goal should simply be to get to the start line feeling strong and complete the 26.2 miles without injury.
I'll be watching everyone run this weekend and wish you all the very best. I cannot wait to be able to join you for my first marathon as soon as I'm recovered.
Images: Lydia Collins