I consider dark chocolate to be a weekly essential and I'm not sure what my Monday's (especially) would look like without it. It's not a pleasant thought! So, since it's nearing the most depressing day of the year – (which is the third Monday of January so 19th January's the one to watch for 2015), I think it's a good idea to rejoice in the blissful benefits of the cocoa plant in a bid for some good preparation.
Dark chocolate is loaded with nutrients that can positively affect your health. Made from the seed of the cocoa tree, it is one of the best sources of antioxidants on the planet. Studies show that dark chocolate (not the sugary sort) can improve health and lower the risk of heart disease.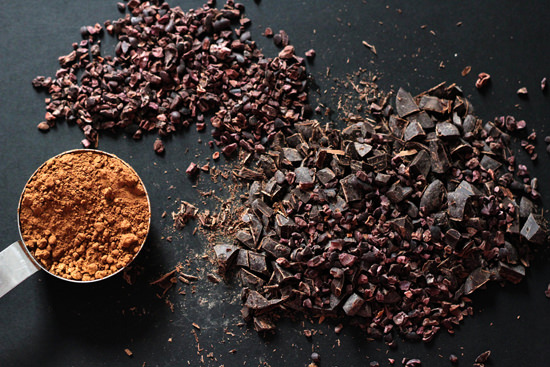 Here's an interested tip bit: A 100 gram bar of dark chocolate with 70-85% cocoa contains:
11 grams of fiber.
67% of the RDA for Iron.
58% of the RDA for Magnesium.
89% of the RDA for Copper.
98% of the RDA for Manganese.
It also has plenty of potassium, phosphorus, zinc and selenium.
Cocoa, before it gets processed into confectionary, is an incredibly rich source of beneficial plant compounds called flavanols, but you have to be clever which chocolate you choose to consume as commercial processing massively diminishes the levels of bio-active cocoa compounds. To derive such benefits, a high flavanol chocolate is required, and Doisy and Dam (74% cocoa) is currently no1 in my healthy chocoholic book.
Other cool health kicks you get from chocolate:
The bioactive compounds in cocoa can improve blood flow in the arteries and cause a small but statistically significant decrease in blood pressure.
Dark chocolate improves several important risk factors for disease. It lowers the susceptibility of LDL to oxidative damage while increasing HDL and improving insulin sensitivity.
Observational studies show a drastic reduction in heart disease risk for the people who consume the most chocolate.
Studies show that the flavanols from cocoa can improve blood flow to the skin and protect it against sun-induced damage.
But Remember!
It is still loaded with calories so don't go all Augustas Gloop! Experts will tell you to maybe have a square or two after dinner and try to really savor them. I will tell you to eat it in moderation most of the time but life is for living – so pick your moments to indulge!
Buy Doisy and Dam at doisyanddam.com