Helle Hammonds is to fitness what Ursula Andress is to James Bond. She's a fiercely fit female fatale who you have to see in the flesh to believe she's not just an airbrushed ad. I admit I comforted myself with this delusion when I first stared dumbstruck at her phenomenal physique on a poster (scroll down to end image on this post) at Barry's Bootcamp. "Pff, must be a photoshop masterpiece I puffed noting the impossibly perfect six-pack, the slender toned arms, the long hair cascading down her back and shoulders. But, alas, twas no airbrushed ad. HH it turned out, is actually real.
I soon discovered how HH gets to be so godly. She put me through my paces at Barry's Bootcamp and pushed me further than I ever thought I could push myself. She's tough, dedicated, determined, and won't rest until  your mental and physical performance peaks and her training method got me fitter than ever.
So imagine how excited I was when I found out my favourite Barry's Bootcamp trainer was launching her own HIIT (High Intensity Interval Training) "GymClass" in Holland Park, just mere moments from my place in Notting Hill. I had no doubt GymClass would be dynamic and demanding and fun and motivational too. I also had the additional joy of knowing that in just 50 minutes I could expect to burn 1000 calories with my fellow GymClass goers. By the time the class commenced I was biting at the bit to "rock it" – so to Helle speak.
Inside GymClass
My First GymClass Experience (the start of many more to come)! Images by Suzie Hammonds.
 And we're off! Helle is such an action girl, keeping track of the carefully configured time intervals whilst spurring us on. The class was full and we were split into two groups on either side of the room. I started off on the bike with 5 others and the other 5 were taken through alternating exercises, which included back lunges and squats. Each group took it in turns to simultaneously do the different sequences.
 Helle demonstrates our next moves.
We keenly follow. The minutes are rushing by as are our endorphins, both elevated by the fun energetic music, mirrors and multicoloured spotlights.
Helle makes sure I'm in exactly the right position for plank.
 Before moving on to assist the others.
 "Legs higher Poppy, come on get them up!"
 Whoop! I'm seriously pleased that I managed to pull myself to the top (ok, I admit I started on a raised block and not the floor, but still – pull-ups are HARD!) and hang out for a tough 30 seconds!
 Next it's squats and we have to get low, low, low and HOLD!
 Before doing back lunges holding a dumbbell above our heads.
 Standing by for action!
 This jump is part of a squat and jump sequence. Super fun!
The crab relay! This was a definite highlight of the class! We were put in pairs with each of us starting on opposite sites of the room. We had to crab scuttle in, 'tag' our partners with our foot and then scuttle back as fast as we could to the finish line. I'm happy to say that we beat the others! I think that's down to Helle's encouragement!
 And finally we finish!
But I can't resist to swing on the rings after!
Pretty pooped after GymClass but it's posing time with Helle.
Oh and here's the poster of Helle I was referring to earlier… What a #MEGABABE!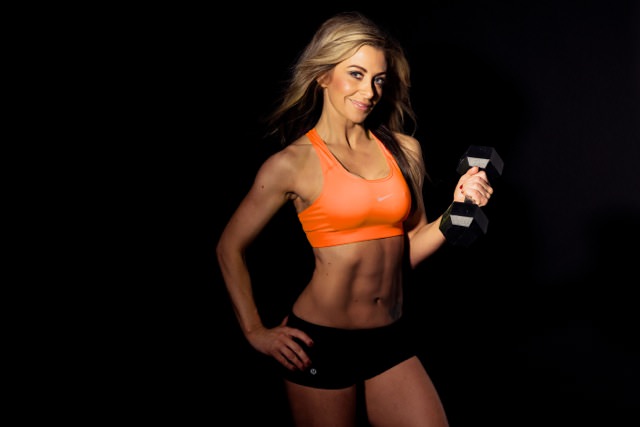 Verdict
GymClass is a totally killer kick-ass workout. I found it tough but Helle manages to make it fun by being incredibly motivational and incorporating dynamic and unique movements. I was surprised by how stiff I was for the next few days after my first class though. It really showed me just how many muscles you use in the class. Whats more, every day there's a different focus. For example, Monday's full body, Tuesday's upper body and abs, Wednesday's core and so on. This means you're targeting your whole body throughout the week without overdoing any area. For me, this workout has everything. HIIT, strengthening, individual guidance – all in one 50-minute, 1000 calorie-culling sweat sesh. What more could you ask for? Let me know if you'd like to come and join me in a GymClass session! I'd love to kick some ass with you!xx
GymClass is located at 168 Holland Park Avenue