(Latvia Part II)
Morning came and with it clear skies and hot, hot sunshine. It had been a sleep starfish in your birthday suit with windows wide open kinda night. Mercury was continuing to rise and with a race time of 12.45pm I knew I was in for a scorcher. A big bonus of my late start time meant I could have two breakfast's though and boy did I make use of that double whammy! Round one was mushrooms, spinach, toast and a smoothie and round two was porridge and mashed banana. By the time my Latvian mummy arrived to drive me to the start I was ready to rock 'n run.
We parked the car about a mile and a half from the start and walked over the bridge to the start line.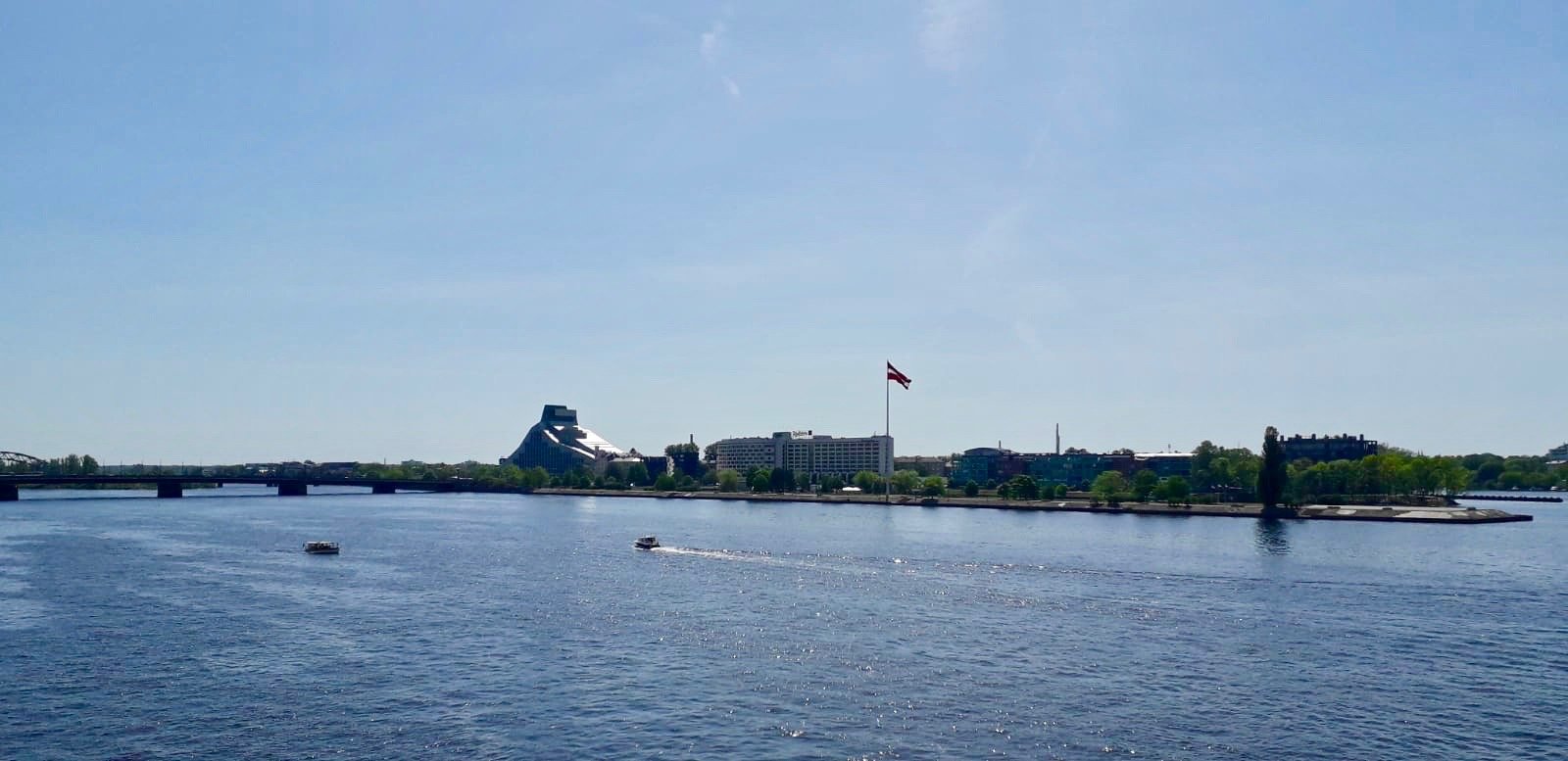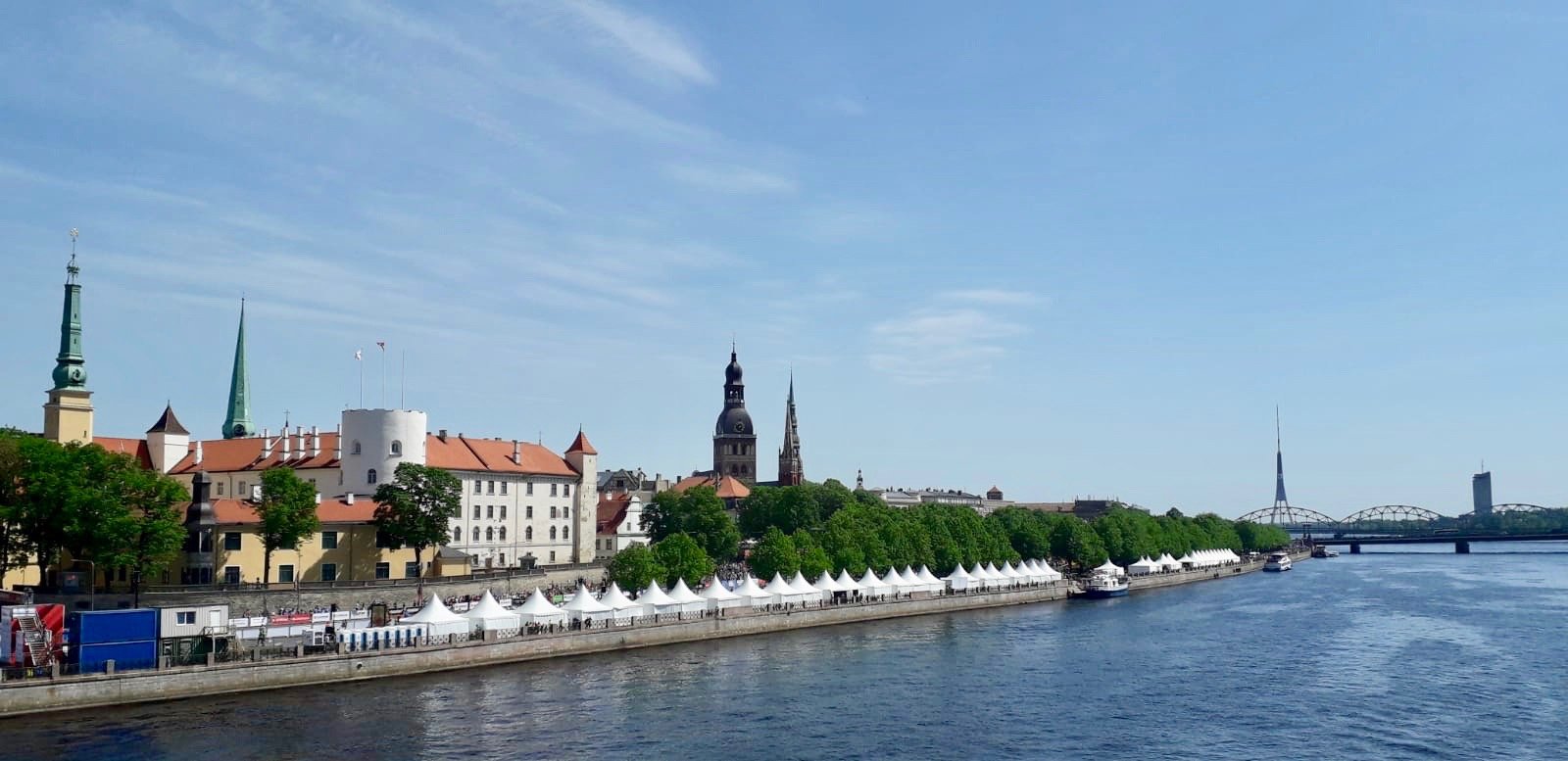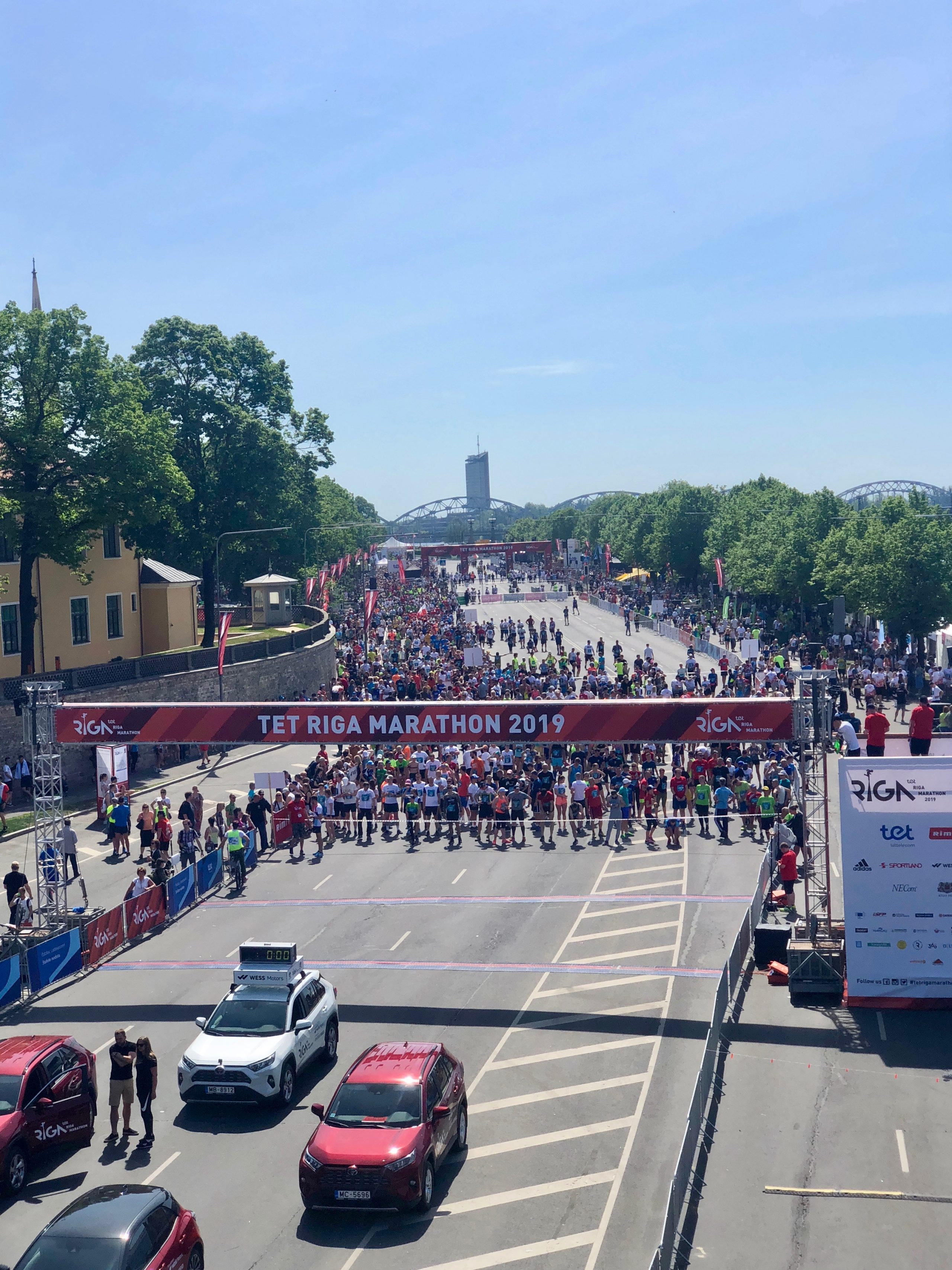 The full marathon and half marathon runners were on the course and oh gosh did they look HOT! In total, there were 25,931 participants from 69 countries taking part in the races. The atmosphere was awesome with encouraging, animated supporters cheering the runners on and energetic upbeat beats blaring from loud speakers.
I gave myself 30 minutes for dynamic stretches, mobility work and a ten minute jog with fast strides at the end repeated five times to get myself ready to race. It was now fifteen minutes until "ready, set, GO!" so I moved into position making a pitstop at a porter loo for the last pee (never underestimate how many times it's possible to pee pre race. You don't want to do any kind of Paula Radcliffe…) en route before gulping half a GU energy gel to give me a last-minute lift. There was a lot of people and I was positioned in the second third of the wave. I long for the day when I can be right at the front to give myself a best chance of a PB but I knew with a race temperature of 33 degrees a PB was very unlikely to happen on this occasion. It was uncomfortable in the holding pen amongst all the hot bod's with heat smouldering up from the tarmac. But before too long the whistle blew and I just said to myself "let's see what we  can do." (In this case we refers to my body and my mind. We are a team!)
Turned out we did pretty well. I paced myself sensibly (having no choice at the start as it took a while to clear the crowd) and pushed myself to stay at my maximum heart rate throughout. It was very hot. I'll say it again. It was very hot. The effort was intense and I felt like I could spontaneously combust at any given moment. Cobblestone streets and narrow roads in places slowed my pace particularly when there were pile-ups and different races met each other. I was stupidly thankful for the hoses positioned on three parts of the course and made sure I got sprayed each time, which gave my body a jolt temporarily cooling it before the heat took over once more. It was similar to the effect of throwing onions into a hot frying pan. My body being the hot frying pan and the water being the onions. Hell did I made those onions sizzle!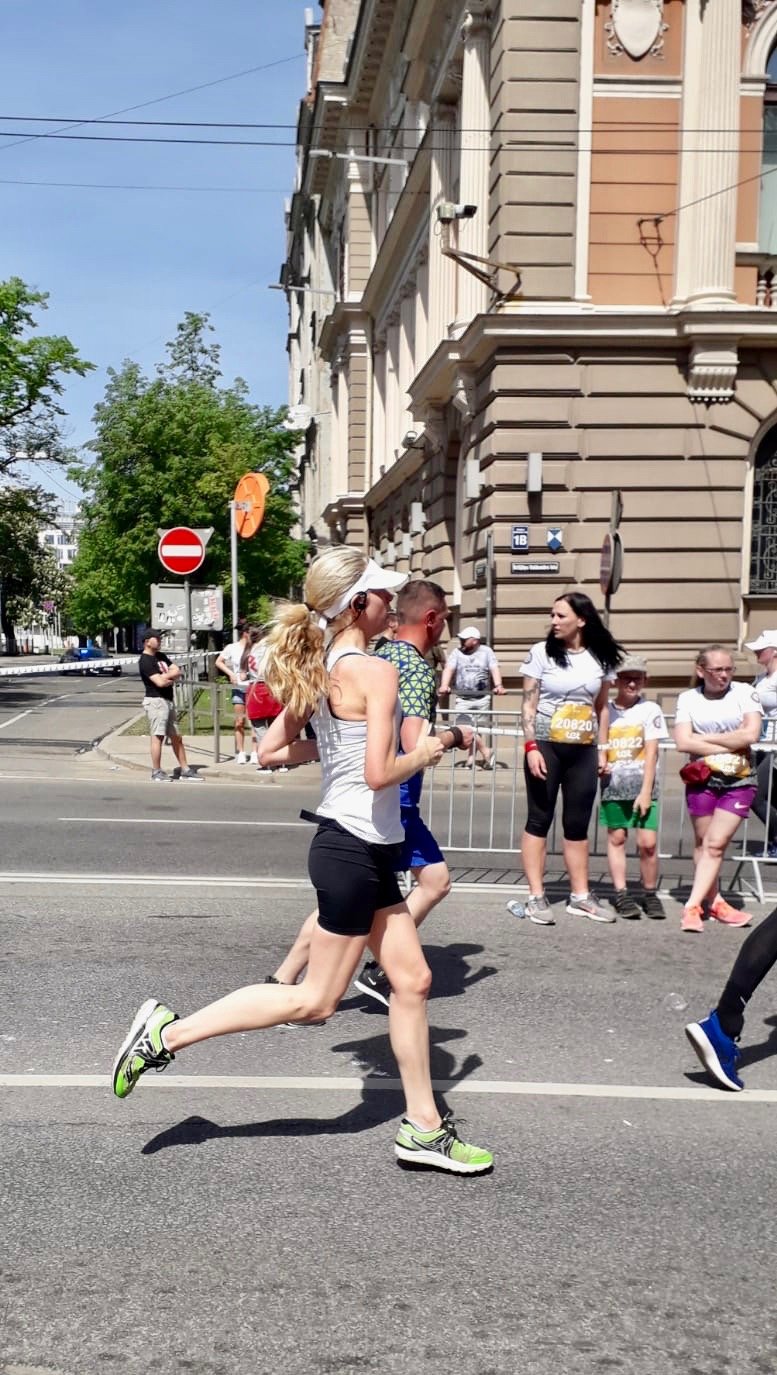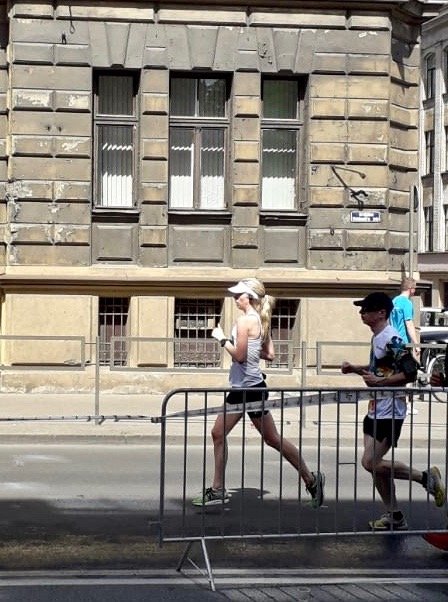 There was one particularly long stretch of baking hot heat over the Daugava River bridge which offered zero shade and absorbed the sun like a snake in heaven. I gulped down water at a hydration station ASAP which felt like a kiss of life and continued on. Midway through the race I became aware that my sock on my left foot had slid back and a blister was being deepened with every step. I knew I couldn't stop to fix it though, it would add on too much time, so I just kept going trying my best to ignore it. When the final few hundred meters came I was ready for them. I sprinted to the finish with my face a pretty decent shade of beetroot and my body soaked in sweat. I'd made it in about sub 49 minutes which I was totally fine with given the conditions. I hadn't gone all out and I'm glad I didn't. Some people had collapsed from the exertion in the heat.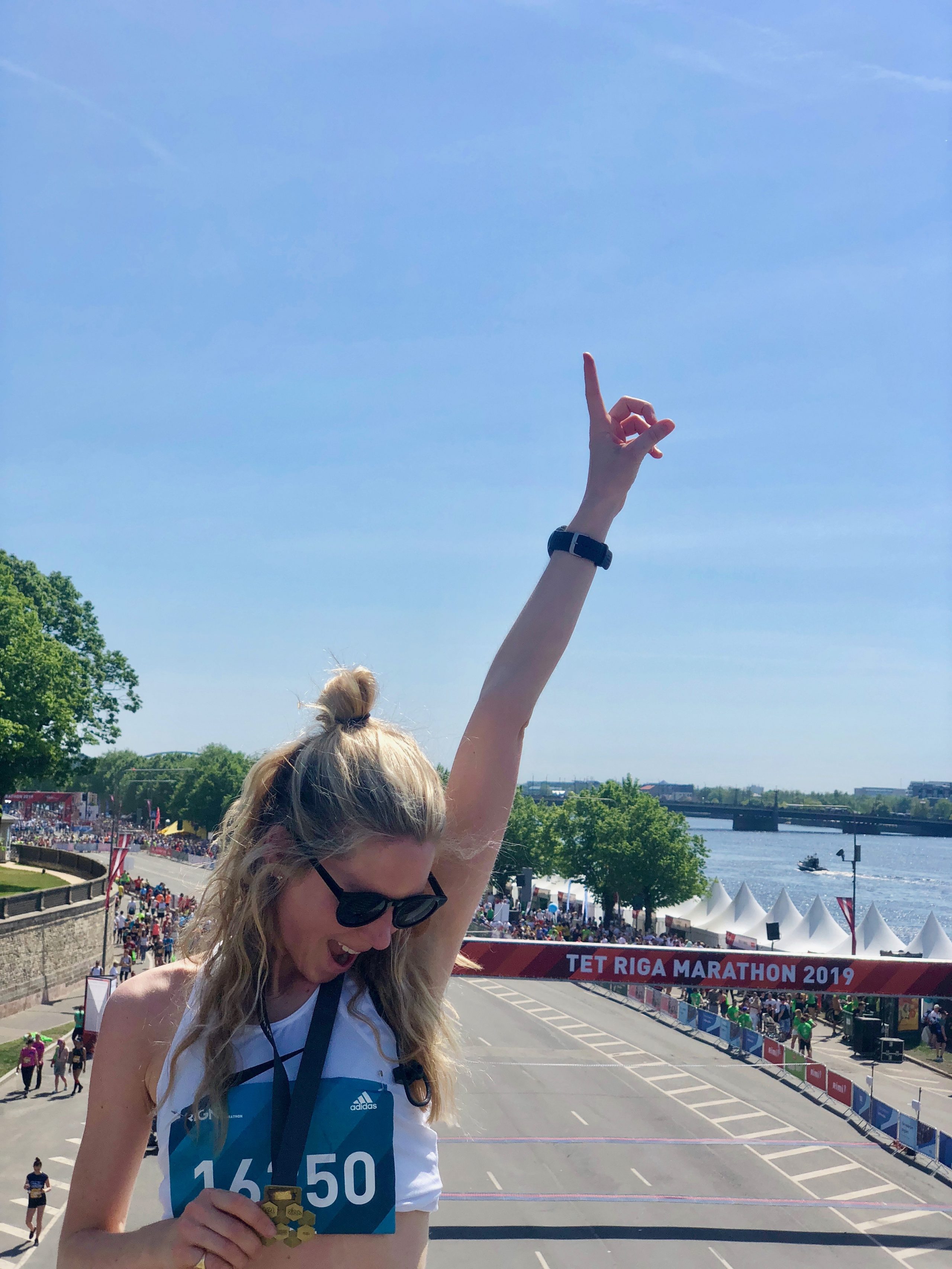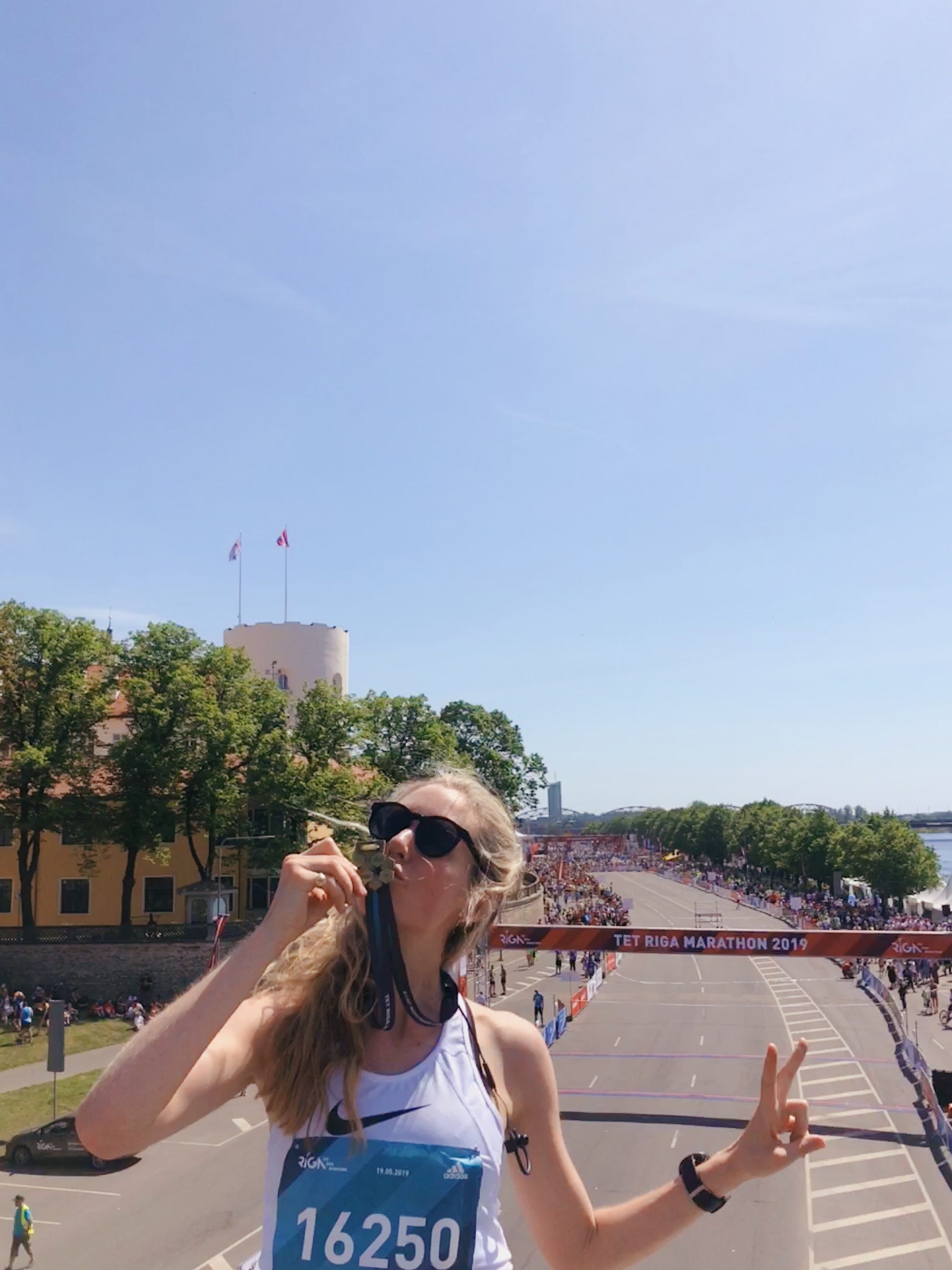 On the way back to the hotel my Latvian mummy and I stopped at a forest and I kicked off my trainers to walk barefooted amongst the blueberry bushes. It was bliss. The sunlight was still beaming down and came streaming in between the trees. My (first) time in Latvia was almost over. However I still had a rather special Latvian ritual to look forward to…
My Latvian mummy had booked me in for an amber body treatment scrub which included a massage at Jūrmala Spa, just a 5 minute walk from my hotel. I mean, how was I ever going to be able to bid this phenomenal woman farewell?! She is a true gem!
A large number of Amber fragments get washed up along the Baltic Sea coast so it's little wonder why this "substance of the sun" (as the Ancient Greeks referred to it) is popular here. In case you don't know, Amber is a pine tree resin fossilized through the ages. Vast pine forests occupy half a thousand kilometres along Latvian sandy seaside and the shiny specimens we see today have been around for 40 million years. The Romans regarded amber as valuable as gold and the historic Amber trade route connected the Baltics to Rome. I'm not sure whether the Romans would have had the amber body scrub (!) but amber has been used for medicinal purposes for centuries. What's more the Baltic amber's unique healing properties may be connected with its content of succinic acid, which is said to be an excellent biostimulant and I was all too happy to go and get bio-stimulated!
I've had body scrubs before but this did feel extra special not to mention deeply indulgent after the 10k 33 degree heat feat I'd achieved a few hours earlier. After, my skin was as smooth as silk and I felt so soothed and smelt good enough to eat! Luckily there were more edible alternative treats to devour like the below Latvian specialty – ice creams in a waffle cone! I walked slowly back to my room taking in the happy humble scenes of Jomas – the Main Street in Jurmala – where people were purchasing and polishing off said waffles, buying souvenirs, soaking up the sun outside at cafes and generally enjoying the good life.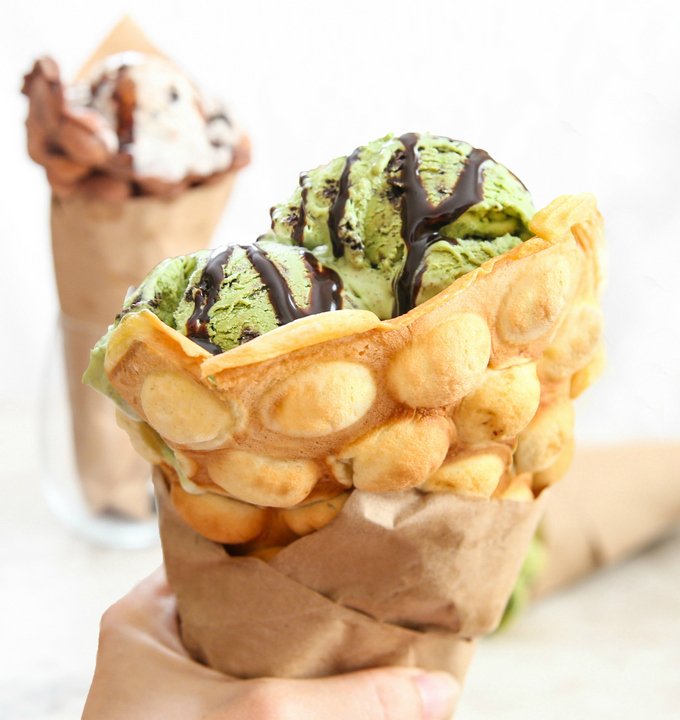 My time was almost up. I had dinner (a beautiful fresh seasonal soup and grain salad plus a side of vegetables) at il Sole restaurant on the beach at my hotel shaded by the majestic Horse Chestnuts with romantic melodies playing gently in the background. It didn't matter that there was no Mr Right by my side, it was all so lovely alone. My time had gone by in a flash of these dreamy moments punctuated by a very contrasting but epic 10k blast. I feel like there is still so much to see and do in Latvia. There are many forests still left to hike, ripe blueberries to be eaten (quite possibly in a waffle cone) and sporting adventures to be had in this idyllic green land. And of course I'll have to pay my Latvian mummy a visit before long.
Latvia, it was an absolute delight. See you soon.