In the last six months I'd heard a lot about Peloton. One of my favourite podcasts – The Tim Ferris show – is sponsored by peloton and that alone was enough to make me eager to try it since I trust Tim's high reviews to be legit – sponsored or not. But at this point, Peloton was only available in the USA. I forgot about it for a while until my friend and runner extraordinare Becs Gentry, moved from London across the pond to NYC to instruct the studio run classes.  I've been captivated by her IG stories where Becs shares snip-bits of the Peloton classes she teaches. The vibe looks electric and the participants all highly motivated and inspirational. I wondered how long it would be until it moved over here.
Fortunately, I didn't have to wait long. Within a few months of Becs moving I received an email with news that Peloton was moving to London. I was intrigued to be one of the first over here to try it out. Here's what you need to know.
1. What is Peloton?
Peloton brings you an immersive home fitness studio with a vast selection of run and cycling classes, both live and recorded. You'll have 24 hour access to classes if you subscribe and buy a bike, available to your entire household.
 2. Where do I do the workouts?
You can choose. Either buy a bike and do it from home or go to a studio and choose from a run or spin class. There is also an app to download if you want guided runs outside.
3. How much does the bike cost?
Packages start from £1990.
4. Where can I do studio classes in London?
Check Peloton.com website in January for info on where the studios will be.
5. How long are the sessions?
They come in 5, 10, 15, 20, 30, 45, 60, 75, 90 and 120-min lengths (there are also 'off-the-bike' workouts including strength, stretching, and cardio) and you can filter by instructor, length of class, music genre or intensity.
6. How do I follow the class from home?
The on-screen performance tracking metrics allow you to measure your speed, resistance and power, motivating you to pedal for personal bests. There's also a real-time leaderboard which pops up with names of other riders tuning in remotely to take the class. The instructor will tell you what metrics to aim for.
7. Is the home-workout as engaging as being in a studio class?
Absolutely. I didn't expect it to be but it is. You have the instructor right there on your screen, motivating you to push yourself. The numbers you hit don't lie so you'll know exactly how to ride it.
8. What are the run classes like?
So far, the pop-up trial in Covent Garden has just involved the bikes. But look out for info on studio locations and bike and run classes next year.
9. Is it a good workout?
The spin classes definitely get you sweating quickly! It's a great workout testing your strength and cardio fitness.
10. Is it worth it?
If you're short on time then I'd say 100 per cent yes! These classes are fun, fierce and engaging. Full credit to Peloton. It's no wonder it's got celebs such as David Beckahm and Ellen De Generes hooked.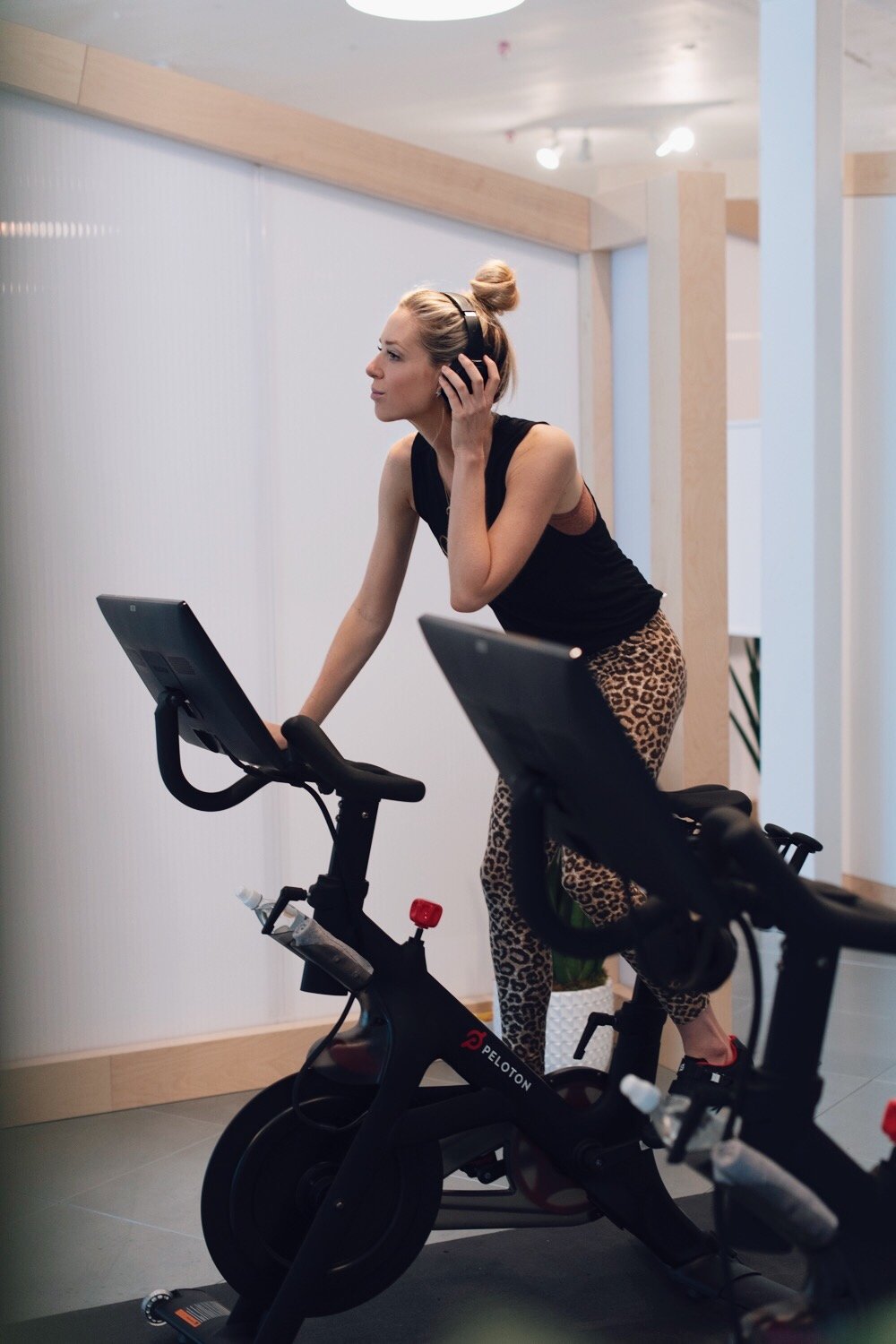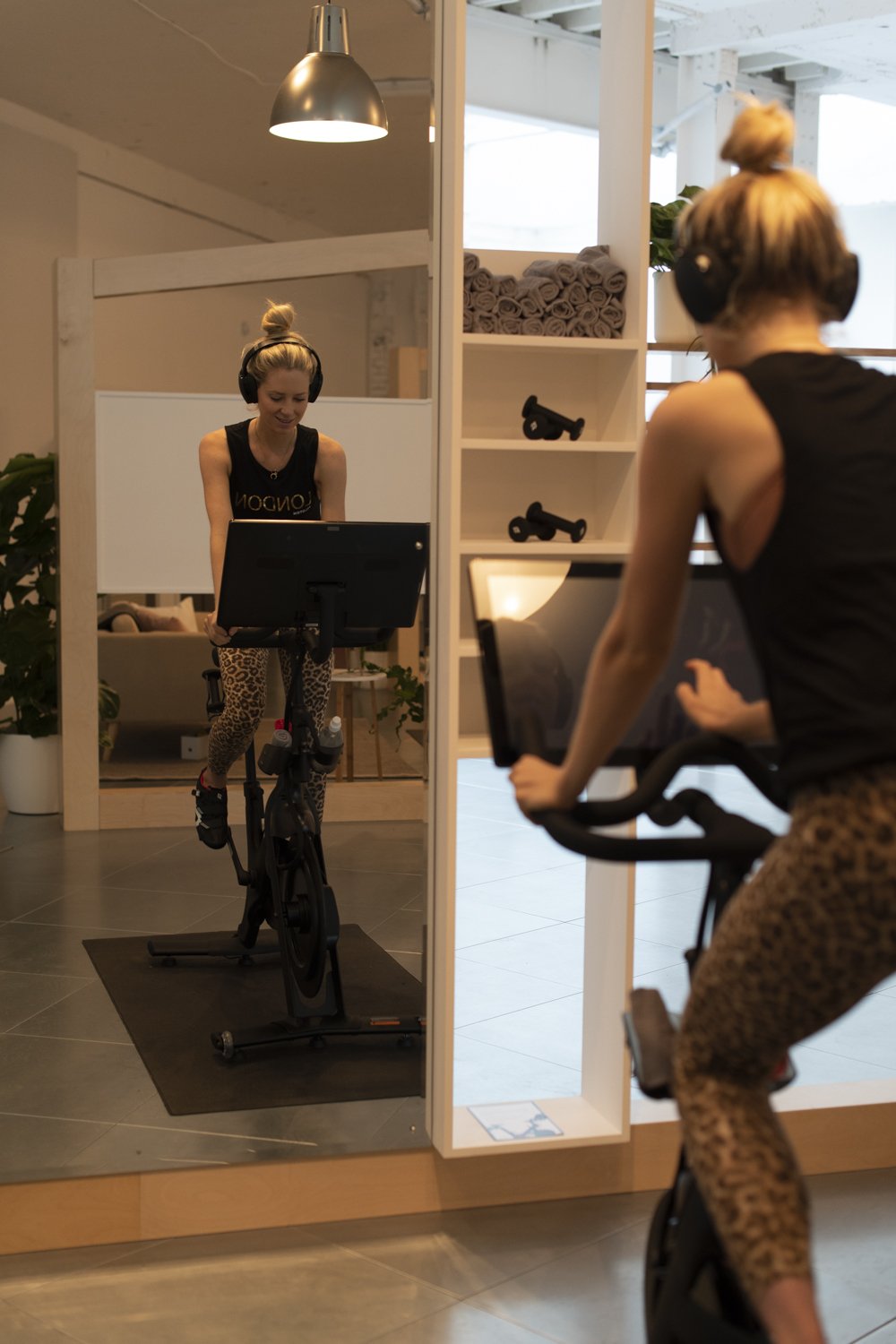 Photos: Oda Beide