I wanted to post some recipes for all those who may be on a strict protein and fat only diet. While I would never recommend this diet to be sustained for the long-term, being a journalist, I've experienced several fitness institutions and nutritionists who prescribe the no-carb diet for a short-term weight loss solution. This is perfectly fine to maintain for a short while – but do get advice from a health professional before you embark on it. This will ensure you're still giving your body everything it needs to maintain good health.
I've been on this diet for the past several weeks (for a special article out soon in The Mail on Sunday) and I have to admit, having to munch solely on meat, eggs, cheese, oil, nuts and green veg does get slightly tedious. So to spice things up, I sought the magic of healthy chef extraordinaire, Made By Margie who provided some perfectly delicious and interesting protein and fat only plates. I wanted to share them with you, in case you're currently in the same situation as me and you're having to avoid those carbs.
N.B. Carbs are NOT the enemy. This is only one method some people use to drop weight quickly because without carbs, your body goes into ketosis – which means it burns its own fat for fuel, rather than carbohydrates. Maybe you're an actress or model and have to slim down quickly for a role, or maybe you just want to drop a few pounds to feel more confident. Whatever the reason, I hope these recipes help make your current culinary plate pop! They certainly worked wonders for me! Thank you Margie!
My Tip: All these plates are amazing and give you scope to add different meats to the recipe if you feel like mixing things up a bit. For example, I love the steak with broccoli 'rice' and have found that it also works brilliantly with tuna steak if I fancy some fish! Get inventive and work with the wonders of Margie's magical creations!
N.B. Some of these dishes contain tomato/carrot which, if you're being very strict, are not allowed in this no-carb plan. Whether you include them or not is down to your individual plan, but I'd definitely get them on your plate for when you're back to a more rainbow/carb diet. The * used below indicates where you may want to exclude the tomato/carrot.
1. Courgetti with flaked salmon, pesto (*and cherry tomatoes)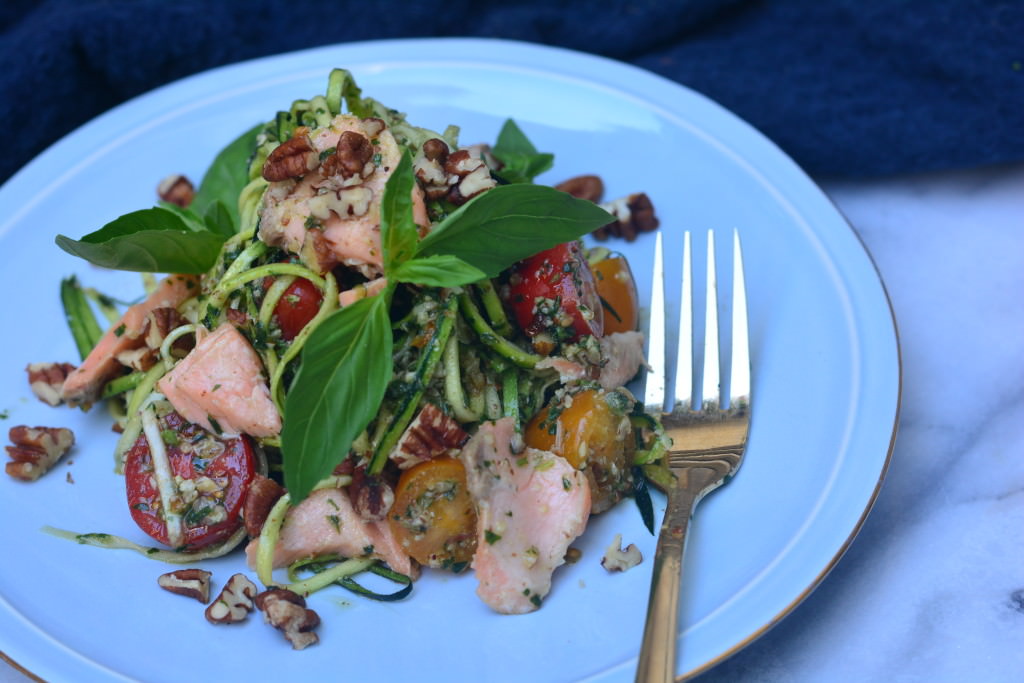 This is a deliciously quick dish to make. It's packed full of flavour, is abundant in goodness and is one of my favourites.
It really does have it all.  When people talk about eating the rainbow, this dish helps to illustrate what they mean. The healthy fats in the salmon, nuts and oil are perfect post work out, as well as providing a generous does of protein which is key.  Nutrients in the courgette (and tomato) round off this dish perfectly.  It also helps that it's seriously delicious and can be on the table in less than 10 minutes.
Ingredients (for one):

1 salmon fillet
1 x courgette
(*Optional) handful of cherry tomatoes, sliced
1 bunch basil, save some for garnish
1 clove garlic
Handful of walnuts, save a few for garnish
Good glug of olive oil
Maldon Sea Salt
Pepper
Method
Start by preheating the oven.  Pop the salmon on a baking tray. Season with a little salt and pepper.  When the oven is hot, pop the salmon in, and cook for about 8-10 minutes, depending on the thickness of the fish.  Don't over cook it, so keep checking it, and as soon as it flakes away when you prod it, it's done.
While the salmon is cooking, get on and make your pesto.  This is so easy, and we leave out the cheese, so it's lighter!  Bung the basil, the walnuts, garlic in the food processor.  Add a generous glug of olive oil, and a good pinch of salt and pepper.  Whizz it up!  Add more olive oil if necessary.
Peel your courgette into strips with a peeler, or use a spiralizer if you have one. Pop the courgetti and sliced tomato in a bowl.  Add a good dollop of pesto and stir.
Flake in the cooked salmon and garnish with basil sprigs, and a sprinkling of crushed walnuts.
Yum!
2. Seared steak with broccoli 'rice' (*and garlicky tomatoes)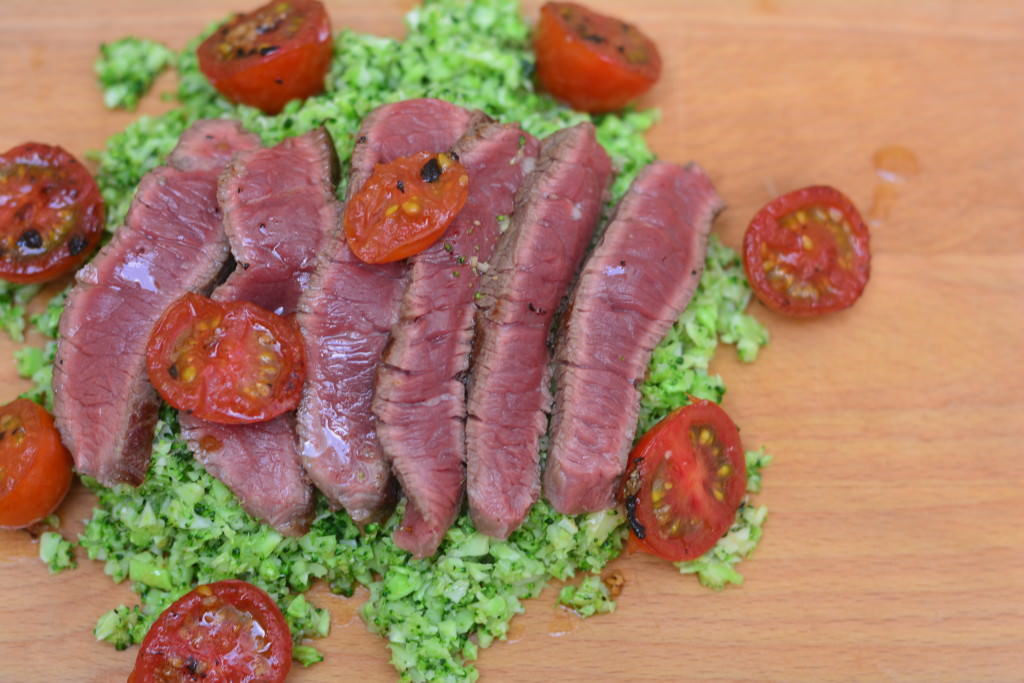 This is one of my new absolute favourite things to eat.  You may well have heard of cauliflower 'rice'…well let me introduce you to my broccoli 'rice'. Broccoli is bursting with goodness, and is the perfect accompaniment to the seared steak.
This is easy enough to make for yourself, and special enough to whip up for someone else!
Ingredients (for one):
½ head of a large broccoli, or one whole smallish one
1 sirloin steak
1 clove garlic
(*Optional) handful of cherry tomatoes
Maldon Sea Salt
Pepper
Method
Simply whizz the broccoli up in a food processor.  Ta dah!  You've made broccoli rice!
Then, take a large frying pan and heat a little glug of olive oil.  Tip the broccoli rice into the pan and cook just for a minute or so until it has softened slightly, season with salt and pepper.  Scoop onto your serving plate.
Wipe the pan.  Season the steak with salt and pepper and a good glug of olive oil.  Place in the searing hot pan and cook for about 2 minutes on each side, depending on the thickness of the steak and how well done you like it.
Remove the steak from the heat and allow to rest.
Add another glug of olive oil to the pan (*and then add the cherry tomatoes to the hot pan and cook for a minute or so until they just begin to burst).  Season and then add the crushed garlic and cook for twenty seconds or so.
Slice the rested steak and add to the broccoli rice, then drizzle the whole lots with the garlicky tomatoes and their delicious juices.
Complete and experience utter heaven!
3. Salmon, courgette and feta frittata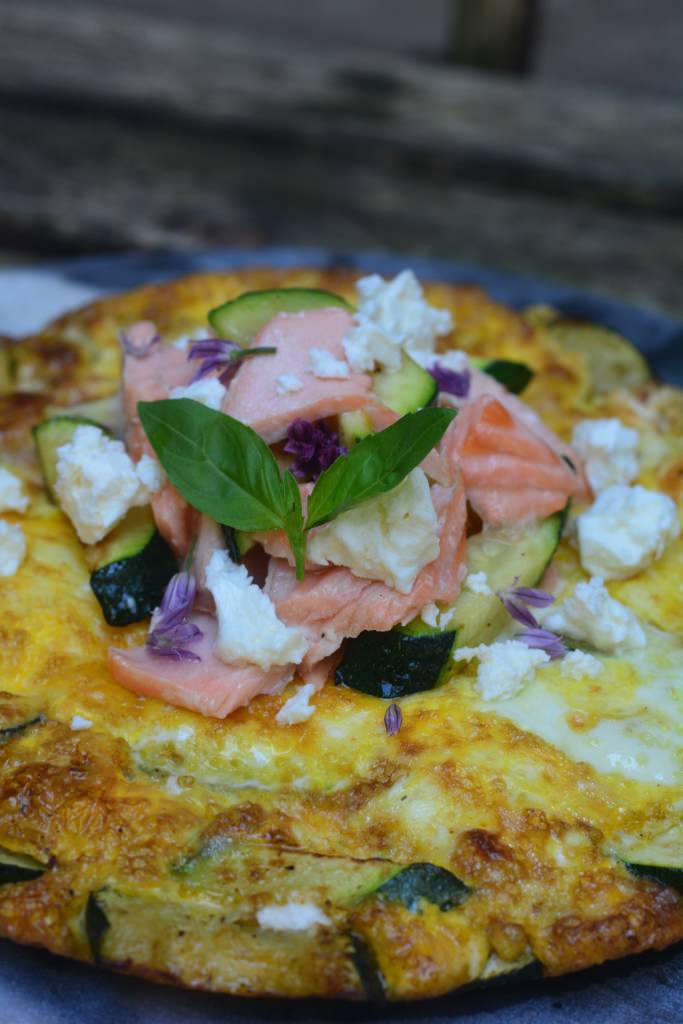 Frittatas are one of my go-to dishes.  As long as I have eggs in the house I feel happy knowing I am never far from a delicious meal.  My motto in cooking, is definitely, "if in doubt, put an egg on it".
As well as being incredibly versatile and delicious, they are also an incredibly source of protein.  Making a frittata the perfect post work out meal.
You can generally bung in whatever you like, or whatever you find in the fridge, but for this one and an added dose of protein, I've opted for omega-3 rich salmon.  Peas would also be great added to this, or a handful of tomatoes.
Ingredients (for one):
1 courgette
3 eggs
1 salmon fillet (roasted in the oven for 8-19 minutes, cooled an flaked)
20g feta
2 basil sprigs
Garlic flowers (optional)
Maldon Sea Salt
Pepper
Method
Preheat the grill.
Simply chop the courgette up , it's also great grated (ha!).
Take a small non –stick frying pan, mine is about 7 inches. Fry the courgette until lovely and golden. I set some aside for garnishing…this is optional.
Then whisk the eggs and pour over the courgettes. Dot with the feta and allow to cook for a minute or so. Then pop it under the grill so that the middle of the frittata can cook.
Once it is set in the middle, slide on to a plate and serve with the flaked salmon, cooked courgette and a few basil sprigs and garlic flowers, if you have them!
So satisfying, and so delicious!
4. Sesame crusted seared tuna salad with coriander pesto and cucumber ribbons
This is such a deliciously light dish, packed full of flavour and quivering with delight.
That might make this tuna salad sound a little fifty shades but honestly this salad would think of no such thing.  Now, like most of the best things, this is seriously easy to make and looks as pretty as a picture.  It's incredibly delicious, packed full of goodness and really easy to rustle up!
Ingredients (for two):
1 good quality tuna steak (Because you are only searing it, you want to make sure you buy a really good quality, sushi grade if you can. I have an amazing local fishmonger who has the best tuna around!)
100g sesame seeds
50g nigella seeds / black onion seeds
Pinch of wasabi powder
For the coriander pesto:
Good handful of coriander
Glug of olive oil, about 50ml
1 clove garlic, crushed
1 red chilli finely chopped
50g sesame seeds
Salad
Two handfuls of salad leaves
1 cucumber
Method
First tip your sesame seeds, onion seeds and a sprinkling of wasabi powder into a bowl and roll the tuna into the mixture. Press down on all sides so that the tuna is well coated.
Heat a little oil in a non stick frying pan until smoking hot. Then fry the tuna for 25 seconds on each side.
Once it is cooked, put to one side and get on with making the coriander pesto.
For the coriander pesto just pop the coriander, crushed garlic, chopped chilli and a nice glug of olive oil into the food processor. Blend until it is roughly chopped up, but not too much of a smooth puree, I like it still with a bit of a texture. Add a little more oil, so that it is drizzling consistency.  Then, add the sesame seeds and give it a stir. Don't blend it once the sesame seeds are in as they will all get broken up and we don't want that.
Now, use a julienne peeler to slice the cucumber into noodle strips. If you are a fancy pants and have a spiralizer…now is the time to whip it out. If you have neither of these two things, don't panic! You can just use a normal vegetable peeler to peel the veggies into pappardelle strips.
Arrange the salad leaves on the plate and top with a tangle of the cucumber ribbons.
Then slice your tuna steak lengthways into long strips. This is much easier if you have a sharp kitchen knife. Trust.
Arrange on the plate and drizzle over the coriander dressing.
Nom Nom NOM!
5. Naked smoked salmon and asparagus mini quiches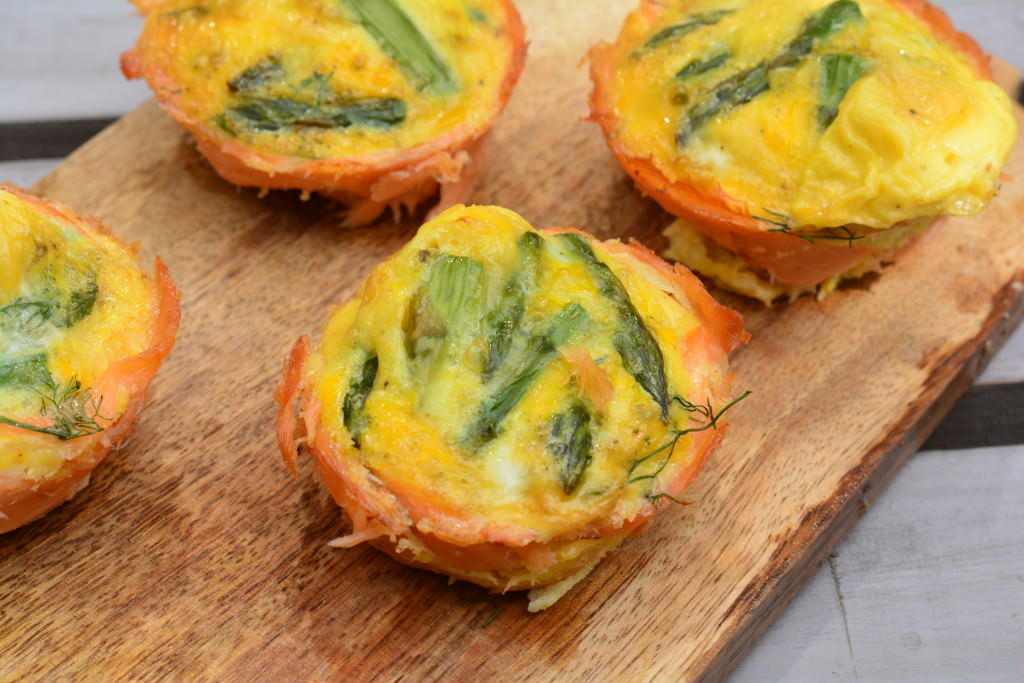 These little quiches are totally naked.
Bare as bare can be. But there's no need for blushes here. They are still decent, in fact they are more than decent.  Decently delicious.  They are only naked because they don't have their pastry towel to protect their modesty. They aren't wrapped in a heavy layer of pastry, which  means these are incredibly light, totally moorish and they make the most beautiful brunch.
So not only will these naked mini quiches make you feel fantastic, they are also utterly delicious. A truly winning combination.
You could always bulk it out a bit by serving these with some roasted asparagus and perhaps a perfectly ripe sliced avocado.
Ingredients (makes six mini naked quiches):
8 slices of smoked salmon
200g asparagus, cooked, and then cut into 2cm long chunks
4 eggs
1 teaspoon of small capers
1 tablespoon of chopped dill
Maldon Sea Salt
Pepper
Method
Preheat the oven to 180C.
You will need a muffin tray. I lightly greased mine with some coconut oil just to makes sure that the little quiches came out at the end.
Now, simply arrange the smoked salmon slices into the muffin tray.  You want to try and wrap the salmon around the edges of the hole.  You can use the extra slices to make sure that any gaps are filled up and that the bottom is covered too.
Divide the capers and dill amongst the holes.  Then add the asparagus tips.
Whisk the eggs in a bowl and then season well with salt and pepper.
Pour the eggs into the muffin tray, dividing the mixture between the 6 holes.
If you run out of egg mixture, you can always whisk another one up and top up as necessary.
Now pop the muffin try into the oven for about 8 mins. Ovens vary quite a lot, but start with 8 mins and check them. They should be firm-ish when you touch them. Obviously you don't want them to be runny as that means the egg won't be cooked properly, but you also don't want them too firm as they can then taste a little like eating a sponge. And I can tell you from first hand experience that eating a sponge is not nice. Don't even ask.
Once they are cooked, allow them to cool for a minute before easing them out of the muffin tray.
@madebymargie