Race
noun
A competition between runners, horses, vehicles, etc. to see which is the fastest in covering a set course.
The word "race" automatically commands my attention. This four letter word immediately summons a situation in my mind which requires mental and physical peak performance and adequate prep time.
Before I run a race a stress response is subconsciously provoked no mater how hard I consciously try to remain calm. This is actually, competitively speaking, a good thing since adrenalin can give you an edge and help you reach peak performance. It just feels nervy! When I'm standing in a start pen ready to race my heart is usually pounding and I can't help but premonition the pain and challenge ahead.
There are all kinds of positives to challenging yourself to perform at an optimal level. Pushing your limits and smashing through to new achievements can make you feel mentally and physically strong and give you confidence to keep striding forwards in every aspect of life. Yet, the widely perceived con's of a race (you have to be a certain level, speed, it hurts, it's unpleasant etc) do keep many from competing for fear that they haven't the skill or self-belief to take part. And this is a great shame. There is so much more to taking part in a race than just trying to fit the most basic definition of trying to be the fastest.
Recently I've been mixing up my training, cutting the miles back and adding more strength, Pilates, yoga and low impact hiit. This phase of my training I hope will make me be a stronger runner and reduce my risk of injury when I start ramping up the running mileage and tackling some trails and longer distance challenges.
Last week a last-minute change in my calendar meant that I'd be in town for the ASICS London 10K with Virgin Sports. I knew I wouldn't "race" it in the traditional sense because of the aforementioned reasons, I needed to keep to my training plan, so instead I chose to use it as a training run where I'd maintain a threshold pace but not go full pelt. This would save my legs and not be too big of a sudden exertion for my legs compiled with the current volume of strength training.
I arrived on the hot sunny Sunday morning of the race feeling calm. Even walking to the start pen I felt super chilled and I maintained this mentality throughout. I ran at a mostly comfortable pace and only occasionally checked my watch out of curiosity to see what my stats were. I smiled and delighted as I ran through the clear, uncontested central London streets with crowds and confetti encouraging and cheering us all on. The course was mainly flat with a few little ascents and descents and not over-crowded with competitors allowing mostly undisturbed strides and little hustling.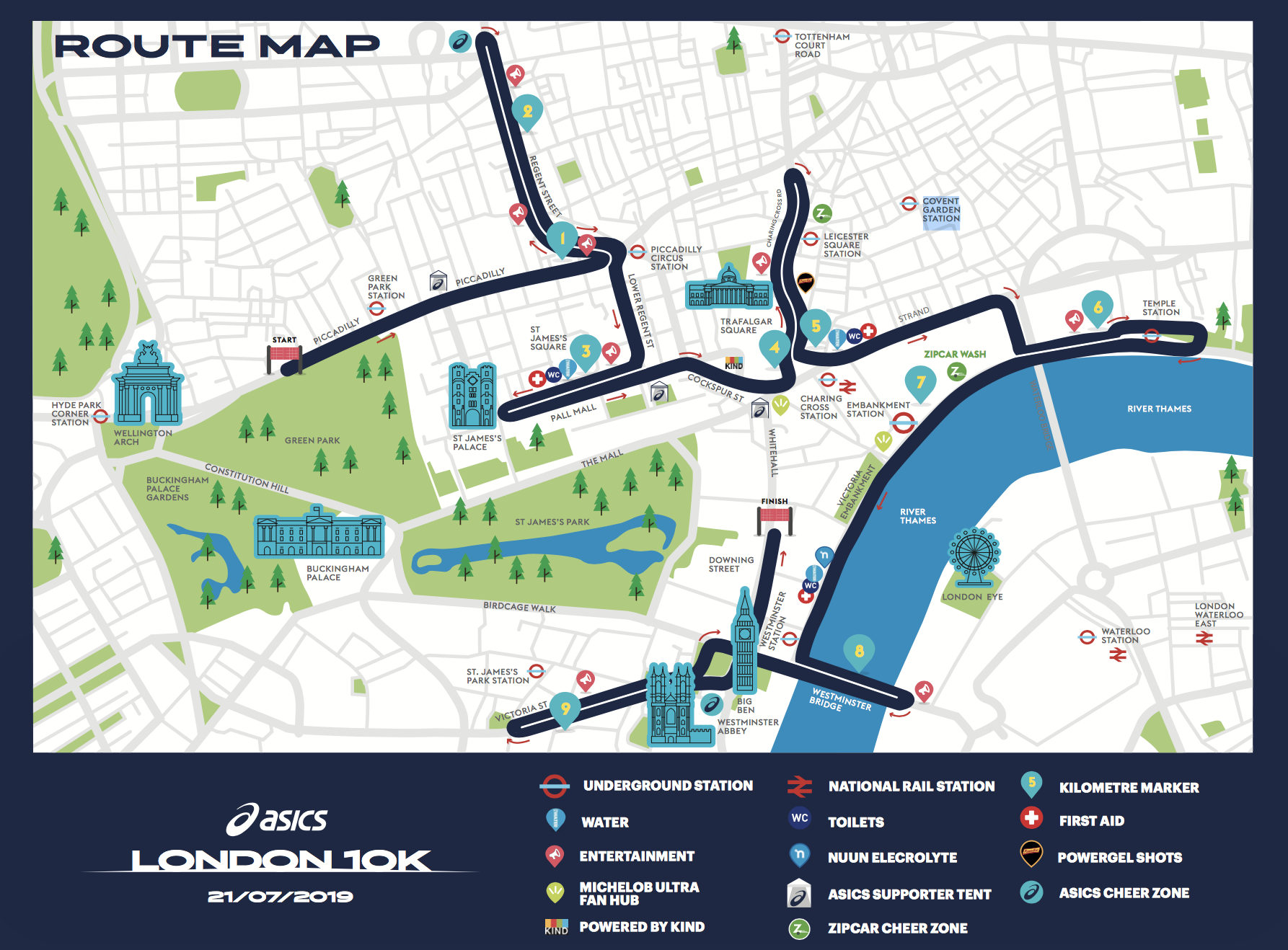 Highlights of the "race" have to be running down the only significant descent just before mile six before temple station with the Thames sparkling in the background. The treasures of the London Eye and Houses of parliament were served up as a very much appreciated pick-me up at the end of the course when energy was beginning to wane. At this point I swallowed half a GU energy gel, made a bee-line for the full-body water cooling spray, kept "my head up" as directed by Will Smith during his message for all runners which was played on the big screen before the start of the race. His brand Just Water was supplying the H2O meaning the event was plastic free as Just water comes in plant bottles made with zero plastic.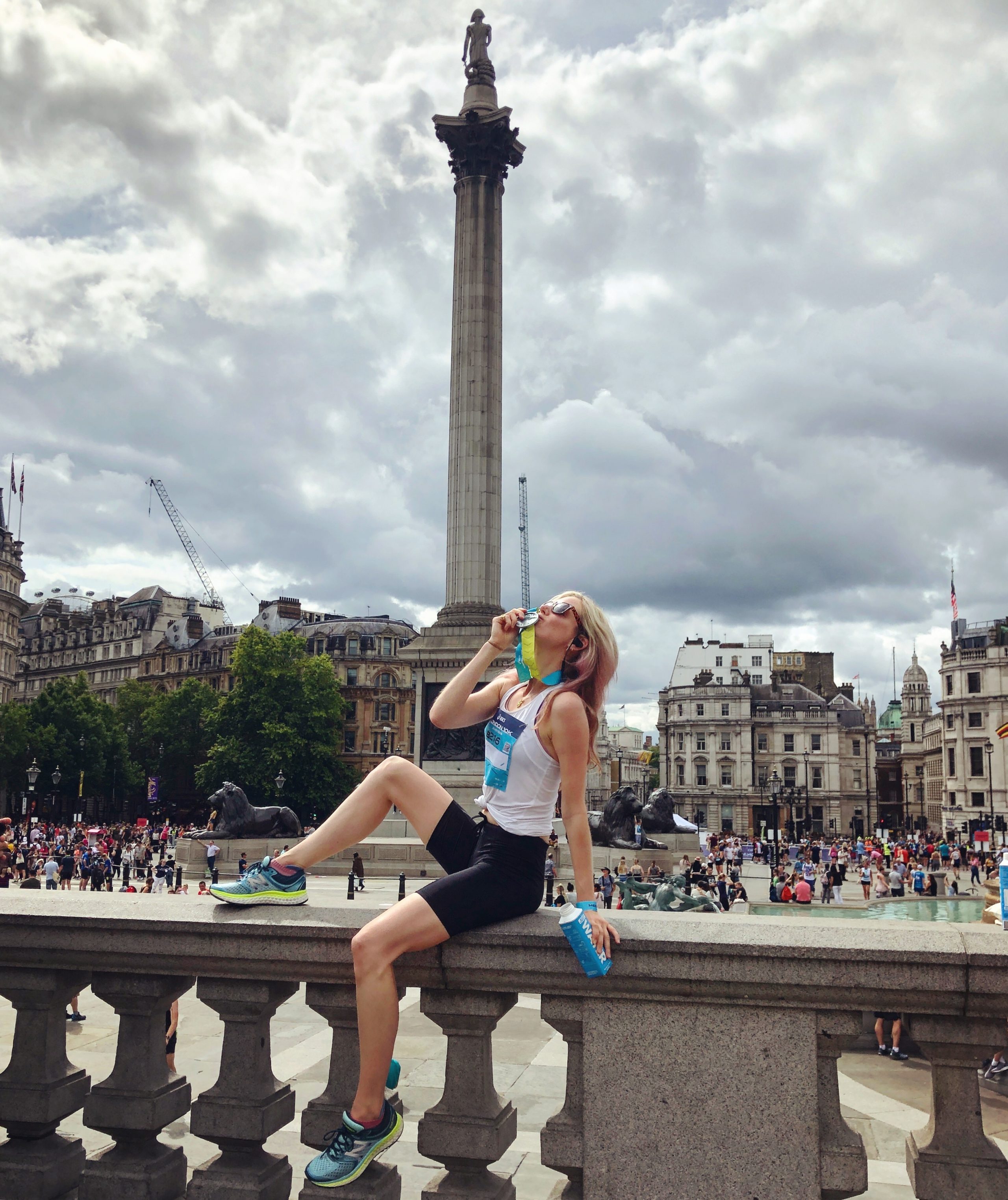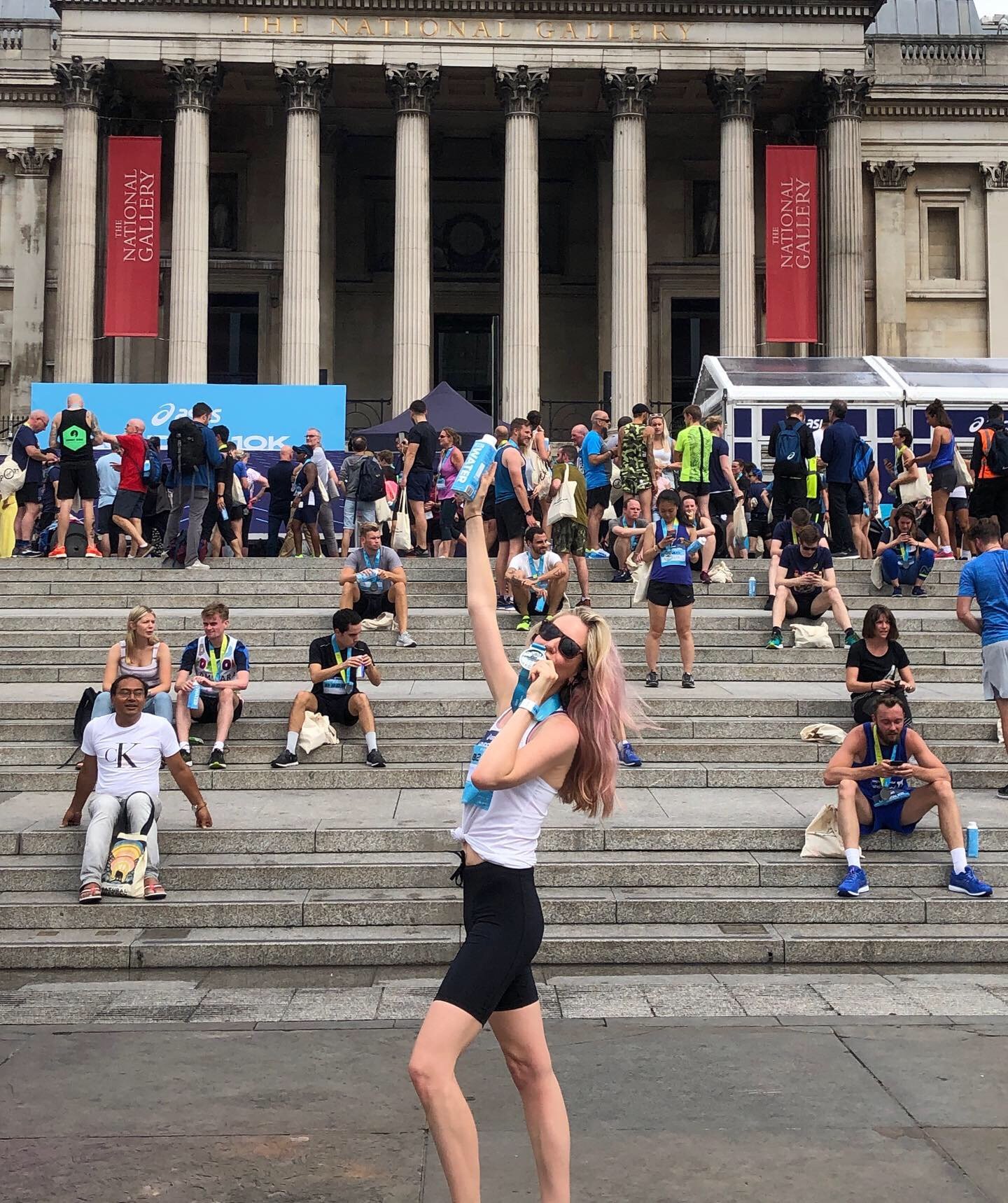 In the last half kilometer I admit I couldn't hold my competitive streak back when myself and a male runner found ourselves side by side, it was sprint until the end and we crossed the finish line in unison. I was breathless and beetroot in the face but I felt electric with endorphins pulsing through my being.
I was surprised by how strong I'd felt throughout the race and how, even at threshold pace which wasn't flat out or my fastest, I was pretty zippy! Regardless though, even if I hadn't been zippier than I'd anticipated it proved an important experience and that is, that you don't need to be operating at your fastest to be in a race. It really is about taking part if you just want to experience the joy of the sport with fellow runners running to make positive changes supporting charities and doing something which gives themselves so much pleasure too. And hey, you might even surprise yourself by your performance too. So much of it is tied up in our mind after all.
So – if you're not at your optimum level and you're thinking about steering clear of both events and races alike, think carefully. Why not just choose an appropriate distance and level that isn't beyond your limits and just see what happens. Do it because you love your sport, because you want to be inspired by others, because you want to support a good cause. Do it because you are someone who takes part in life and who strives to be better. Loose your ego and just do what you can – even if it's just to take part. By all means don't go entering aalll of the races under the sun! Just pick some that will be good boosters for your mental and physical fitness and enjoy the ride.
In the words of Theodore Roosevelt:
"It is not the critic who counts; not the man who points out how the strong man stumbles, or where the doer of deeds could have done them better. The credit belongs to the man who is actually in the arena, whose face is marred by dust and sweat and blood; who strives valiantly; who errs, who comes short again and again, because there is no effort without error and shortcoming; but who does actually strive to do the deeds; who knows great enthusiasms, the great devotions; who spends himself in a worthy cause; who at the best knows in the end the triumph of high achievement, and who at the worst, if he fails, at least fails while daring greatly, so that his place shall never be with those cold and timid souls who neither know victory nor defeat."