Last Saturday I hopped on a train out of London and headed for the Surrey Hills in hot pursuit of the Salomon Trail running festival at Box Hill, just one hour away. Skies were grey and showers were intermittent but I was prepared for any weather with my waterproofs and extra layers so a little light rain wasn't going to stop me.
As a road runner I'm highly aware of the high impact that the constant, repetitive pounding on the tarmac has on my legs. Running mainly on the flat road means that the same muscles get used at every step, which puts them under a lot of strain. With trail running however, terrain is generally softer and elevation is constantly changing meaning that more muscle groups are utilised and the risk of injury is therefore reduced. This is a big draw for me. I love road running but hard continuous impact can indeed mean you pay the price with injury whereas softer surfaces and varying inclines and declines does help to reduce wear and tear.
Another massive bonus of trails? You get to discover the country so much more and enjoy some areas of outstanding natural beauty whilst you're doing it. As a HUGE nature lover and adventurer this ticks a massive box for me. Trails can go on for miles and miles meaning you can explore and see so much along the way. What's more the air is fresher away from the city and when you are gasping for O2 at the top of your lungs to get up a hill this is a must! Trails can offer a lot of inclines (Box Hill you have some horrors!) and strength and fitness will surely improve the more you hit the hills.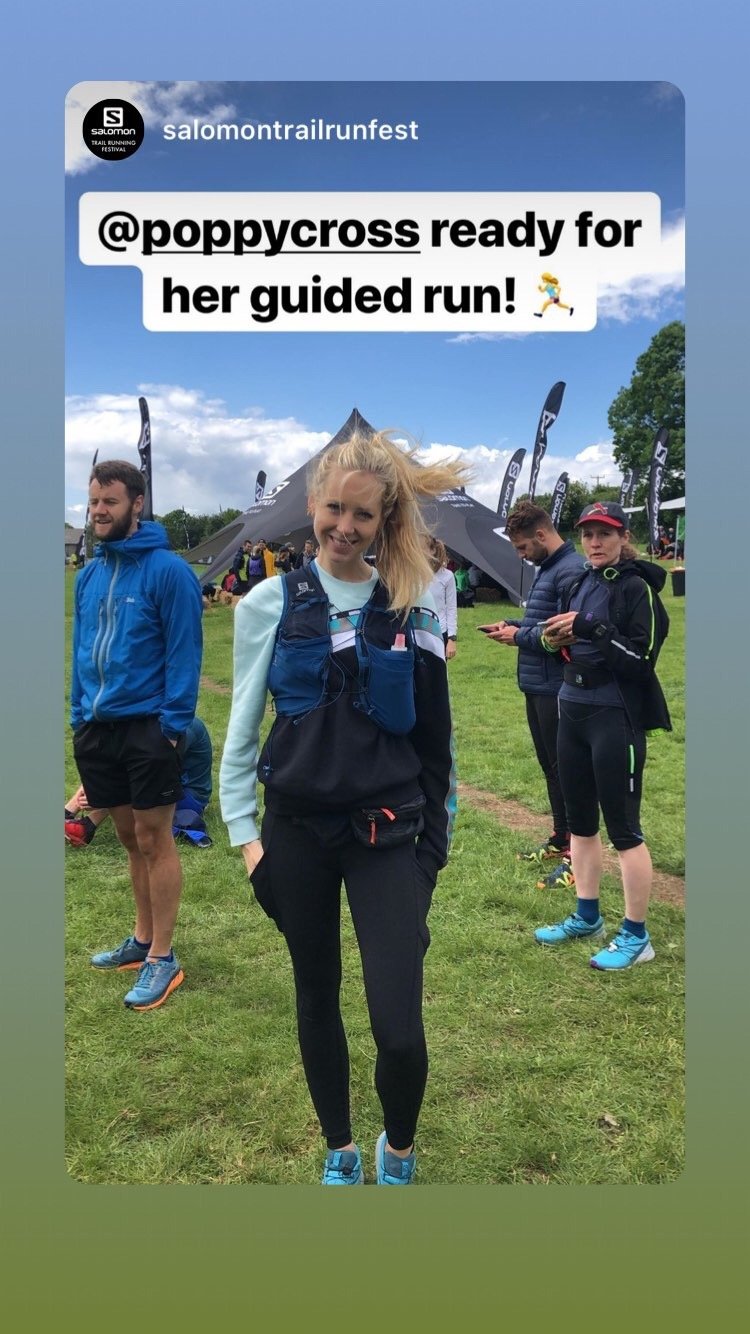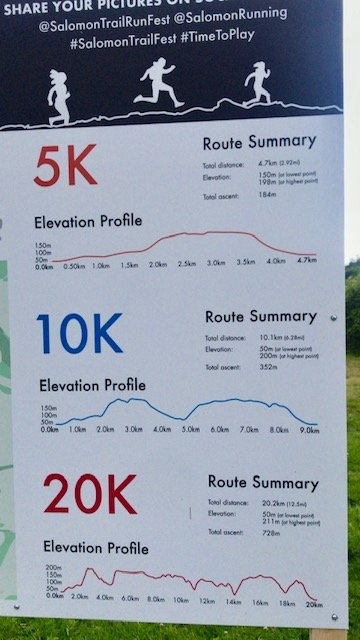 When I arrived at the festival the sun came out. Great omen! I thought happily. Since I didn't have trail trainers I was able to test Salomon Sense Ride 2 shoes which I literally found to be the perfect fit and gave me great grip and stability. I was also given a hydration vest to wear which securely held my water in place throughout my run. I wore a men's one since there wasn't a women's available at the time but word on the trails is that the women's vest is a game changer for us chicks. Click here to view.
Salomon ambassador Rory Southworth (check him out on Insta) lead my group and did a splendid job of ensuring everyone could keep up with the pace and plog along the way. Yup, we even picked up litter as we ran. We traversed hillsides across sunlight meadows and weaved our way up through shaded woodland to be rewarded with the most wonderful rolling views from the top. Where the hills were super steep we power walked up and Rory ensured there were enough breathers for everyone to finish the job! It was a short but oh so lovely (those declines were heaven!) 5k initiation into running trails. We nattered, huffed and puffed along the way and came back with rosy cheeks, big grins and bags of litter to bin!
Back at the festival there were yoga classes and talks taking place to spread knowledge on nutrition, mapping trail runs and the general trail community. Oh and there was also pizza and waffles and general good vibes! It always amazes me just how dramatic the difference is between how I feel before a run and after a run and I have to say hand on my heart, trail running really escalated this change even further. I felt so free running in outstanding scenery with such cool, inspiring, conscientious spirits sharing a love of the outdoors, adventure and running. The fact that the routes were challenging made it even better. It's good to get outside your comfort zone and gets you stronger, fitter and fiercer!
I returned to London feeling a deep sense of contentment, knowing in my heart that this trail running game is one that I most certainly have to play. I made some great new trail running buds and I'm pumped to set some trail challenges. Whilst I won't be waving good bye to the road for good I'll definitely be cutting back the tarmac miles to make room for the turf.
As for my next trail? It's a 10K with Run the WILD in the Chilterns on 30th June. This is for anyone with an appropriate level of fitness but it's not a race. I hope to see you there!