I'm not a vegetarian nor am I gluten free, so when I heard about Mira Manek and her meat-and-gluten-free-Indian food my first thought was – boring.
In my mind, a meal is not really a meal without meat and I don't like the restrictions which the gluten-free diet impose (although I know that some people don't have the luxury of choosing). But I'd met Mira a few times at various health and fitness events and she'd surprised me with her creamy-delicious no-bake flapjacks made with chickpea flour, filled with spices like ginger and cinnamon (click here for recipe) – so much so that I was curious to know what other delights she had up her sleeve.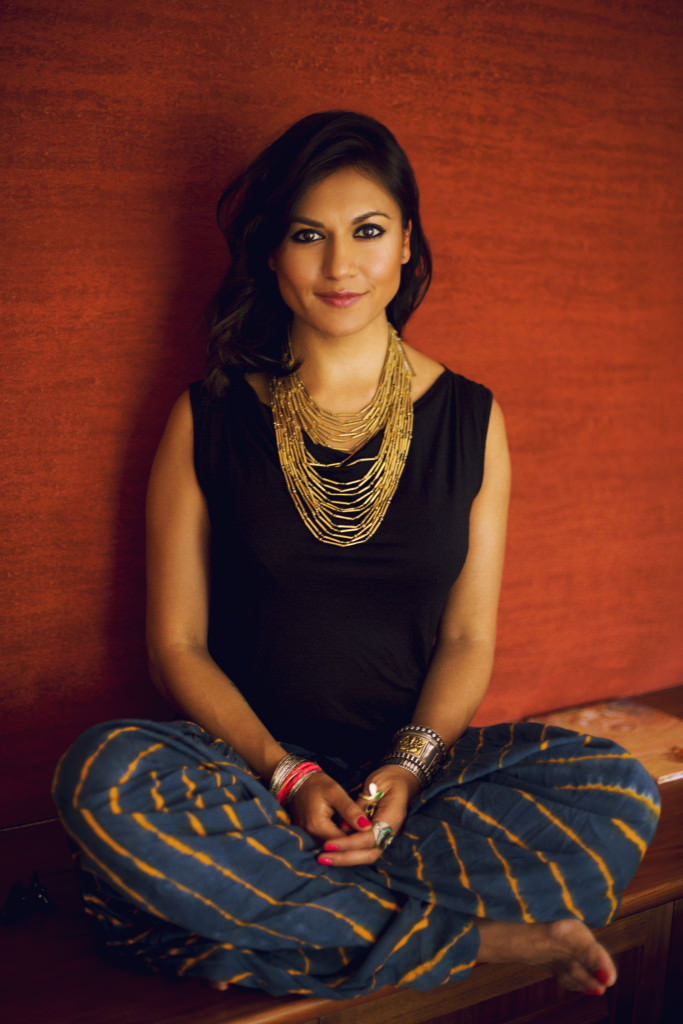 A week ago I had the perfect opportunity to find out, when Mira kindly cooked supper for a hungry host of us journalists and bloggers. Before attending, I was anxious that the food would be too rich and sweet and leave me feeling far too full and uncomfortable. Again, I was wrong.
Mira's food is light, flavoursome, fresh and wonderfully spicy. I don't necessarily mean it's hot (although some of it is and fabulously so) – it's just flavoured with a wonderful array of herbs and spices that are extremely palatable.
I wanted to share some of Mira's recipes with you, in hope you might recreate them and discover the delights I'm talking about! I promise, even you meat-eating gluten-loving folk like me will be hard-pushed to have any complaints! Now it's over to Mira.
x
Avo-on-toast with Roasted Red Pepper spread & chilli
Mira: A few years ago, while I was travelling in Tuscany, my friend had organised a vegetarian cooking class with two lovely Italian women in their home – and this turned out to be the best part of the trip. It was there that I roasted peppers for the first time, spreading some goat's cheese on crostini and then layering thin slices of red and yellow peppers with fresh herbs. I've never loved peppers – well they've always been one of those nondescript vegetables for me – but roasting them altered the flavour entirely… So deliciously sweet and tasty! And I just couldn't get enough.
Anyway avocado on toast with chilli flakes, makes a deliciously healthy breakfast and it's livened up perfectly by the roasted red pepper spread with chilli flakes and paprika. It gives the avocado on toast a  layer of spicy yumminess, not to mention the bright splash of colour. And you only need to spread a very thin layer of the sauce. I've used spelt bread here, but you can use any bread, and I've also used my favourite furikake mix – with toasted mixed sesame seeds and herbs, but you can just add plain sesame seeds.
Enjoy!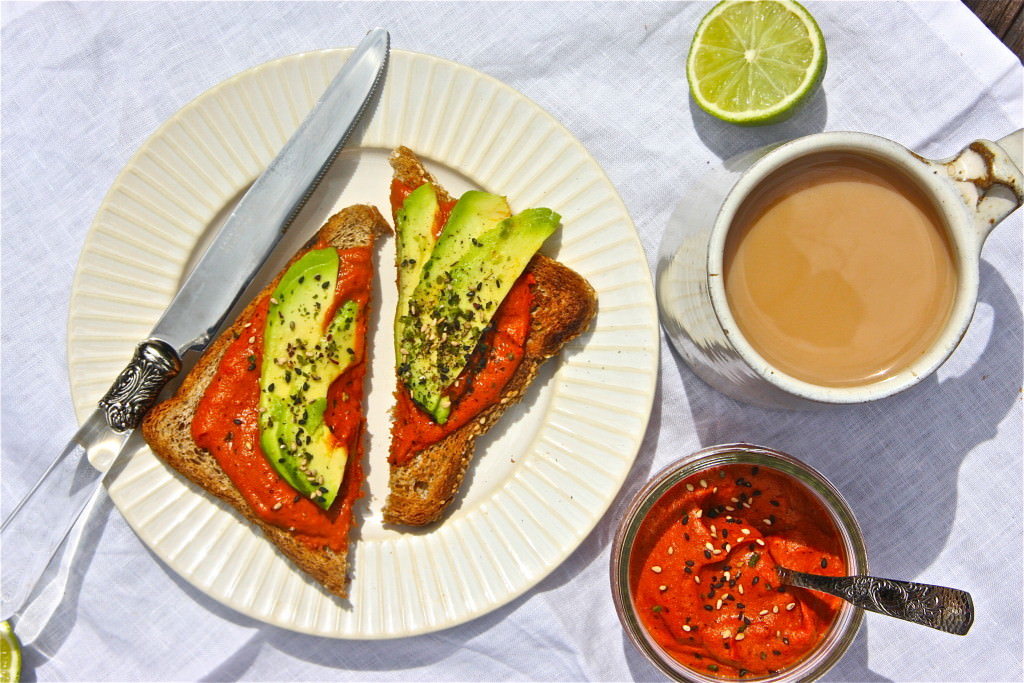 Ingredients (7-10 servings, 1 small jar)
2 red peppers
1 tomato
5 cherry tomatoes
¾ teaspoon chilli flakes
½ teaspoon paprika
¼ teaspoon Himalayan salt
3 walnuts
1 tablespoon rapeseed or olive oil
Method
Start by preheating the oven on Gas Mark 4. Cut the red peppers, discard the seeds and roughly coat them with some coconut or any oil. Roast the cherry tomatoes, tomato and red peppers in the oven for 30-45 minutes (at least 30 minutes). Now you can place the red peppers, tomatoes and the rest of the ingredients in a blender and blend until a smooth paste is formed. Taste and add salt or more chilli if needed. Spread on toast and add a few slices of avocado.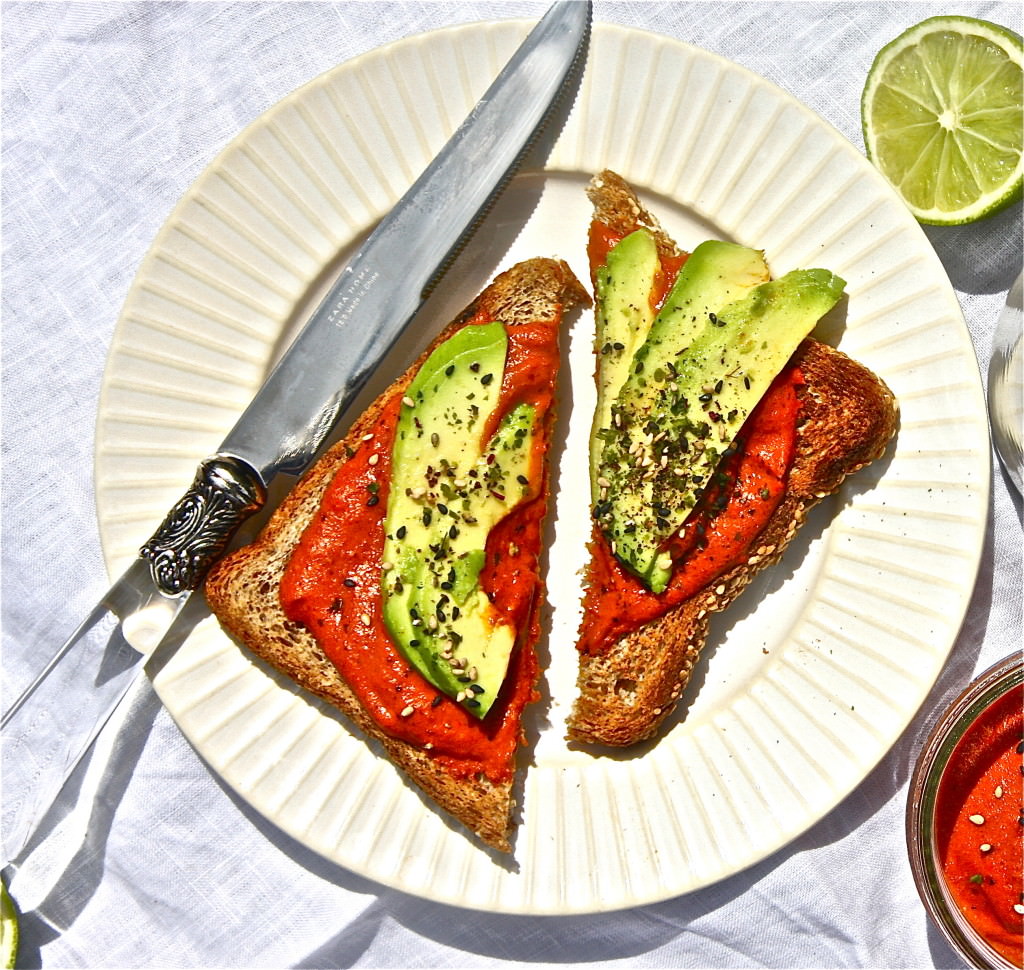 Spicy Sweet Potato Slices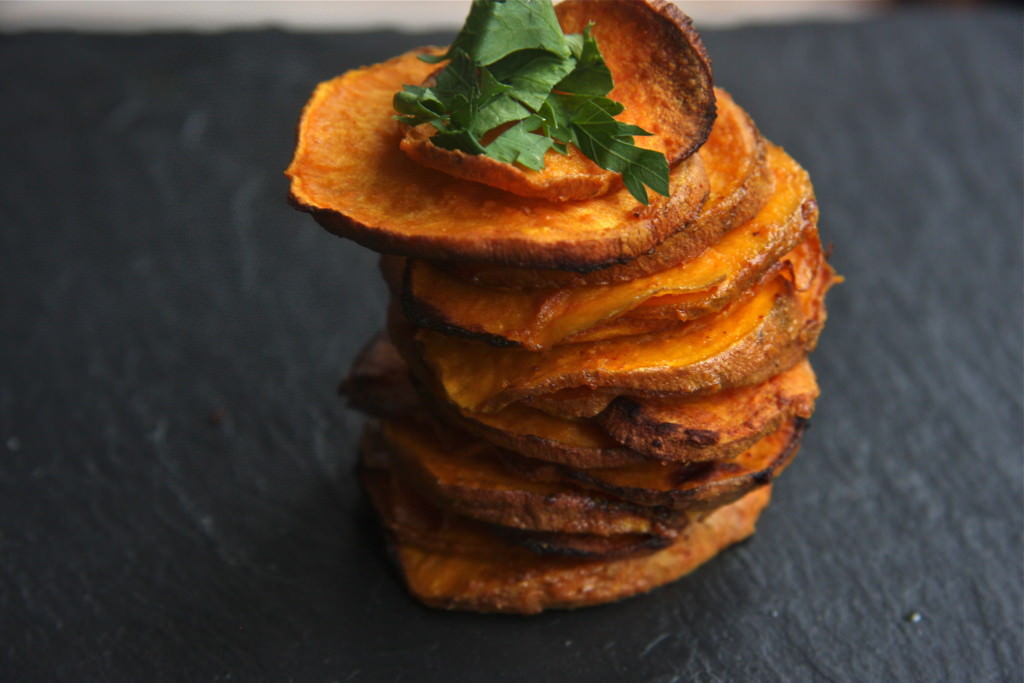 Mira: I had a bag of sweet potatoes in front of me yesterday, lying on the kitchen worktop, unopened. I looked at it and my mind raced through the various, or rather, endless things I could make. Decision-making has never been my strong point. Tea or coffee, to travel or not to travel. And so I stood there, waiting for the right sweet potato idea to come. I wanted to make something quick and so swiftly, without excessive debate, I settled on masala spicy sweet potatoes. Then there was the debate of spices and whether or not to add a little tandoori sauce, was turmeric necessary, should I add some yoghurt, and red chilli or paprika. When it all came together perfectly in the end – a successful number of decisions which amounted to a deliciously crisp outcome – I realised that in cooking, as in most things, you have to let it be instinctive, you have to just imagine what might work and hopefully it will work. And these sweet potatoes looked so good that I just wanted to keep taking pictures from different angles and on different plates, and I had to stop myself from eating them. When I did eat them… it was just the right amount of everything.
Ingredients
2 sweet potatoes, around 300g total
1 tablespoon rapeseed or olive oil
¼ teaspoon turmeric
½ teaspoon salt
¼ teaspoon paprika
2 tablespoons yoghurt
1 teaspoon tandoori sauce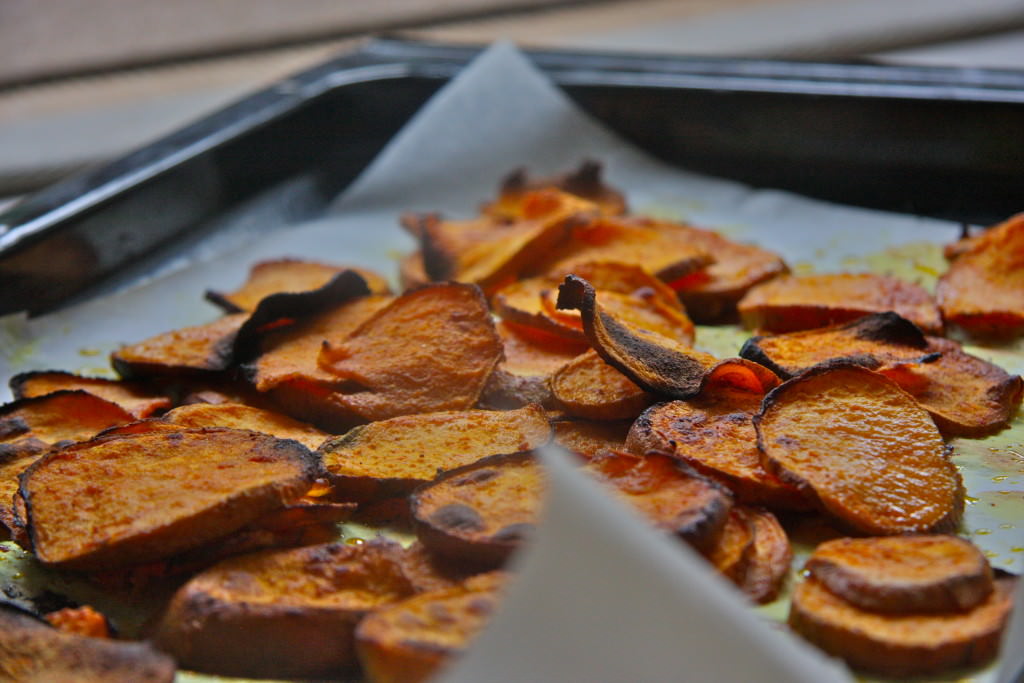 Method
Preheat the oven on Gas Mark 4. Start by thoroughly washing the sweet potatoes as you'll be grilling them with the skin. Now thinly slice the sweet potatoes – you can also do slightly larger chunks – it simply takes a little more time to cook. Place them in a mixing bowl and leave on the side. In a small bowl, mix the tandoori sauce and yoghurt and add this along with the rest of the ingredients into the mixing bowl with the sweet potato slices. Mix together properly, spread out on a baking tray and place in the oven for 30-45 minutes, until cooked. Use a fork to check if soft and cooked. Once they are cooked, place under the grill for around 10 minutes so they become brown and slightly crispy. Keep checking while in oven that they don't burn.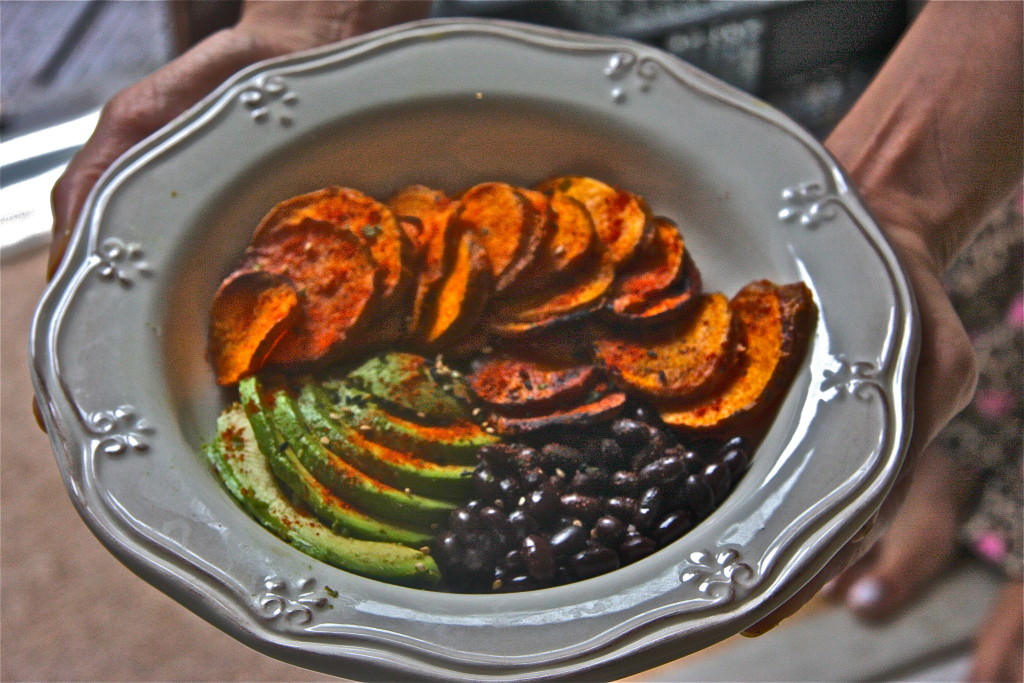 Tumeric Tofu & Wild Rice
Mira: I remember just how excited I was when I first discovered Yoga House in Mumbai a couple of years ago. Each time I've visited the city since, I have spent hours in this space, starting off with a yoga class and then whiling away time writing in the café whilst indulging in wholesome healthy food, saffron tea and refreshing juices. I was finally at Yoga House again just a few days ago, soaking in the warmth and breeze, the brilliant green walls infused with sunshine and pots of plants walking up the stairs.
The green juice, a mix of pineapple, ginger, spinach and basil, quenched my post-yoga thirst after which my sister and I savoured the one dish I'd been craving over the past year – tofu and brown rice, with a sprinkle of red and yellow peppers. A simple dish that had become a firm favourite during my last trip to Mumbai. It was as good as I remembered it. And as I chewed my way through it, I realised that having this dish in the uplifting al fresco homely environment of Yoga House in Bandra after an energetic yoga class played as much of a part in the experience of eating this dish as did the flavours.
Now back in London, I've recreated this dish, using wild rice instead of brown rice and adding broccoli as well as a pinch of turmeric to the tofu. It's deliciously comforting, nutritious and filling – and a squeeze of lime gives that finishing zest.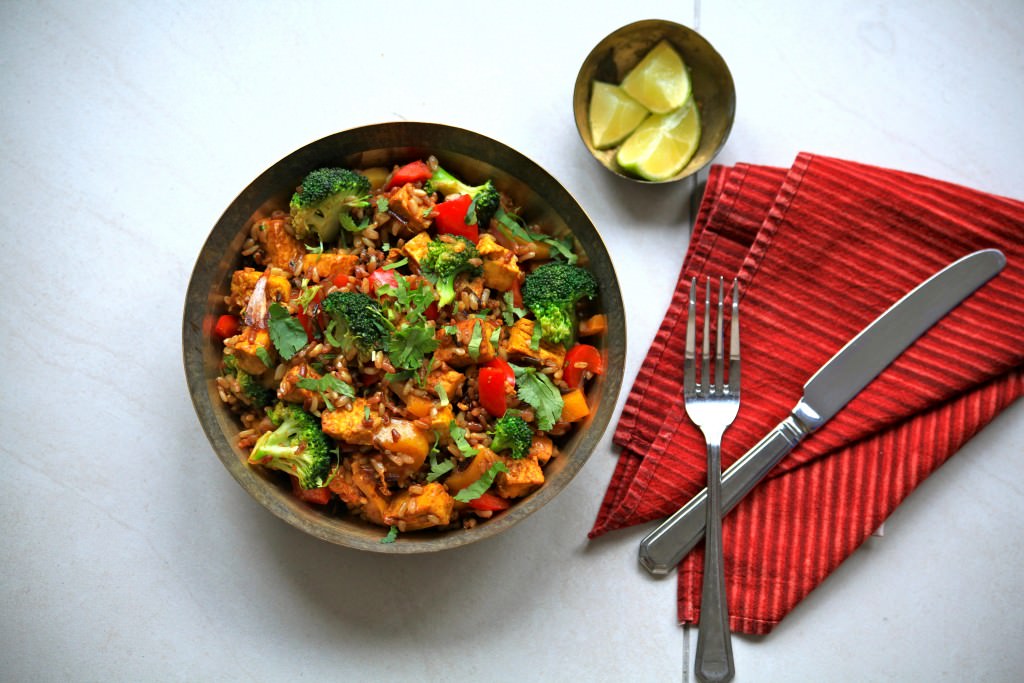 Ingredients
Rice
120g wild rice
350ml water
Tofu
280g tofu (1 block), medium to firm
¼ teaspoon turmeric
1 teaspoon soy sauce
Vegetable stir-fry
1 teaspoon coconut oil
1 small onion, long thin slices
½ clove garlic
¼ teaspoon himalayan salt
150g red and yellow peppers, chopped
80g broccoli, chopped
2 tablespoons soy sauce
Garnishing
Coriander
Lime
Black pepper
Method
Place the tofu on a kitchen towel to soak up excess water for 5-10 minutes. To cook the wild rice, boil the rice and water in a pan on low heat for around 40 minutes until the rice grains are soft and cooked. While the rice is cooking, chop the tofu in small cubes and place in a separate pan on low heat so that they become slightly brown. Add the turmeric and soy sauce to the tofu after 5-10 minutes, sprinkling over all the tofu pieces, and turn the tofu so that all the sides become brown, careful not to break them. You can start the vegetable stir-fry while the tofu is still cooking. Place the coconut oil and onion slices in a large pan and let this cook on low heat for a few minutes before adding the chopped or grated garlic. Once cooked, add the peppers and broccoli and stir. Let this cook for 7-10 minutes before adding the cooked rice. You can now stir in the soy sauce and add the tofu. Serve with a slice of lime and a sprinkle of coriander and black pepper.
Tips
Soaking the rice in water for an hour will reduce the cooking time for the rice.
Chai Ice Cubes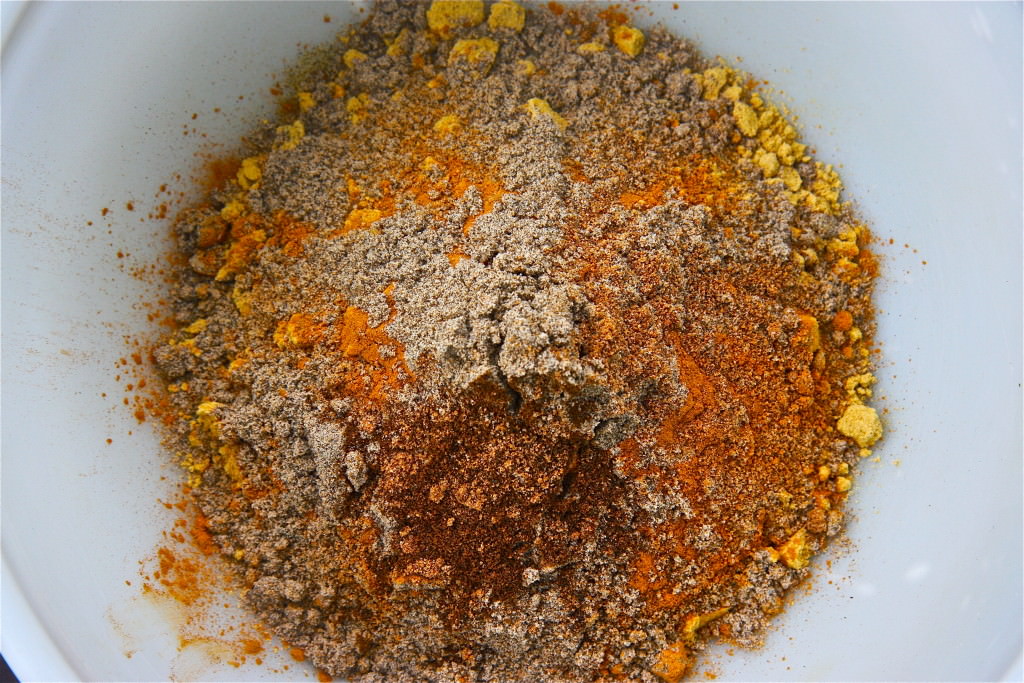 Mira: Summer or winter, I always love a cup of strong chai, but sometimes, when it's actually hot outside and you want something cooling yet rich and decadent, why not make a cup of chilled chai. Keeping ice cubes ready in the freezer means you can serve up this summer delight to anyone without any preparation or make it for yourself without all the effort grating the ginger and boiling the tea each time. Just pour almond milk over the ice cubes and keep a few stylish glasses ready. The cubes will work their magic within minutes, as they start melting and the milk becomes infused with the powerful tea, a kick of ginger, hints of masalas and a warming sweetness. Delightfully healthy yet gloriously rich. And the more the ice cubes the better!
Ingredients (For one tray of ice cubes)
300ml water
3 teabags
2 tablespoons grated ginger
1/4 teaspoon cardamom
1/4 teaspoon cinnamon
6 teaspoons coconut sugar (or any sugar of your choice)
Method
Boil together all the ingredients and then strain into the ice cube tray. Leave in the freezer. When frozen, place a few ice cubes inside a glass (four or more) and pour the almond milk over the cubes (or any milk of your choice).