Encouragement from friends 
Before I left for

Mykonos

I spoke to a friend who's been

sober

for four years. Carlo Carello, ex Boujis manager and now managing partner and owner of Albert's Private Members Club and Mahiki Kensington. Carlo knows exactly what it's like to be submerged in drinking culture day in, day out yet stay stone cold

sober

. And he's learnt from painful experience. Being a self professed "all or nothing" character, in the past, when it came to alcohol Carlo just couldn't call the shots wisely. Pun intended. He had a toxic relationship with alcohol and it came to the point of seriously affecting his health and friendships. He realised that the people he would "hit it hard" with were absolutely not the kind of people he respected or even liked. What was he doing with his time? He knew he needed to stop. So with professional help and support Carlo made the decision to ditch the booze altogether once and for all. And he's never looked back. Carlo is now married with a baby on the way and says he is never tempted to touch a drop despite his wife having the occasional tipple. The downsides, he warned me were "getting bored easily" at events and feeling a little isolated at times but the pluses far outweighed these small sacrifices he said encouragingly. Carlo now practises gratitude on a daily basis, knows and is happy with himself, has a routine which helps him to stay focused on his goals, work efficiently and is never afraid to be completely himself even if this does raise a few eyebrows. "I'm really blunt" he unashamedly told me. I love this about Carlo. I think this is what knowing yourself and owning your life and purpose is all about. You're not afraid to be who you want to be and as a result you make real friends, spend time doing the things you love and with the people you love. No half hearted BS! And the energy that you give to yourself and the people and projects in your life is full of intent, passion and positivity. 
Encouragement from Brené Brown
Ever since I watched her infinitely popular Ted Talk – The Power of Vulnerability – I have been a huge fan of BB. The woman is a legend. Every friend and person I can talk to about her I will, since I believe everyone can benefit from a bit of BB. I read her book Rising Strong during this time of sobriety and it was an enormous support and encouraged me to stay in my lane and keep living true to my intentions. Lovely reader, if you do one thing after reading this then look at BB's work!
We were welcomed with glasses of rosé upon our arrival at the villa.
Of course my polite declination of even a drop was met with surprise from our hosts Jacob and Henry but I was thankful that they didn't try to dispute or dissuade me from my decision to stay

sober

. We took our drinks outside and sat by the infinity pool which offered spectacular views of the sea below and surrounding island. As the others sunk their rose along with the sunset I did feel slightly wistful that I wasn't entering into that next realm of alcohol-infused relaxation. But then I thought, I'm in this moment and appreciating it for what it is. I really don't need rosé to alter this naturally beautiful experience. And actually, I'm happy to be hydrating after my flight and giving my body what it needs rather than the reverse. 
Just before morning we sat down to dinner. Welcome to

Mykonos/ Greek time.

 We'd now been up for 20 hours and finished dinner at 12.30AM. It was then Greek time for a night cap. 
My crew had cocktails whilst I stuck to my soda and lime. This wasn't hard to endure although I knew the next few hours would probably be smoother with the aid of alcohol, especially since I was fatiguing after the early start. But I stuck to my sober bubbles.
The tiny, narrow cobbled streets of

Mykonos

town were alive and buzzing with people boozing, smoking (to my surprise and disgust inside as well as outside) and generally letting it all go. The club was small and saturated with smoke, muscly topless men flexing their pecs and semi-professional dancers interacting with the crowd on the dance floor. We were beckoned to a booth where bottles of vodka, expensive champagne and mixers laid waiting. A waitress asked me if she could pour me a cocktail and when I requested a soda and lime she reacted like I'd just told her I'd lost my virginity. It took repeating my request for "just soda, no vodka" several times for her to register I wanted to remain alcohol-free.
A pretty hideous hour followed. Some entertainment that looked like a bad BGT act played out and I couldn't actually believe that the club was paying for the dodgy displays that were unfurling in front of our eyes. My friend M shouted over the music " I wanna be having as much fun as that woman there"! That woman there was dancing like a maniac, her ample cleavage only just staying immodestly covered by her handkerchief of a red top, leaving nothing to the imagination. M's comment struck me as an interesting truth. People often drink because they have a desire to make themselves feel differently to how they would naturally. It's a method of escapism. Take that escape route away and one is left with tone's own true feelings. 
A couple of hours later we returned to the villa. We'd been up for 24 hours. But so far, I'd survived sober. 
I woke up, worked out in the gym then took position by the pool to read Malcom Gladwell's book "blink". In contrast, the others (bar one of the guys who lived in the villa, Henry) chose to go to Jacob's day-club which was packed with people to drink all day in the sunshine. I craved some quieter time and was enjoying the insights of Gladwell's book. Henry and I ended up in deep conversation. We spoke about my reasons for not drinking which then lead to him sharing a lot of his personal life and he admitted that he hadn't had such a "real and deep conversation for years". His life in the summer involved a constant stream of hedonism. I imagined the rest of the year was similar although perhaps slightly less partying and far more work. Henry is a smart and successful guy, like Jacob.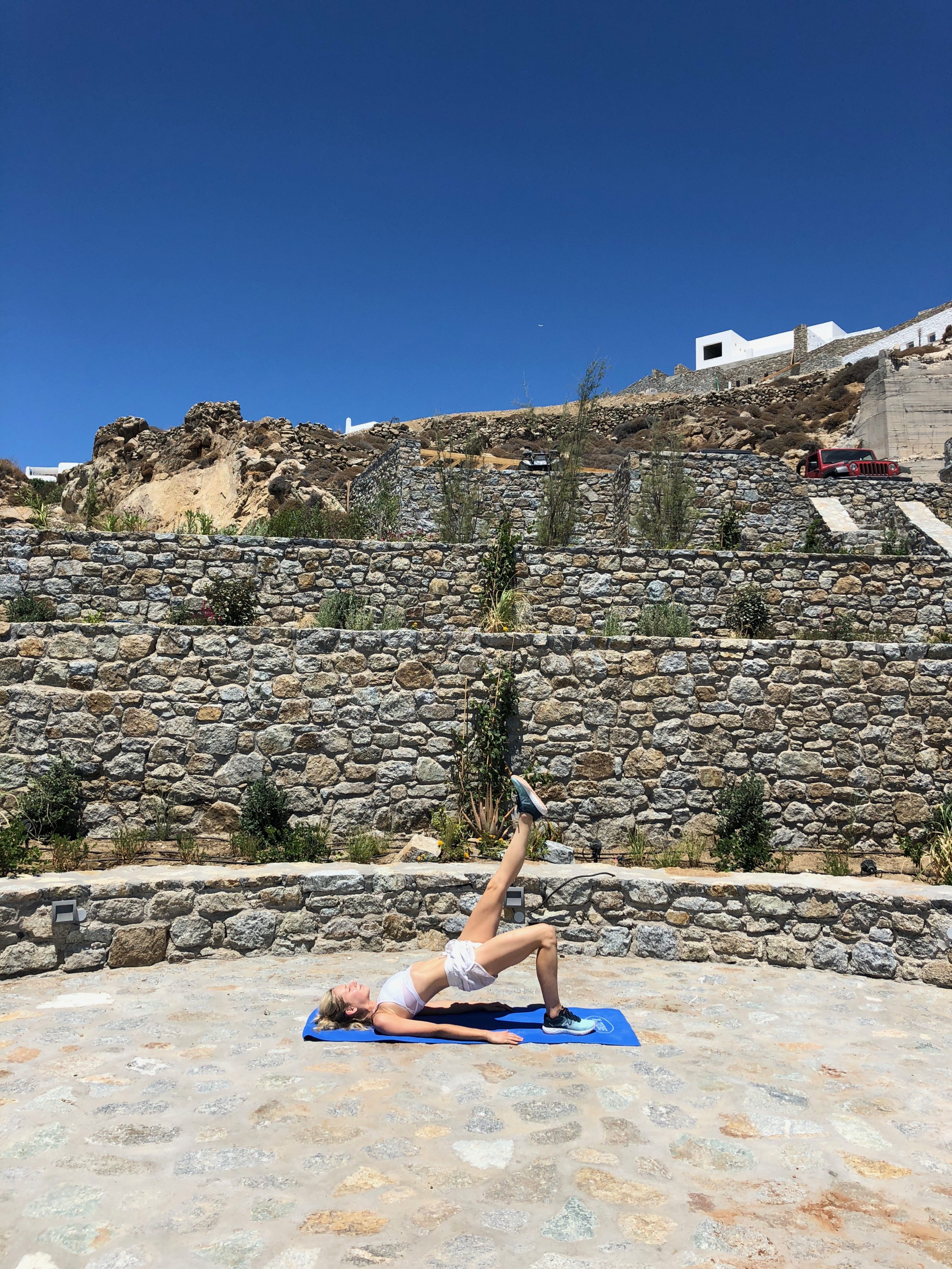 Later that day Henry and I joined the rest of the gang. It was swarming with bikini clad dancers and a sophisticated cocktail consuming, sunshine worshipping crowd. When the sun began to set we headed to the famous "Scorpios" outdoor beach club. Scorpios describes itself as "nurturing a diverse creative community, from healers, movement and meditation teachers and visuals artists, renowned DJS and experimental musicians." It was totally my vibe. It felt confidently cool and not in the least bit contrived. The DJ and experimental musicians blew my mind with their combined talent that came together in a mix of pure improvisation and carefully composed notes. A DJ, clarinetist, saxophonist, keyboardist and drummer played soporific melodies which myself and the rest of the crowd shimmied and swayed to as the sun sunk into the sea behind us. In contrast to the soulless nightclub the night before, everyone in my group and those around us seemed to be having an authentically great time. The natural, wild, outdoor environment lended an extra layer of richness to the experience. There were even young families in attendance who by default were staying

sober

. There was room for everyone. The event was a celebration of talent, of nature, of freedom, of expression and connection. Definitely my vibe.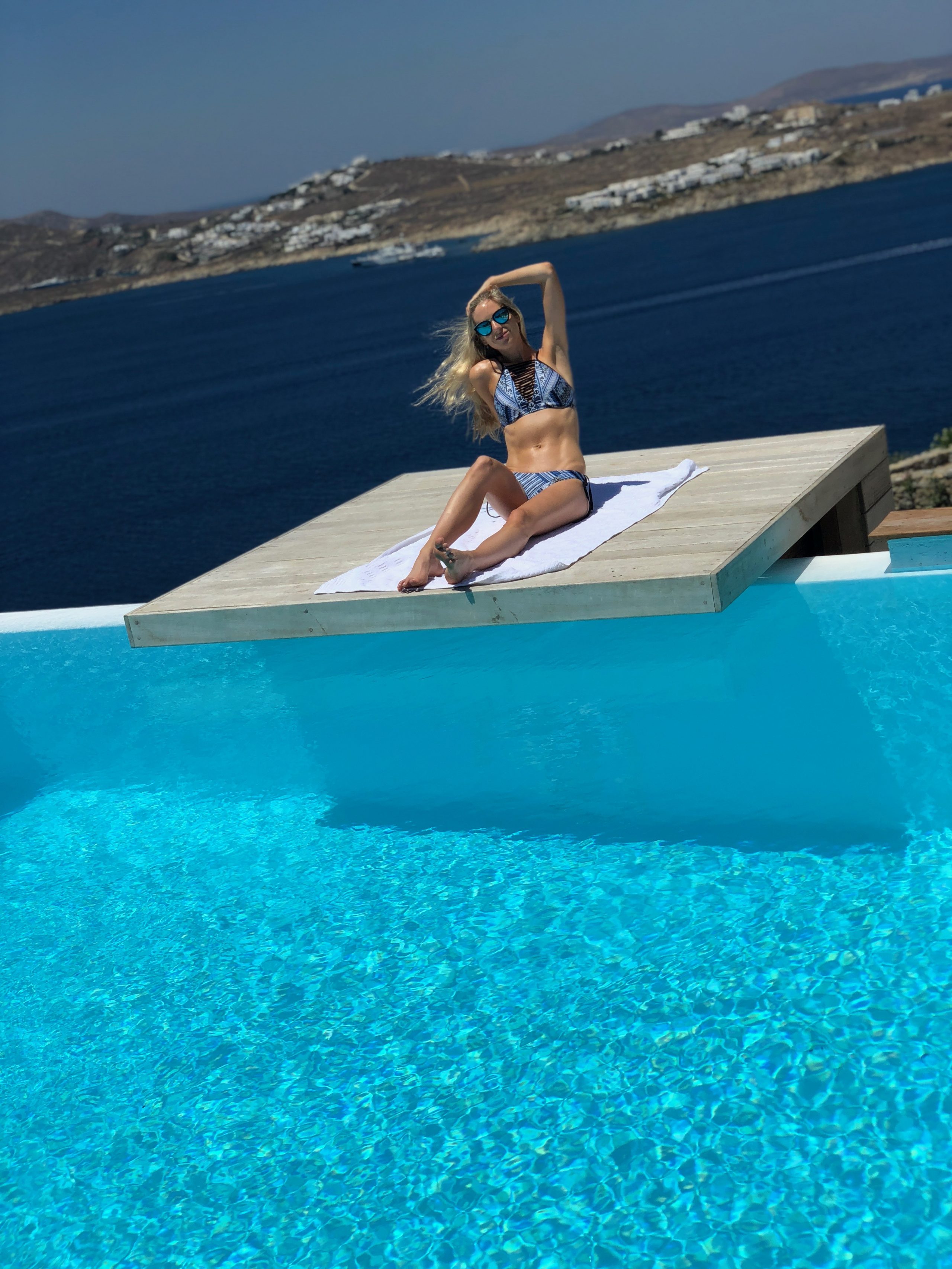 M and I hit the gym then lay out by the pool with the rest of the gang. It was a relaxed day. In the evening M, myself and Charlotte made supper for the boys. It was one of my highlights of the trip. I love cooking for people and sharing the experience with friends and the opportunity allowed us all to connect a bit more. Charlotte hadn't been feeling well, suffering from dehydration after too much sun and alcohol and not enough sleep. She went to bed early whilst M and the guys hit the clubs. I stayed back and enjoyed some time outside reading by the pool which sparkled splendidly as the tiny fairy lights on its depths flickered all shades of blue and white whilst the moon glowed a magnificent orange above. I don't think I've ever seen a moon so full and orange. This was the kind of experience I couldn't get in a smoke ridden nightclub and I relished it. The contrast was stark and I felt very grateful to be exactly where I was and nowhere else.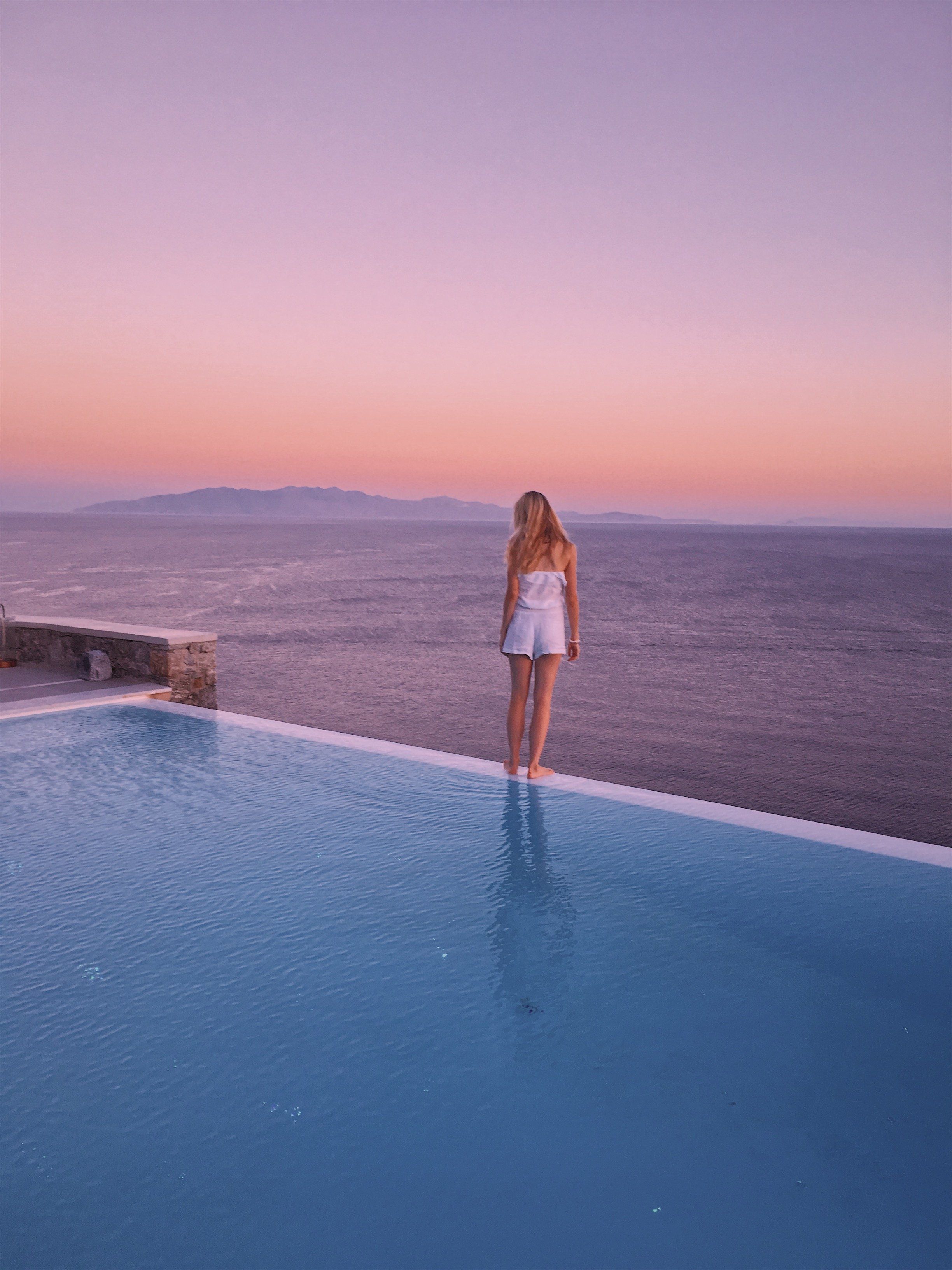 Charlotte was still feeling weak. By 12PM M hadn't surfaced. I remembered waking around five AM when M climbed into the other side of the bed we were sharing. 
Later that day feeling fatigued from a lack of sleep whilst still trying to maintain my marathon training I took to a tranquil spot by the pool and meditated using the Just Breathe meditation app. These 20 minutes were truly blissful. The soothing words from Michael, the company's founder at the beginning of the guided meditation announcing that this was "my time" gave me a feeling of utter gratification and I greedily inhaled and exhaled every single second dedicated to me, myself and as few thoughts as possible! I emerged slowly from my peaceful stillness and opened my eyes to see seagulls silently flying in formation over the cliff tops and the brilliant blue sea flanked with little white waves. I felt re-centered, refreshed and calm. Meditation was also new to me and I gained so much goodness from it.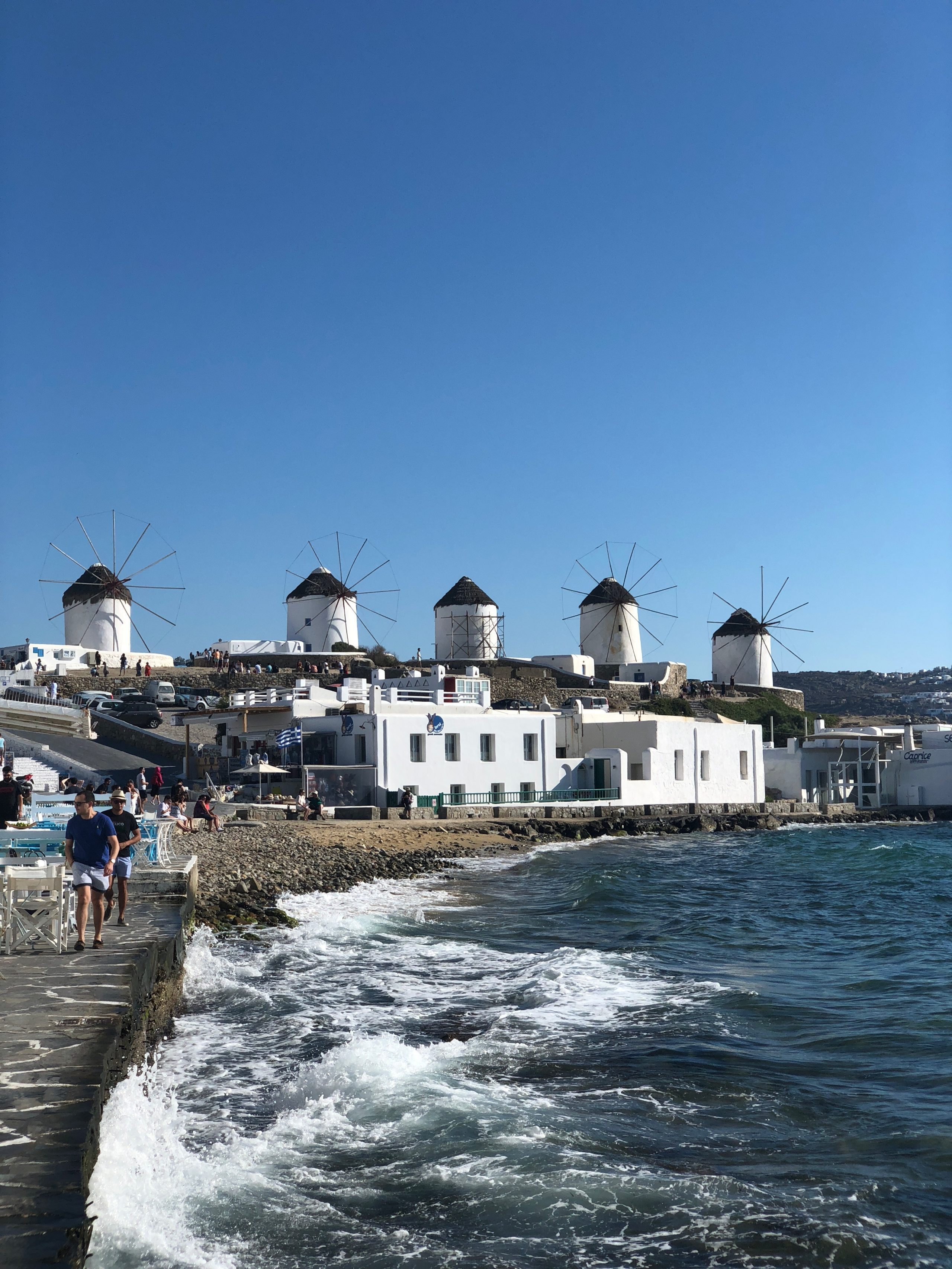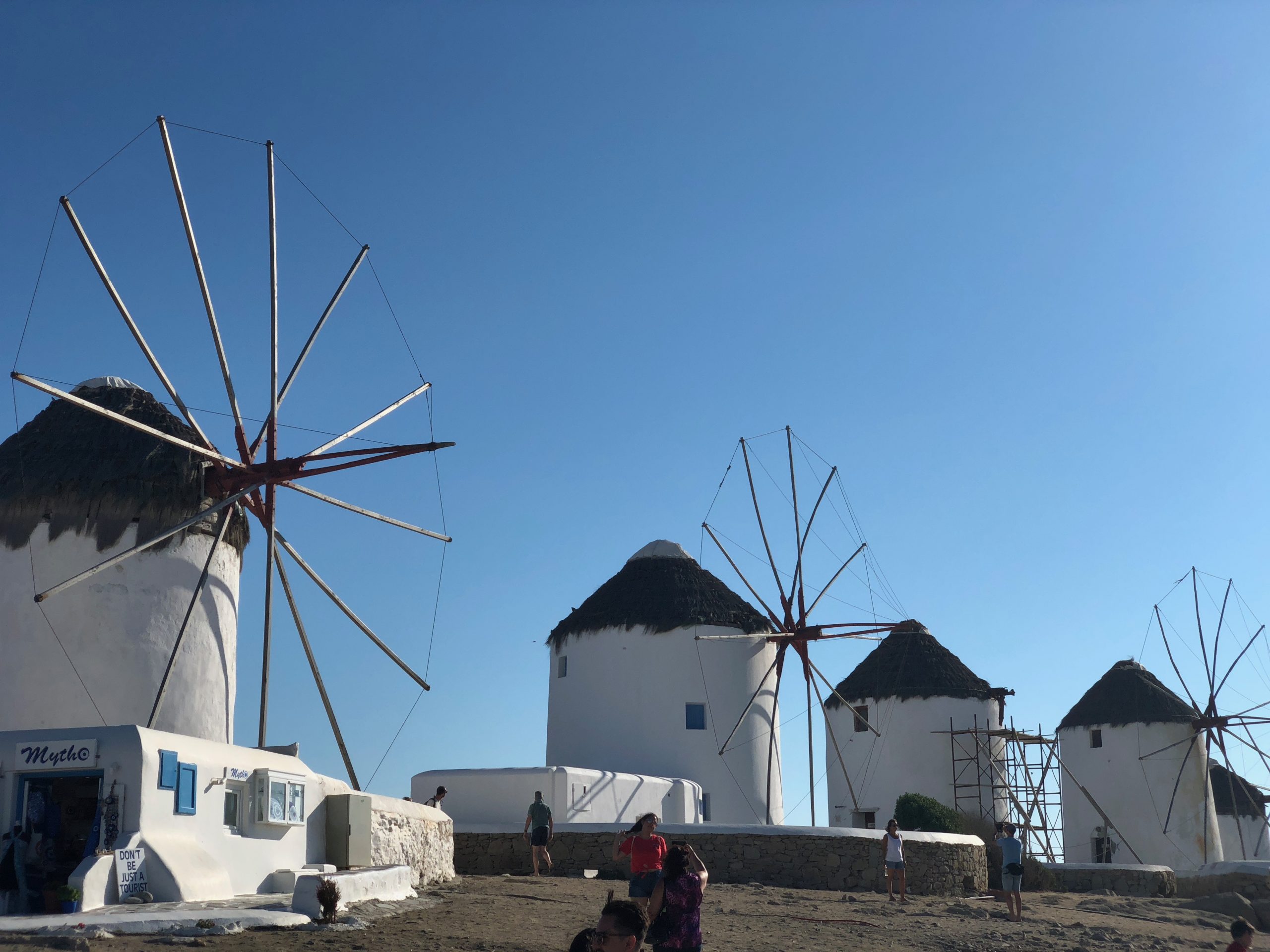 Later in the day the girls and I went into town and spent the afternoon admiring

Mykonos

' famous windmills, white-washed houses, bright blue doors and window panes and sweet meandering cobbled streets. Small church spires stretched modestly into the sky and shops selling shells, souvenirs, sunglasses and clothing were interspersed with restaurants and gelatarias. We enjoyed dinner out after several hours of shopping and sampling some of the popular delicacies – ice cream, coffee, olives, date salami (no meat just dates infused with spices wrapped up in the shape of a salami and truly delicious!) sesame honey bars and feta on croutons. After dinner we ate dairy-free olive oil vanilla and hazelnut ice cream which tasted just as good and creamy as any I've ever tasted. No one drank alcohol. We met the guys later at 11PM when they came into town for dinner. The girls had one cocktail, I had nothing and then half an hour later we returned to the villa to catch up on some sleep.
This was the penultimate day. It started like the rest; a workout then reading by the pool in the sunshine. I did another Just Breathe meditation. Later in the afternoon we all headed to Jacob's club for a day party. We had lunch then danced in the sunshine for the rest of the afternoon. I loved it. The freeing blissful feeling of dancing in the sun to the sounds from talented musicians and singers gave rise to a beautiful natural high and it never got uncomfortably hot thanks to

Mykonos

' strong winds. I never felt like I "needed" a drink. Best of all, when I woke up in the mornings I didn't feel anything worse than a bit tired which was purely down to lack of sleep. 
I was ready to go home. Before flying to

Mykonos

I knew it was a party island. I just hadn't realised that there is literally nothing else to do other than party, sleep, sunbathe, sample the delicacies and do some limited shopping. You don't walk anywhere in

Mykonos

 since the roads can barely even fit two lanes and there is nowhere to hike or no natural wonders to explore. 
I'd loved the authenticity and talent of the live music and dancing outside in the sunshine felt pretty damn good. I couldn't however stomach the soulless, smoke-filled clubs and to be honest this would have been the case with or without the booze. I felt happy to stay home when some of the others had gone to the clubs. It felt empowering to stand up for what I wanted and say a polite no to the things I didn't. When I showed up somewhere I was 100 per cent in and when I declined an opportunity to go to the clubs I was one hundred per cent happy with my decision. 
*Last segment continued in next post