Marking the second instalment in the stress series, here we have the delightful duo Emily and Hannah of
Twice The Health
sharing their favourite ways to destress, workout and have a good time! These two are always an absolute joy to be around so take note of their stress busting, feel good secrets. They clearly work!
1. What are your stress levels like usually (Rate 0-10 scale 10 being highest)
E: 4 – I don't get too stressed! I think it's too exhausting so I just try to accept a situation and deal with it as best I can.
H: 6 – I'd like to say lower but the nature of working for a startup sometimes has me losing my cool just a little. Nothing a large bowl of something sweet or an hour at barre class can't sort though…
2. What makes you the most stressed? 
E: Being late. When I know I am running late and there is nothing I can do about it I get a little worked up! Even if it's five minutes late for a coffee with a friend I feel physically sick! And if I've made plans to workout then it does aggravate me if I can't manage it, however, if I know in advance that I won't be able to workout that day then that doesn't bother me too much!
H: Mostly when I feel out of control be that with the running of my day or the workload I'm attempting to manage!
3. What does the effect of exercise have on your stress levels? What other benefits do you get from exercise?
E: A massive effect! I find running, heavy weights or boxing classes are the best ways to vent out any stress. I just enjoy that endorphin high!
H: Exercise most definitely calms them! Like E said, nothing beats the post F45 endorphin high and somehow everything seems quite alright once you've sweat it out! I think largely this is due to the enjoyment factor too. Fitness is a huge passion of ours so it automatically uplifts us.
4. What's your favourite exercise class in London?
E: Oooh its a toss up between F45 and BOOM cycle. I guess they are very different so I can say both right?!? Haha!
H: I have a few, it's again a big toss up between F45, BOOM and Barrys! I'm sure I'm not the only one…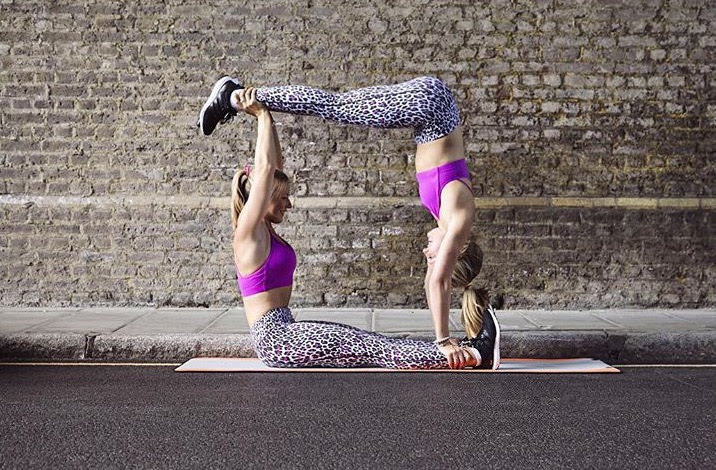 5. What's your favourite non-gym workout? 
E: We love a long cycle through Richmond park, we aren't very fast but it is nice to escape 'the big smoke'. When I visit home to see my mum we often take to the fields surrounding my house and indulge in an aimless wander which is definitely one of my favourite ways to destress. Similarly, when I visit my dad in Arizona I enjoy heading for the mountains and getting in the fresh air!
H: Similar to E, my favourite non-gym workout would be a walk in the country mountains. Being out in the mountains of Arizona certainly gets one up on Richmond park though… Sorry London!
6. Do you prefer to workout alone or with friends? How does this effect your stress levels?
E: Well this could be awkward! Hopefully H likes working out with me too.
H: Haha yes! Sometimes we don't even talk much when we train and run together but it's just nice having that second person to support you and offer a bit of healthy competition, making sure you get the most out of your session.
7. What are your top 3 stress-busting tips?
E: I know its a cliche but my number one would be: Think about the bigger picture before you pull your hair out. You might have missed your alarm, rushed and forgot to pack a bra to change in to post workout, but hey, you got your workout in and you are on time…Nothing a bit of deodorant and perfume can't cover!
H: Sweat it out! As we said above sometimes a boxing bag is the only answer! Oh and a cuppa… A good cuppa sorts everything!
8. Other than exercise, what else do you do to de-stress?
E: Cup of tea…H said it!
H: Unicorn onesies on…
E: Bad 90's chic flic!
H: Nailed it.