After a gloomy Sunday, we were ready to soak up some rays. We hopped into bed hoping for sunlight to wake us up in the morning.
Did our wishes come true? Gleefully, they did (as you'd sensibly assume from the title of this post!) and as we'd hoped, we awoke on Monday morning – feeling very smug to have the day off – to a bright blue sky bursting with sunlight. The whole place came alive – the gardens glistened, the guests giggled and even the birds twittered merrily in celebration of the sun.
I always feel at least 50 per cent more alive when the sun's on my skin. It's the effect of the vitamin D, (which our country's population is direly deficient in for most of the year) the blissful warm beams heating and energising my body, the vibrant bright colours it creates and the happiness it evokes in everyone's spirits. We quickly got dressed and leaped out to soak all its goodness up.
(All images of me kindly and expertly taken by Charles Allen.)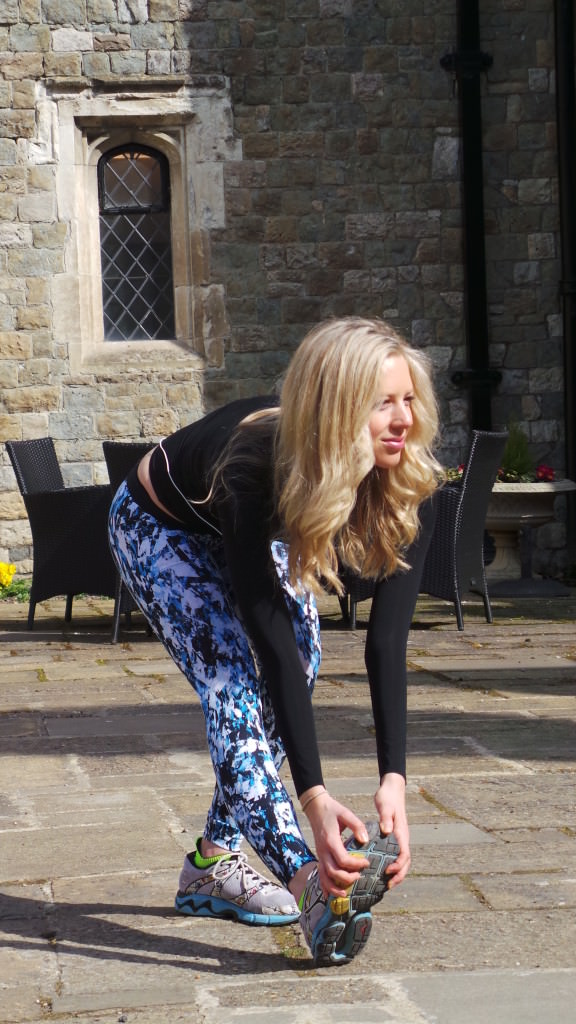 Above, wearing: Nike leggings, Lucas Hugh top, Mizuno trainers.

After a brisk walk around a smidgen of the 3,000 acres which surround the estate, it was time for breakfast. Charlie went full English with a fry-up and for me it was my (now) customary protein shake (made with myprotein vanilla powder, almond milk and coconut water) plus a grapefruit and peppermint tea. I'm training for a big feature atm so I have a pretty strict regime, which I need to stick to! I'll be writing all about it soon so watch this space!
After refueling, I change into something a little brighter on the bottom half and start some circuits!
Above, wearing: Lucas Hugh top and bottom.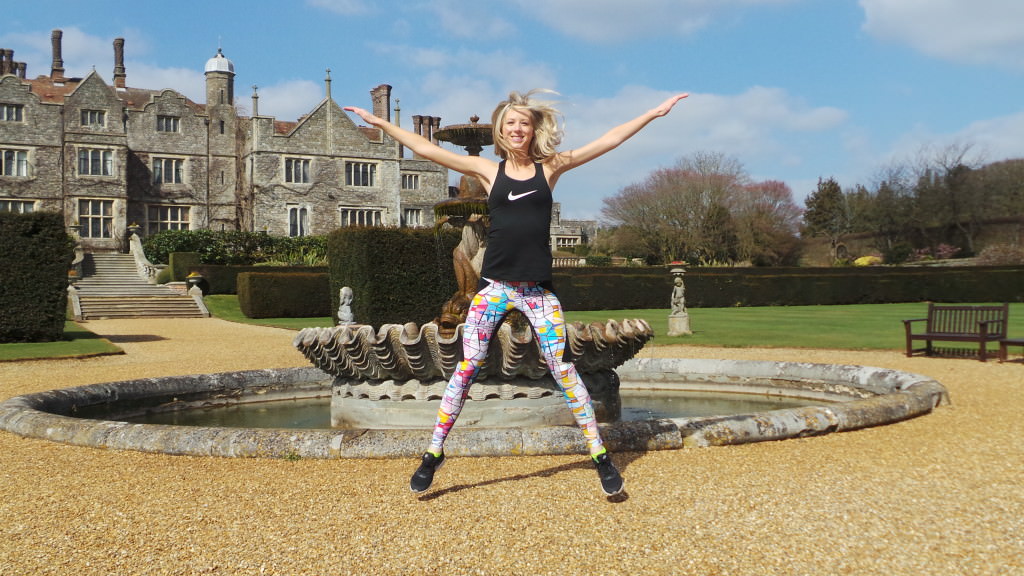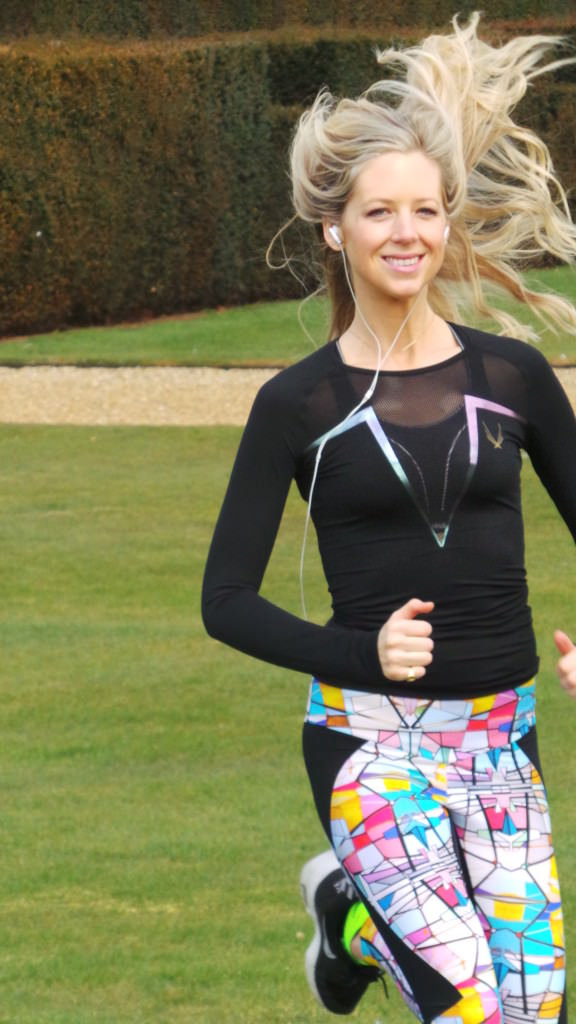 After 20 minutes of this circuit it was time to cool down and stretch.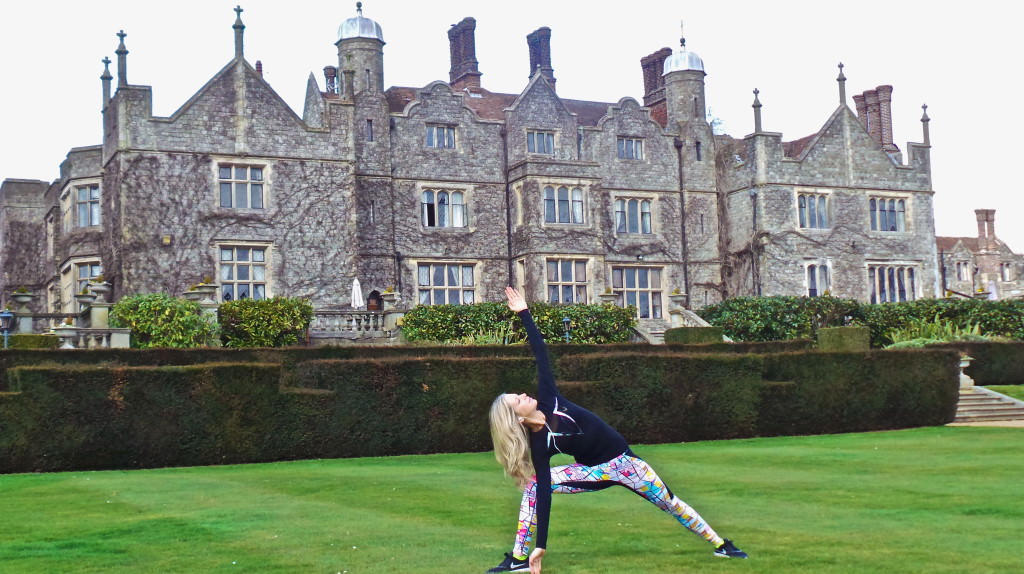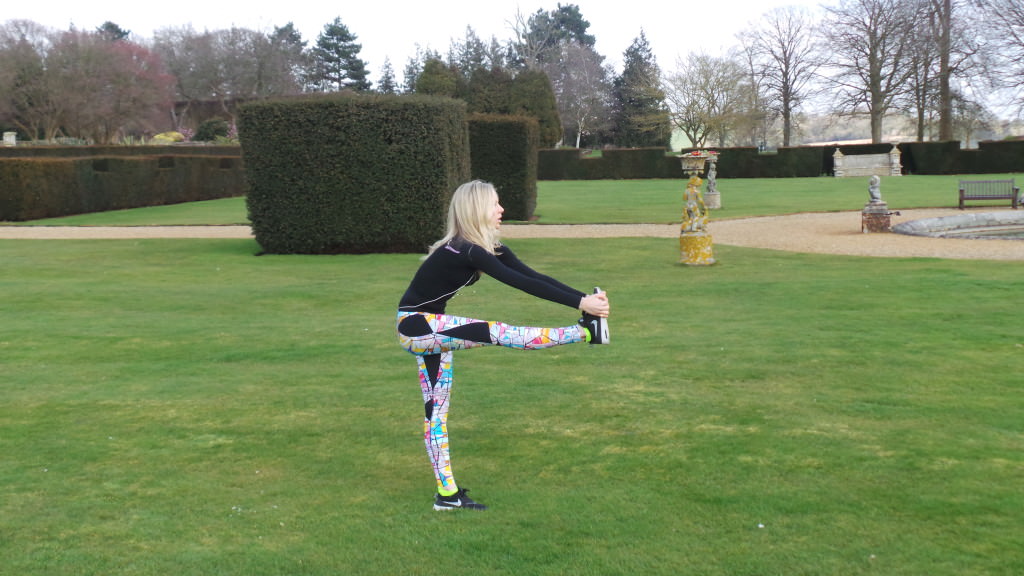 Lunch was in the spa pavilion restaurant. Unfortunately, my measly chicken ceasar salad was far from picture worthy, presented with puny overcooked tough cubes of chicken perching warily on lifeless iceberg lettuce. Not so awesome. On the bright but not so light side though, Charlie's pudding was pretty yummy. I had a taste to check it wasn't poisonous of course. I always have his best interests at heart.
Happily, my frothy coffee was sensational with a very satisfactory serving of soya sitting on the top. My pudding came in the form of a Quest nutrition protein bar (I'm addicted to them, as any of my instagram followers will know) which I enjoyed in the relaxation room, reveling in the chance to then kick back and relax multiple mags in hand.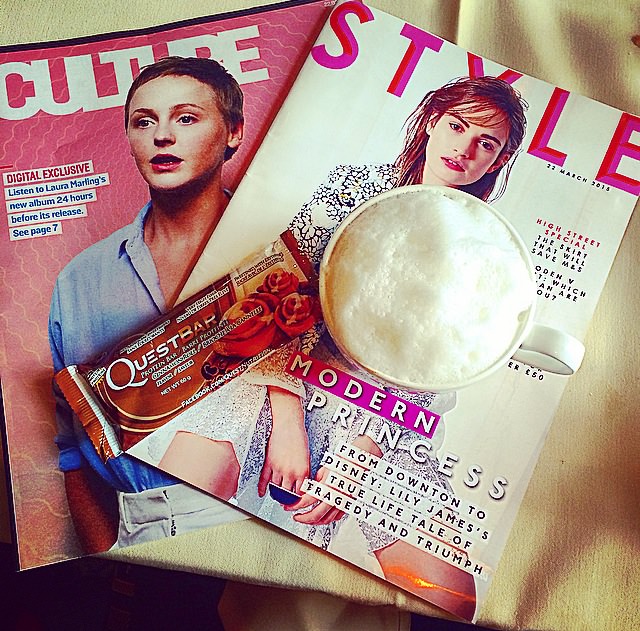 In fact, I got so comfortable that I nodded off for 20 minutes whilst listening to the soporific music which melodically plays constantly in the room! It was SUCH a deliciously indulgent treat! Then, when I awoke, it was time for a massage… Tough life I know! BUT it didn't really go as I'd hoped. I'm a big believer in the benefits of firm massages to alleviate tension and get everything flowing freely, remove toxins etc, so it was a shame that both Charlie and I felt like we'd been gently stroked and prodded for 45 minutes instead of soothed. It's actually one of my pet peeves when I invest in a massage that's far below par and I left feeling slightly p'd off that poor Charlie had had to sacrifice his money on such poor prodding.
To counter the unfortunate episode, we went for a quick dip in the pool followed by a steam and sauna which helped us to get back on the relaxation track.
It worked! Feeling refreshed and relaxed we showered and changed before heading back outside for another walk before leaving for London. I did a few exercises before of course…
Above, wearing: Nike
We asked a kind man to take a quick snap of us before leaving – unfortunately it's a bit out of focus, but the memory is firmly fixed.
So our verdict on Eastwell Manor? The pile's of course glorious but unfortunately, managed rather poorly. It's like eating at Claridges – only the food's cooked by "chef's" from Kebab King. It has all the trappings to be showstopping, but the quality of the staff sadly sacrifices it all. From clumsy waiters, rude staff members (we heard a few unsubtly loud squabbles amongst them), abysmal food, unsatisfactory massages – it's just not up to the standards it proclaims on its website ("award winning [where] quality is the hallmark"). Sorry, but – NO! Unfortunately, this description proved far from accurate.
I felt it important to feed our thoughts gently back to the manager, in hope that future guest's would benefit, but the response I got was less than  sincere and by no means an apology, but more of a; "well, it's you not us and you were obviously confused about what you expected".
We won't be going back to Eastwell Manor, but I had a ball with my main man and laughed about it all regardless.
TIP:
Go to The Old Mill – a charming pub that serves cracking grub – if you're in Ashford. We had a wonderful supper here after the first supper saga at Eastwell Manor.