Mental health problems are a growing public health concern. They are prevalent not just in the UK, but around the world. Mixed anxiety & depression is the most common mental disorder in Britain, with 7.8% of people meeting criteria for diagnosis. Encouragingly however, this year has seen a positive shift in addressing the problem with public figures such as the Duke of Cambridge and Prince Harry working for the Heads Together campaign, which seeks to combat the stigma surrounding mental health issues, and invite people to speak more openly about their difficulties.
It's well known that one of the best solutions and preventions to stress and anxiety is yoga and meditation – both of which I speak about frequently on my blog and IG. Last month, I went on holiday. This was the first "holiday" I'd been on for a long time. You may not believe me – but so much of my travel is for work. So yes I get to go to some dreamy destinations doing what I do, but it's not the same as going away to totally zone out and chill and fully embrace that lovely yogi phrase "nothing to do".
But last month was a holiday. I had eight days in Ibiza with my family and boy was it bliss. To me, nothing is better than spending time with the people I love. It's sacred, wholesome time and I cherish it. When I arrived in Ibiza I was pretty frazzled. A few days into the holiday made me realise just how stressed and anxious I'd become. The difference in how I felt a few days in to how I felt when I arrived was kind of dramatic. Like everyone else I can become all too consumed in the daily grind and being a GenY gal (see previous blog post) I find it really tough to step away from the digital screens and simply switch off.
To help me and my family fully switch off we called upon the beautiful yoga teacher and reflexologist Sophie Clyde, who we found via Ibiza Wiz. Ibiza Wiz is a highly individual  service that specializes in the more organic, relaxed and holistic side of Ibiza, offering advice on  virtually anything you need  to know about the island. Sophie was Ibiza Wiz's top recommendation and it wasn't hard to understand why when we met her and experienced what she had to offer. Without getting too bogged down with technical jargon Sophie offers Vinyasa, Hatha and Anusara inspired yoga (check her website for more info). She specialises in more restorative therapeutic yoga for stress and trauma, pre and post-pregnancy with an emphasis on breath work. It's safe to say that when it comes to stress Sophie knows exactly what she's talking about. And whilst I'm certainly not saying that my family, friends and I were all on a verge of a mental breakdown (!) we've definitely all felt the strains of stress and it's always a great thing to implement healthy, positive rituals as regular lifestyle practices rather than just seek them when we need to be fixed. We were a very mixed bag of abilities and Sophie managed to miraculously cater to each of our individual needs. There was me who wanted a mixture of strength and restorative, my sister who had recently given birth and needed to be guided gently back into exercise, her husband (totally inflexible – sorry Olly but you know it's true!) my mother (nearly 70) and our friends who were newbies to yoga. She sure had a tough crowd but she managed to give us all what we wanted! Sophie, you achieved the impossible I salute you!
Our days started with blissful poolside yoga just after the sun rose. The steam would rise from the pool and create a mystical magic that instantly transformed us all into enlightened beings! Well, for a time at least!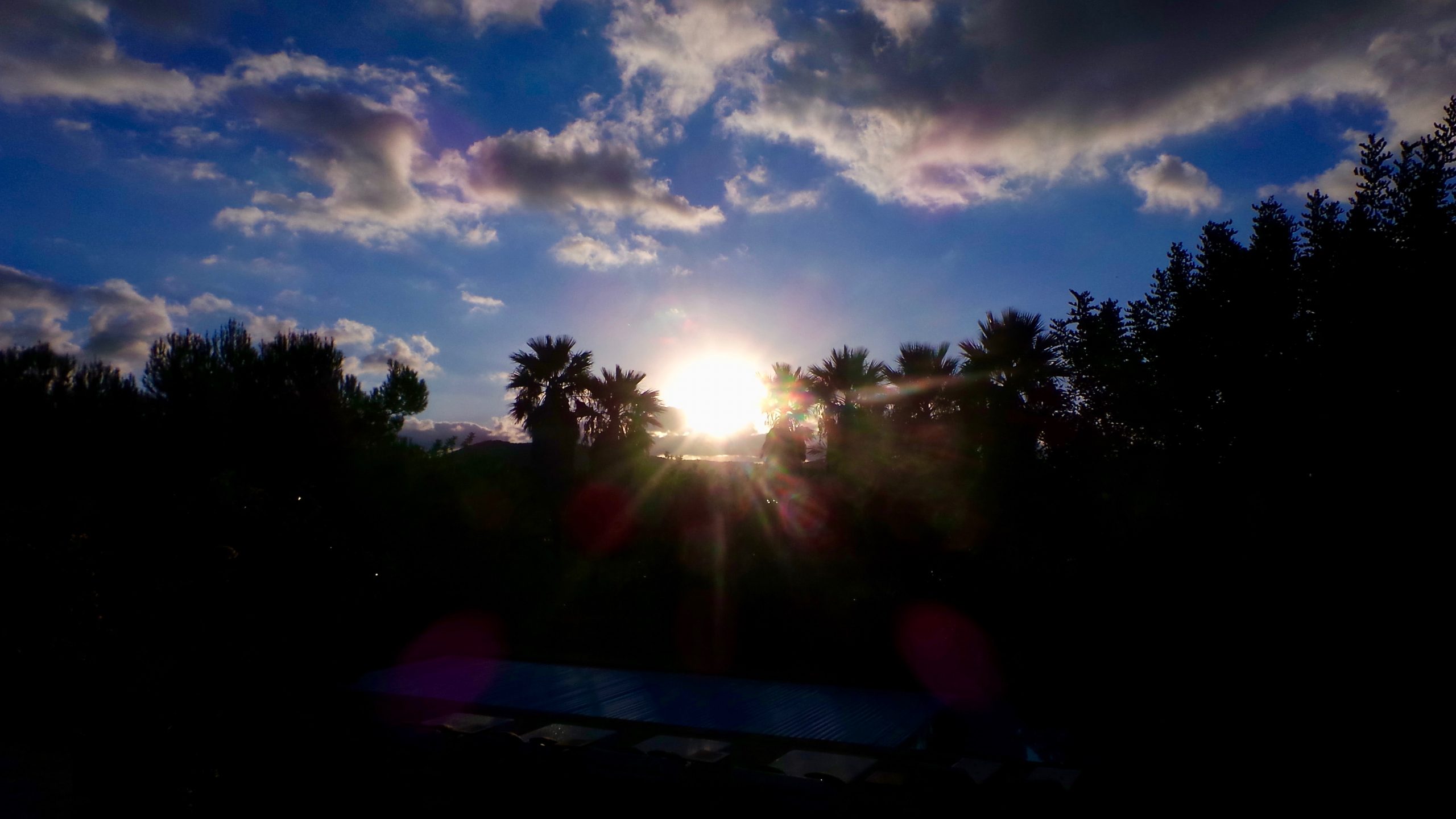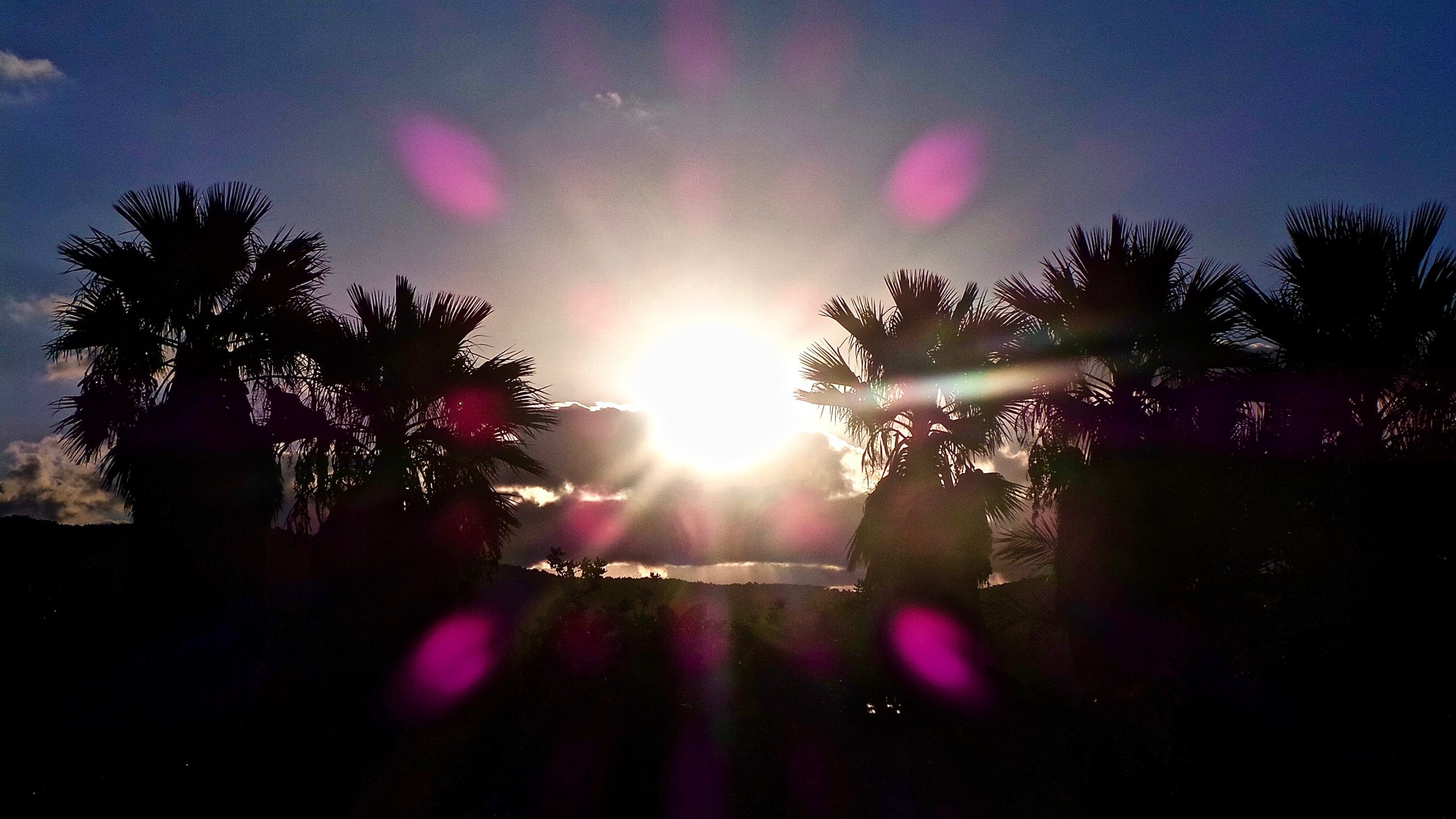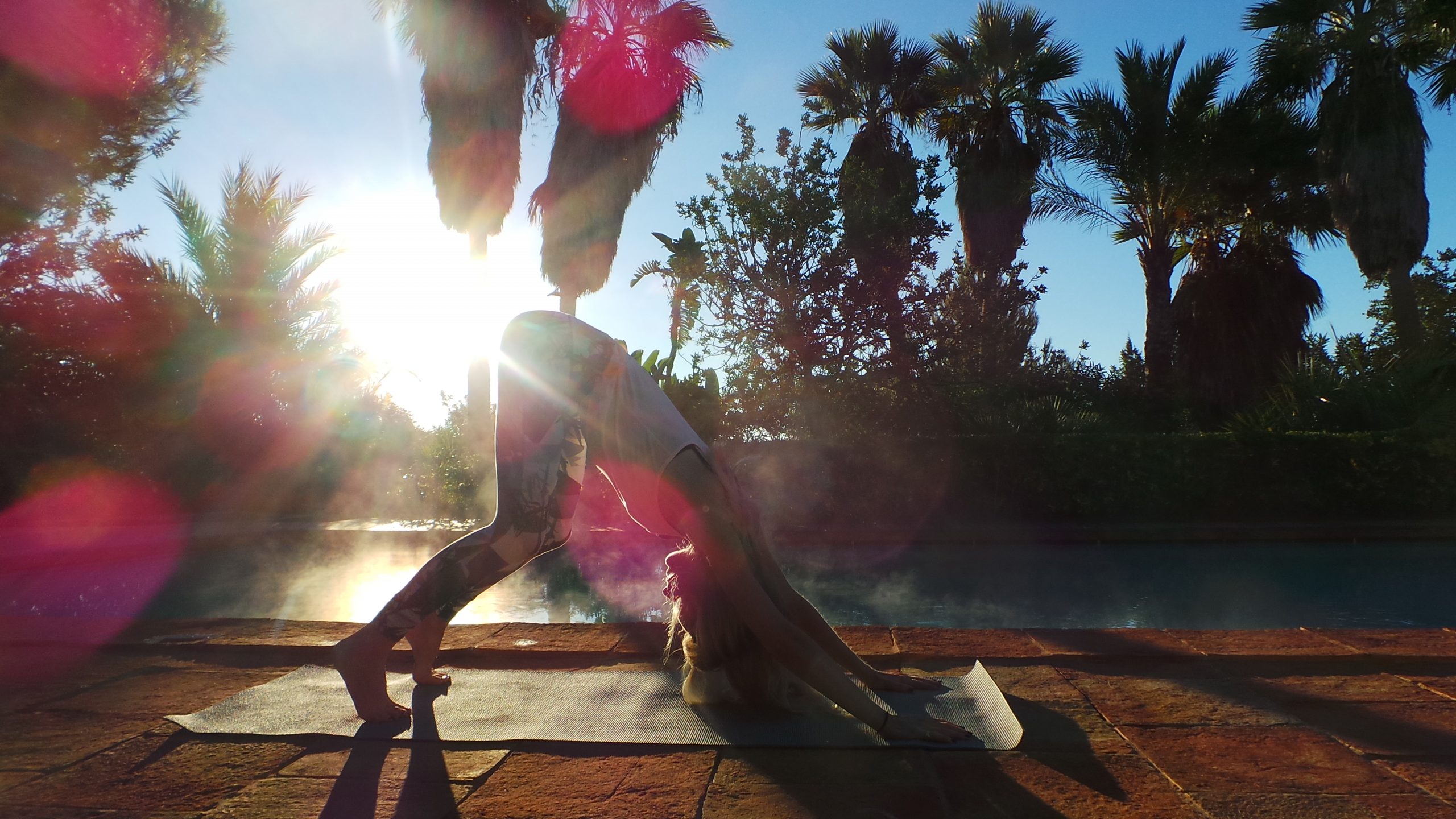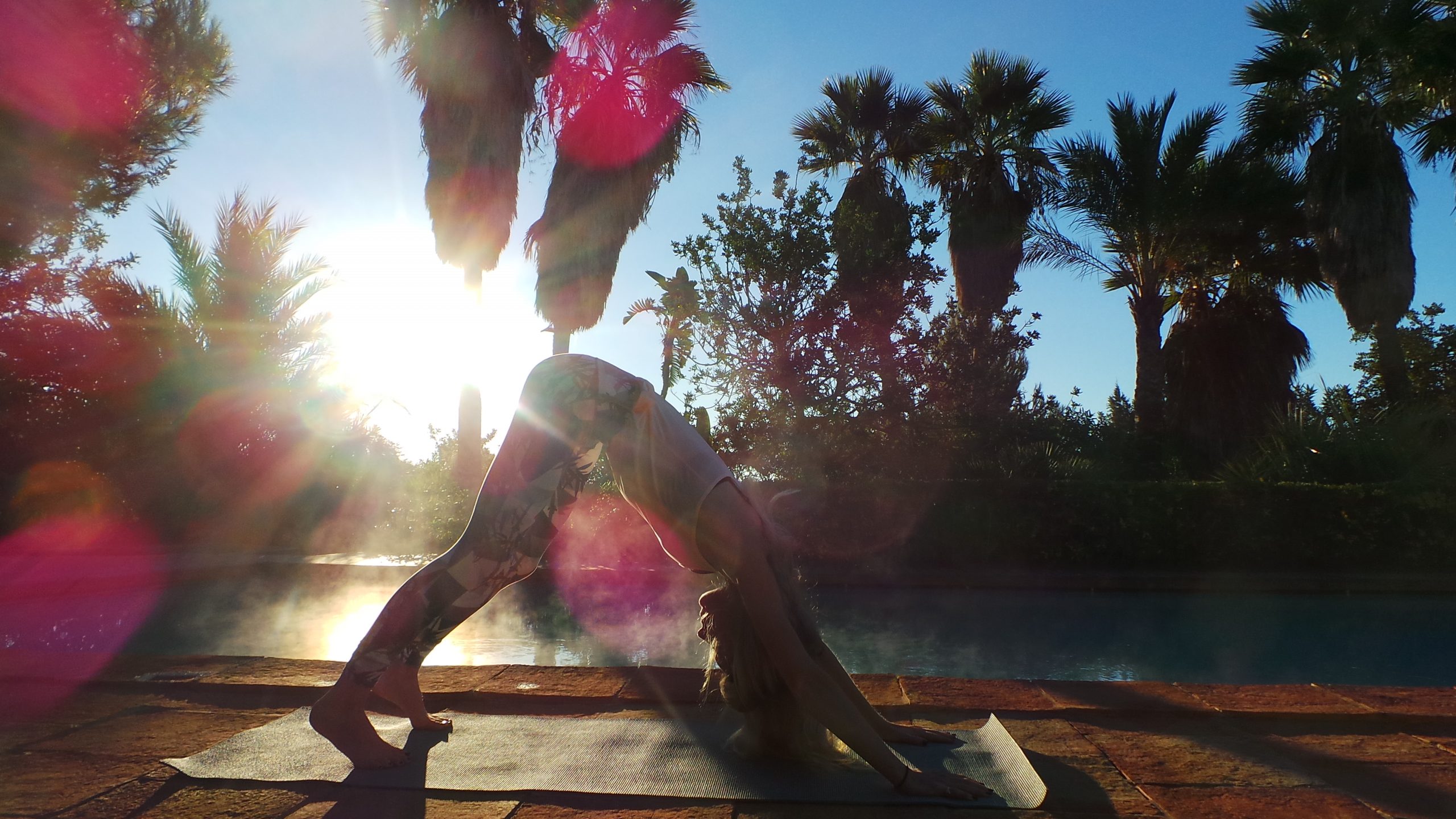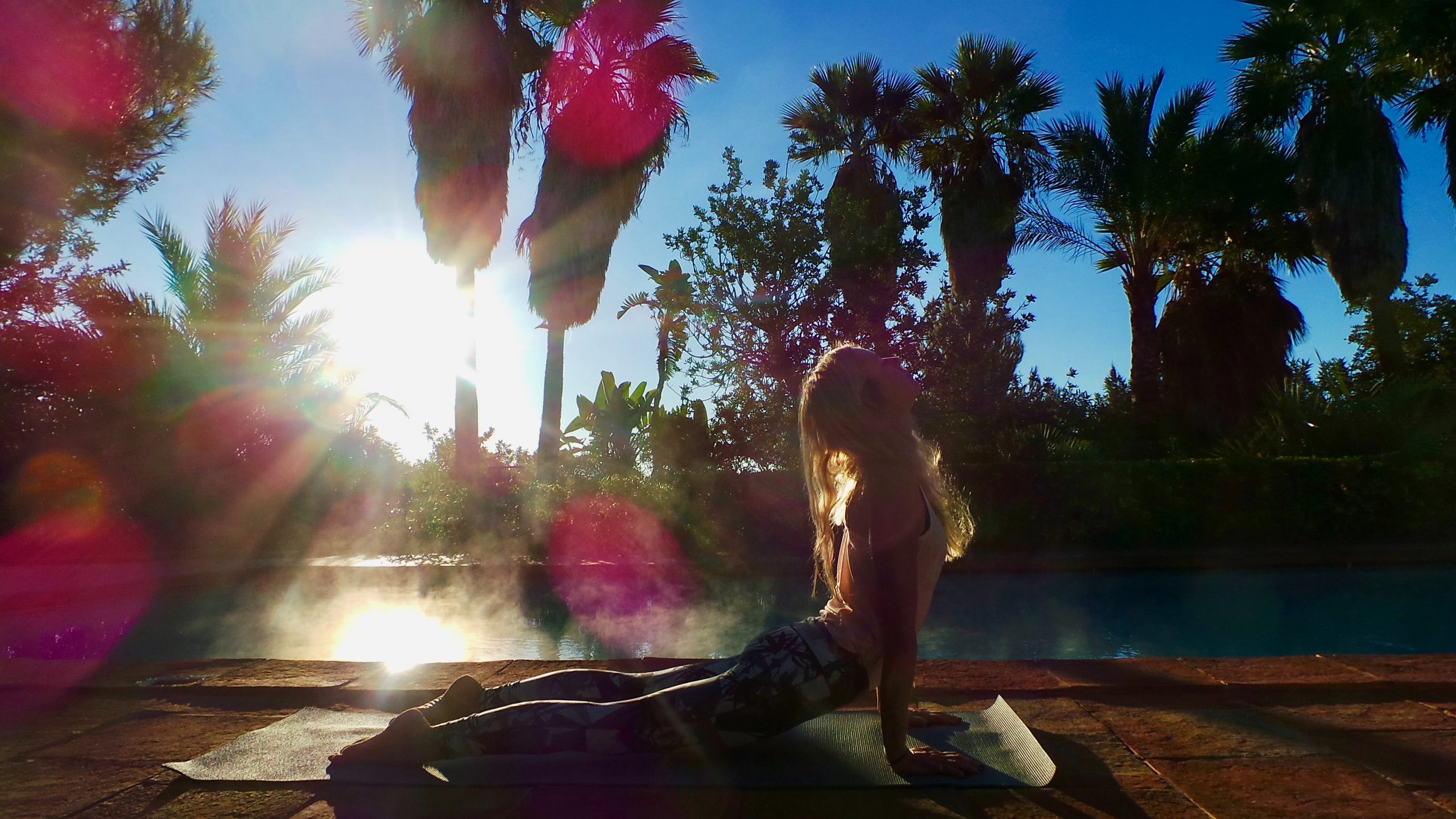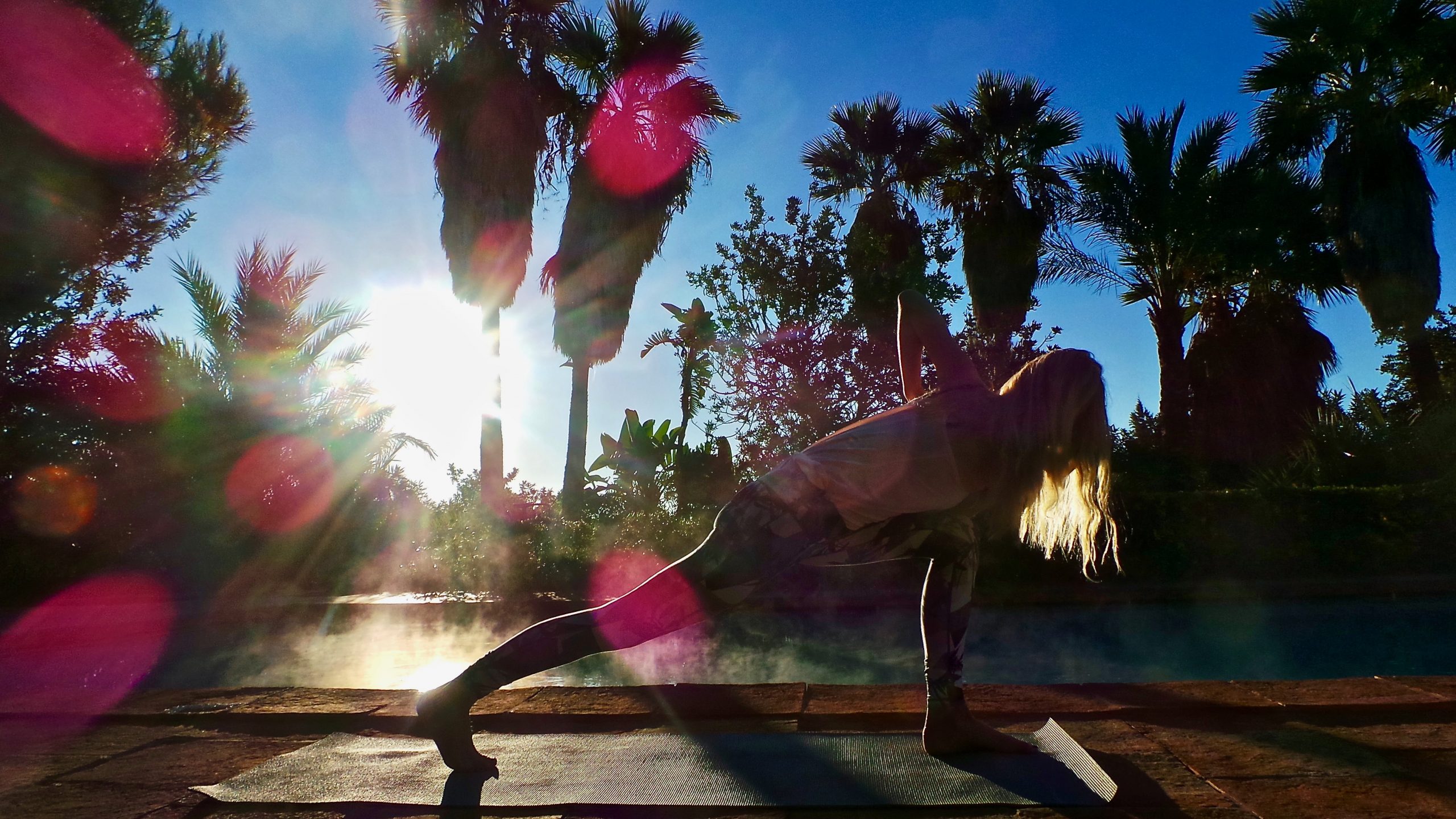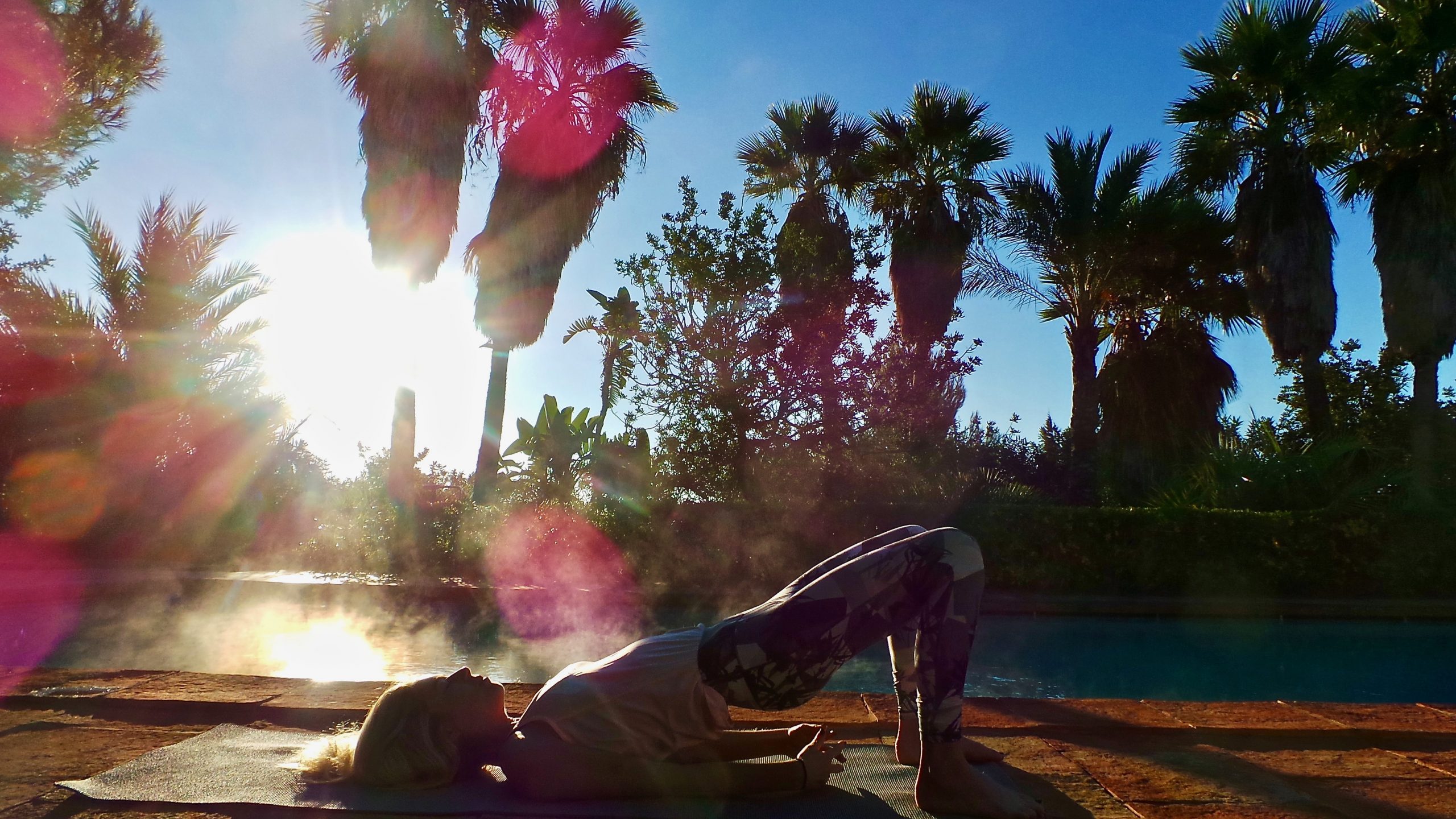 As you can see I got Sophie to myself on one occasion which was a real treat. She was able to strengthen a lot of my postures by showing me the correct alignment and we were able to practise some stronger postures, (demonstrated by Sophie below).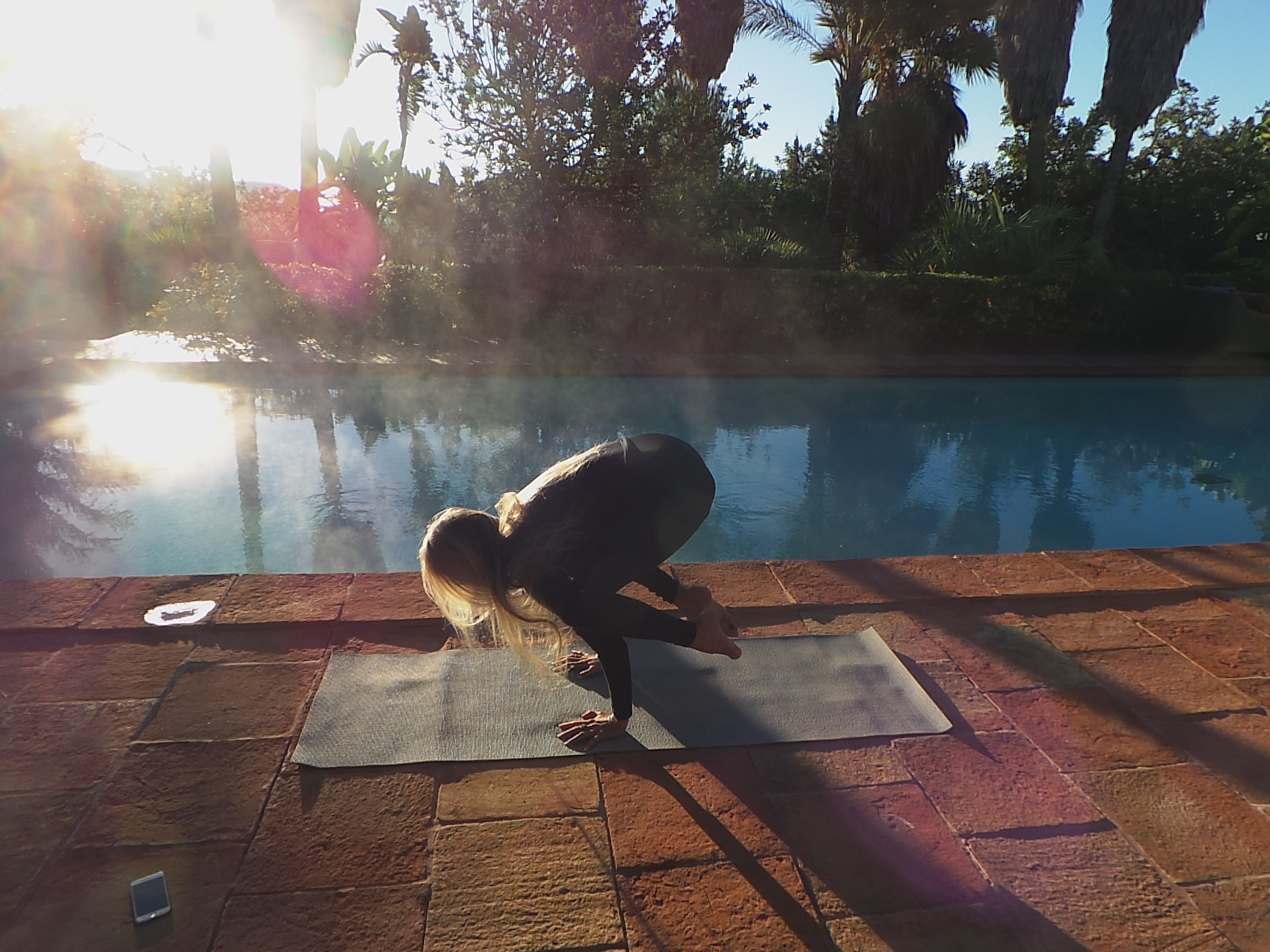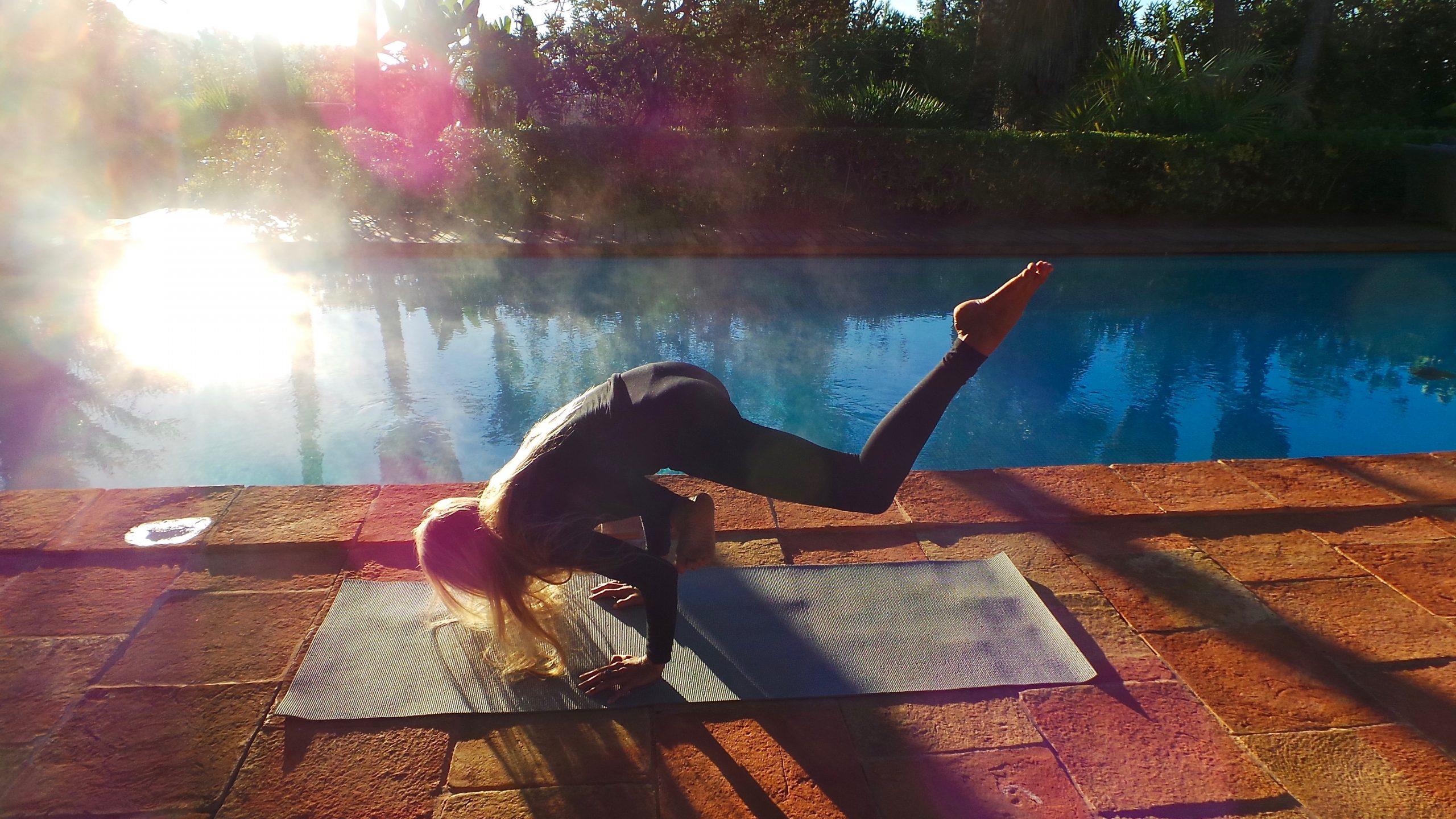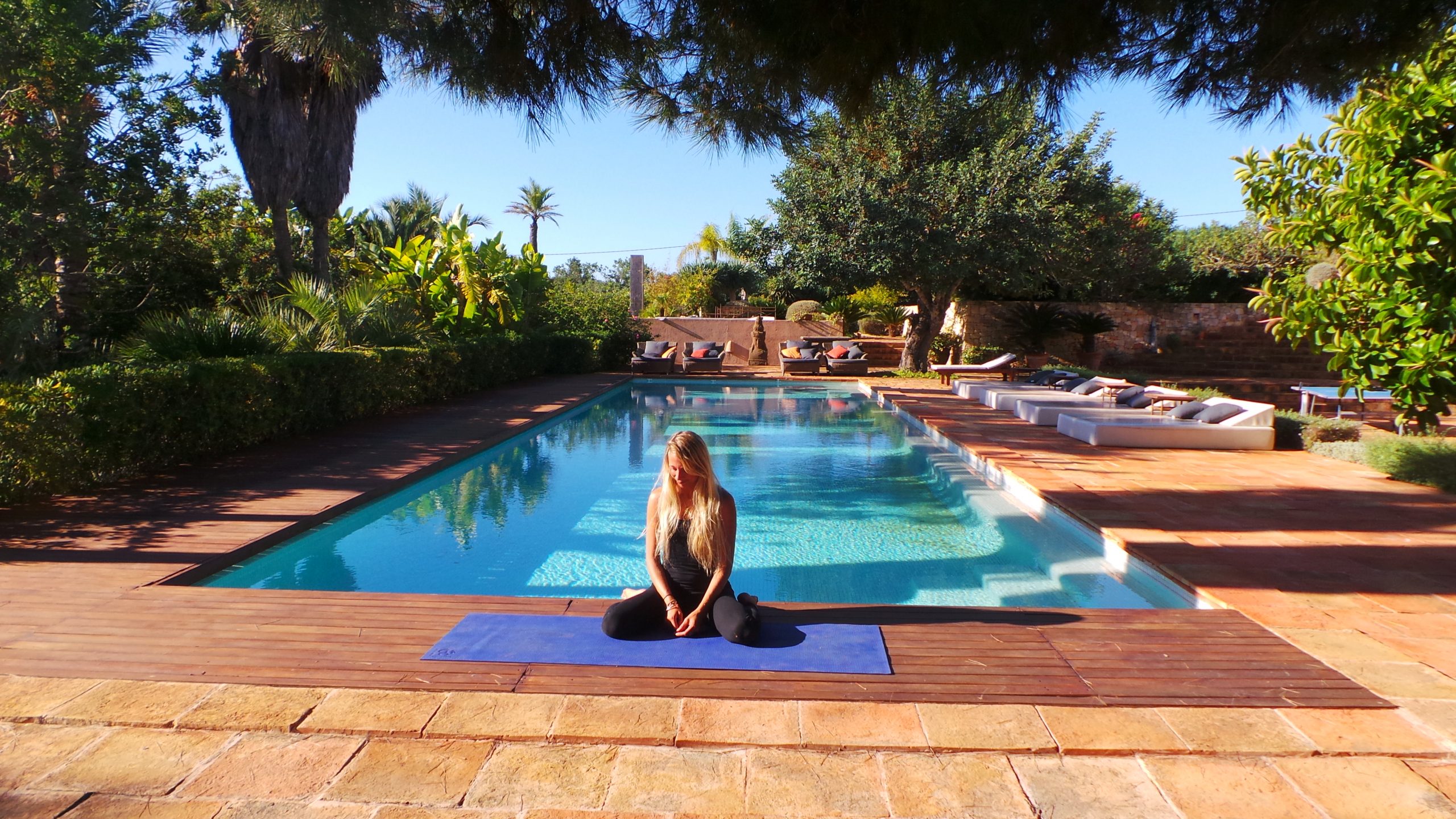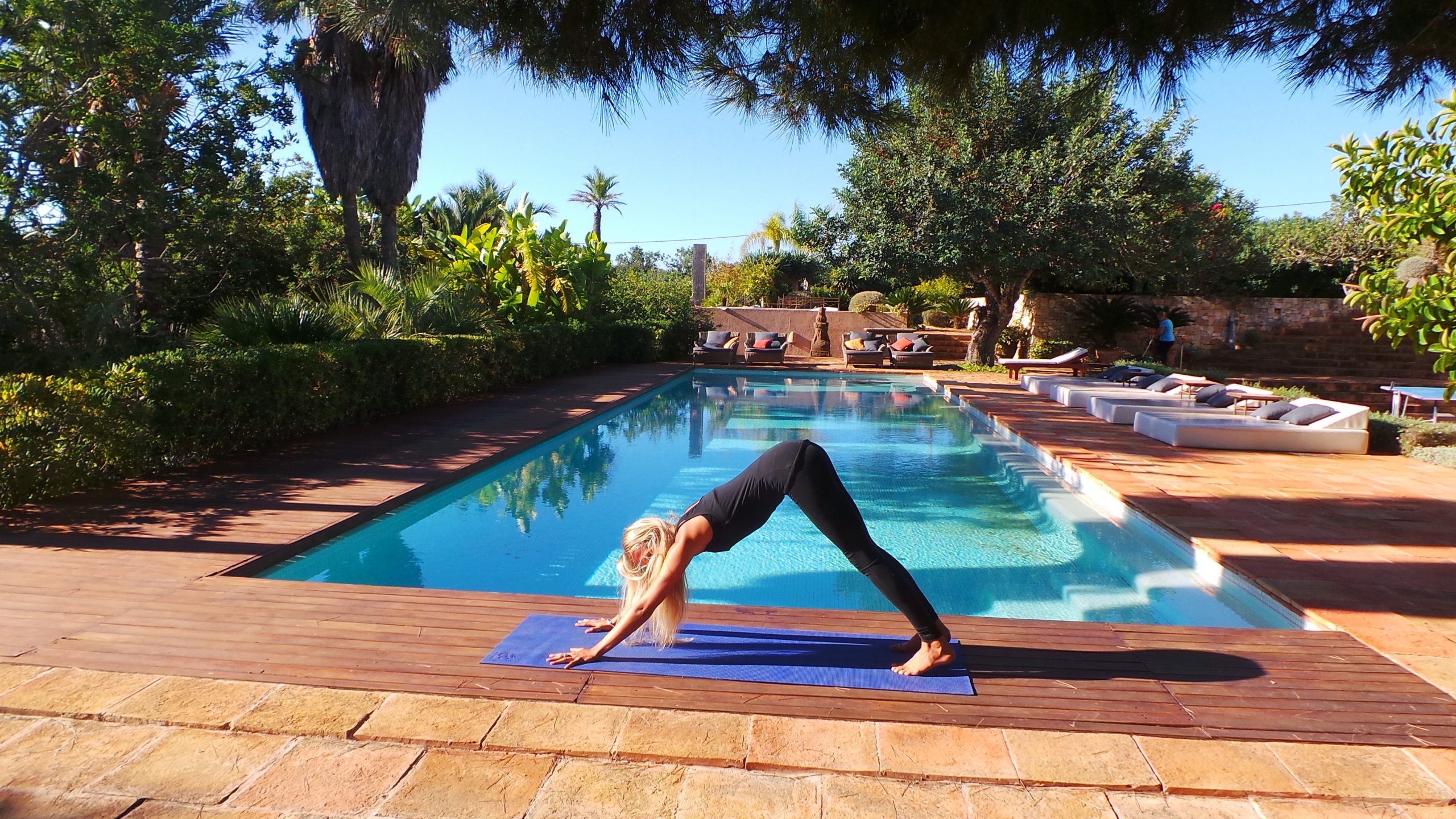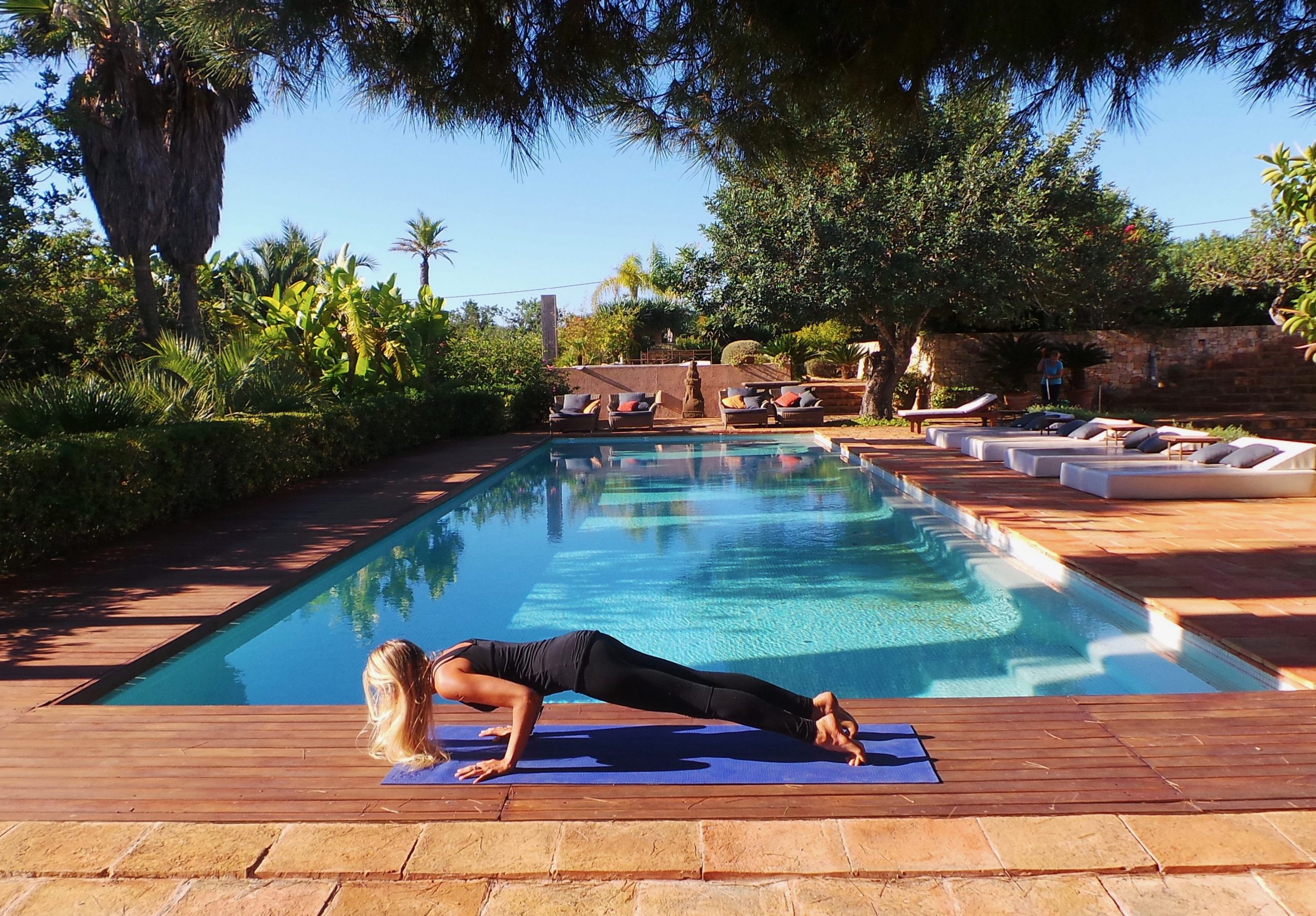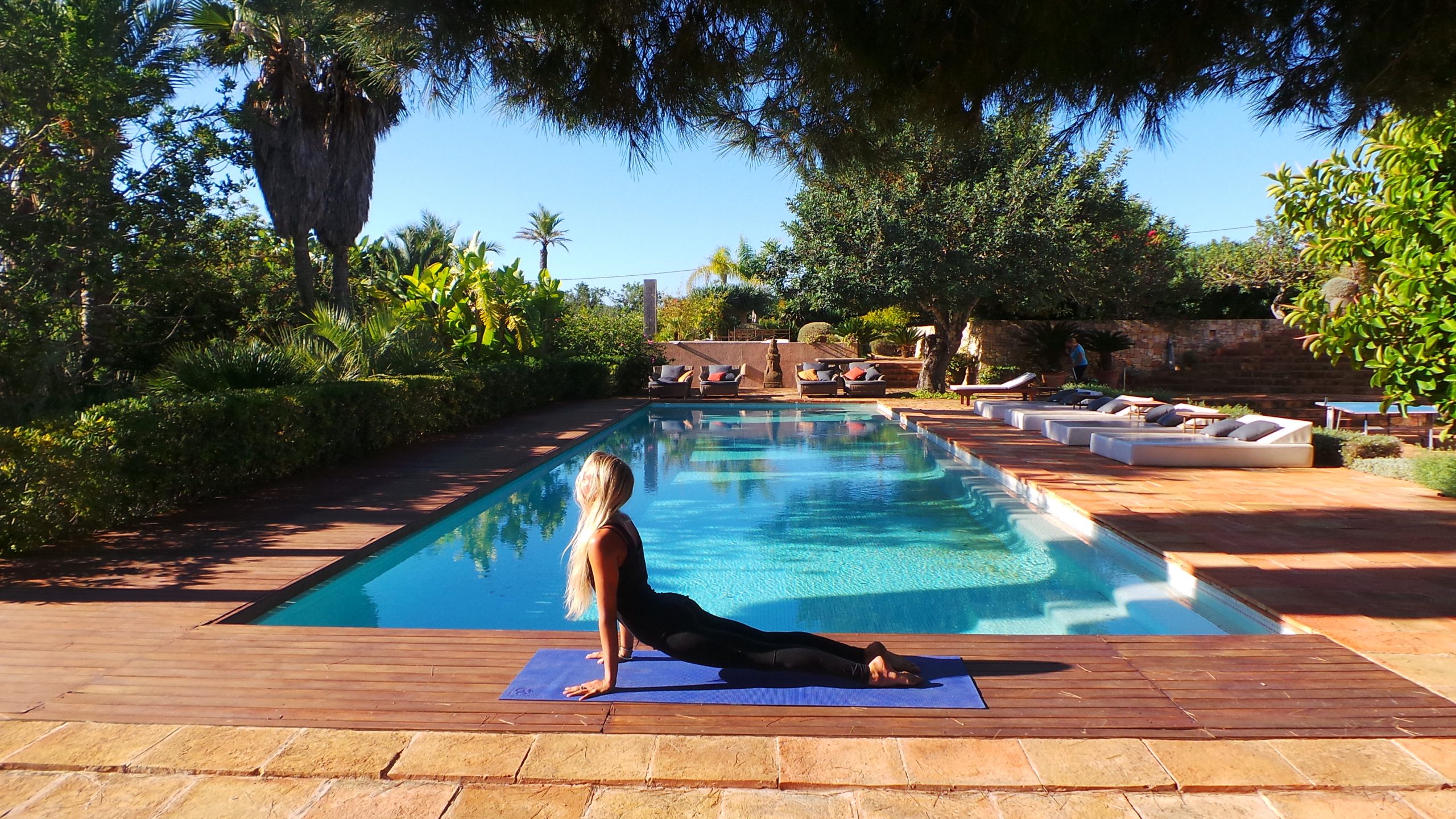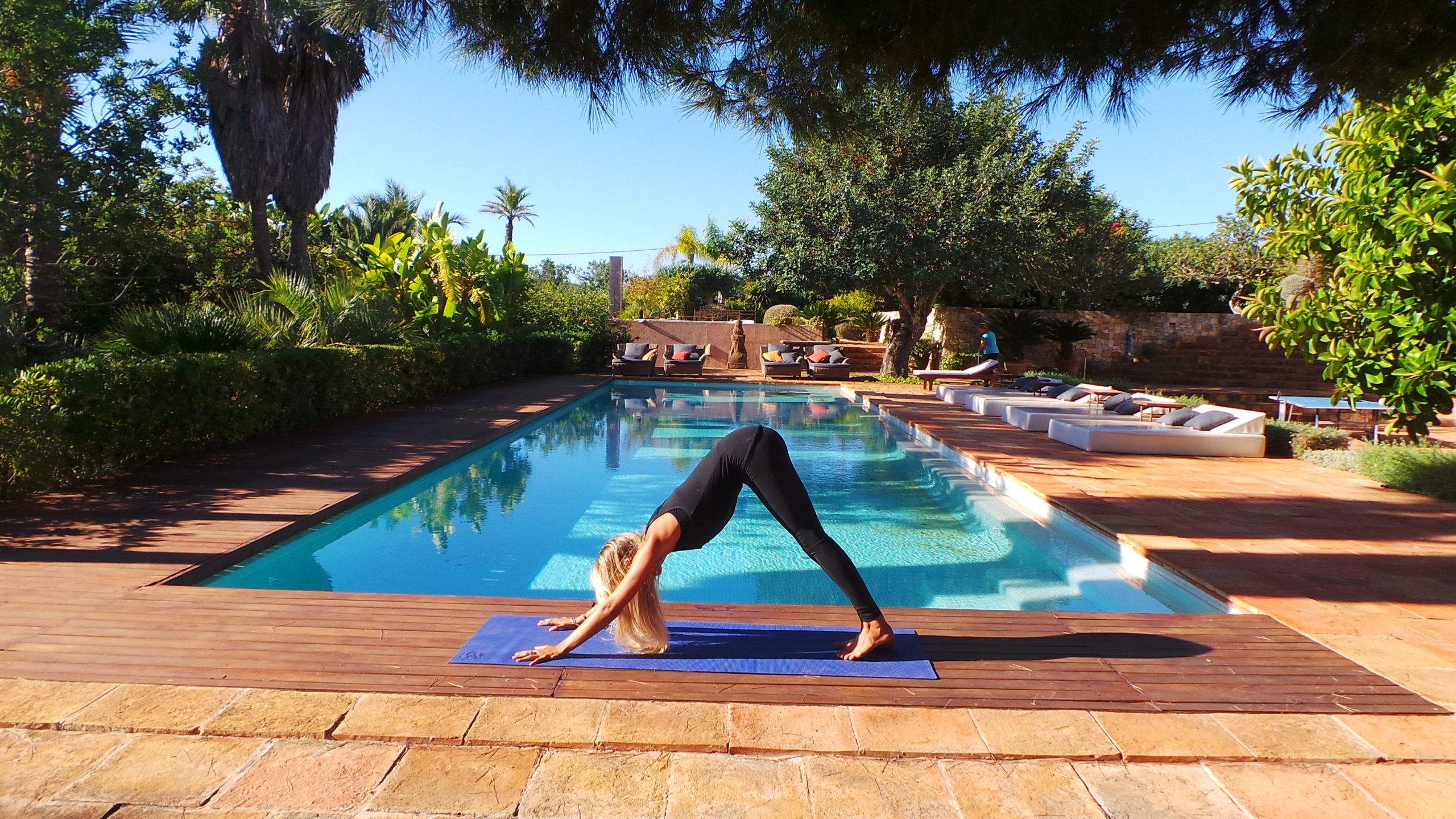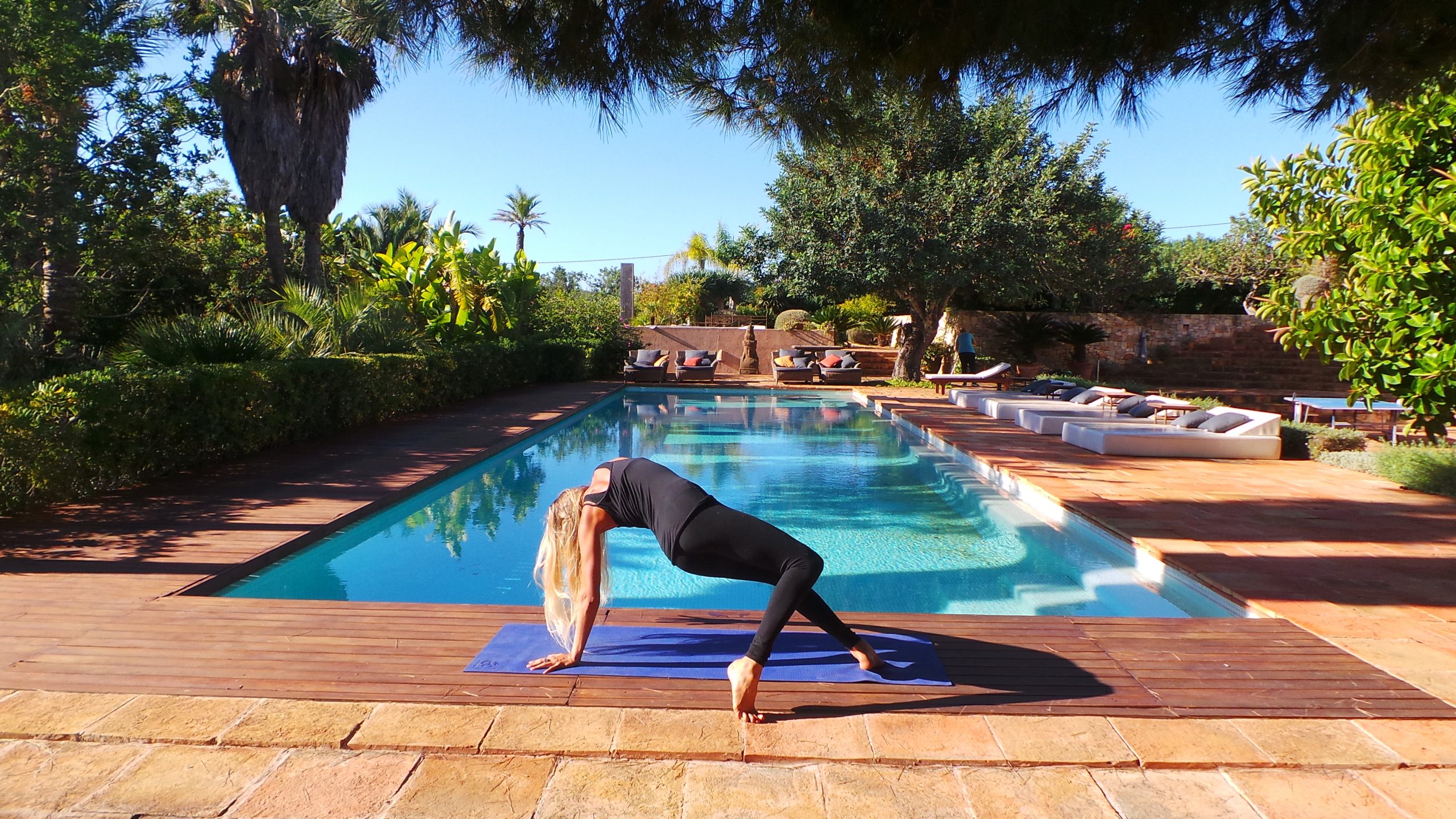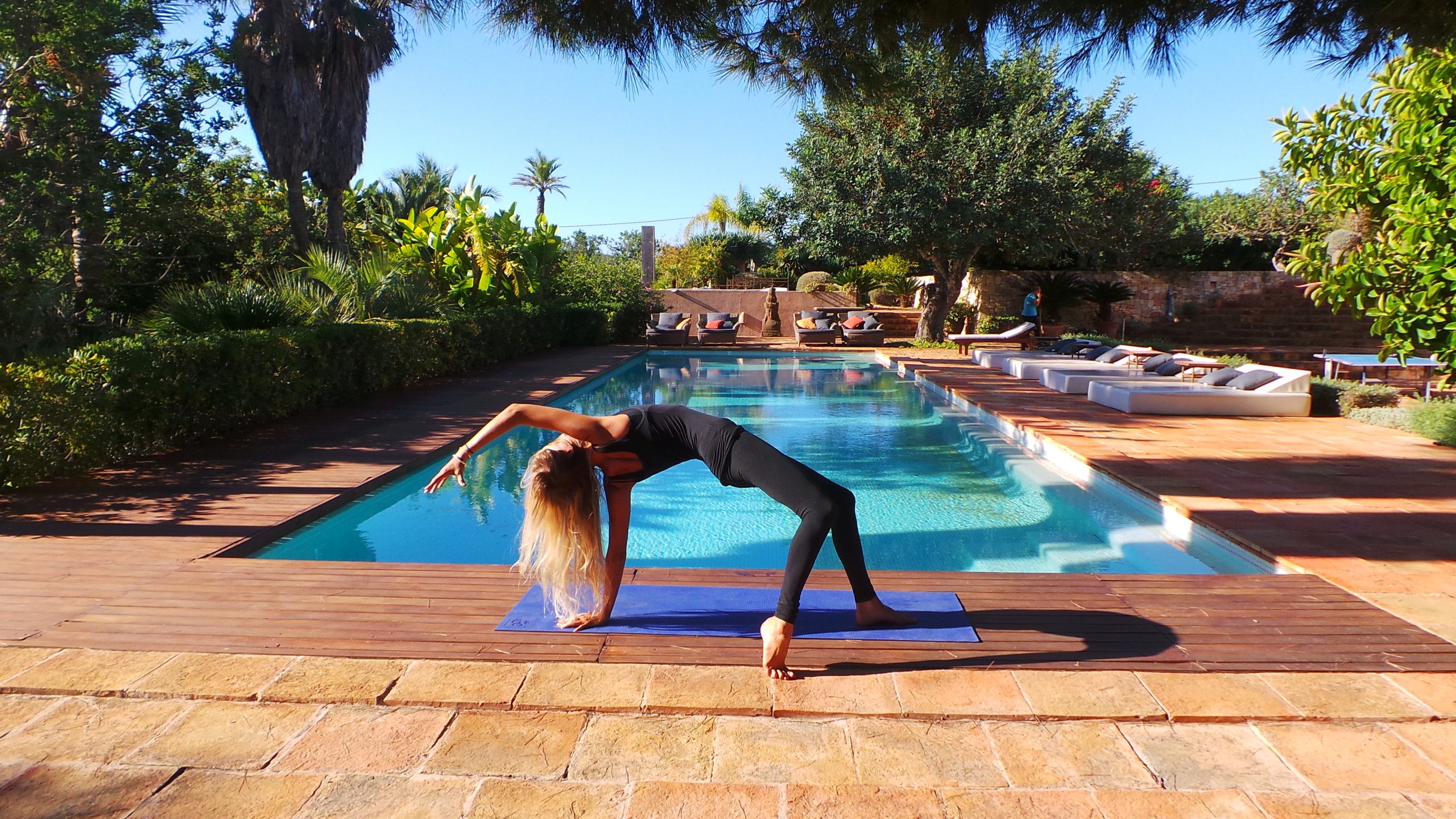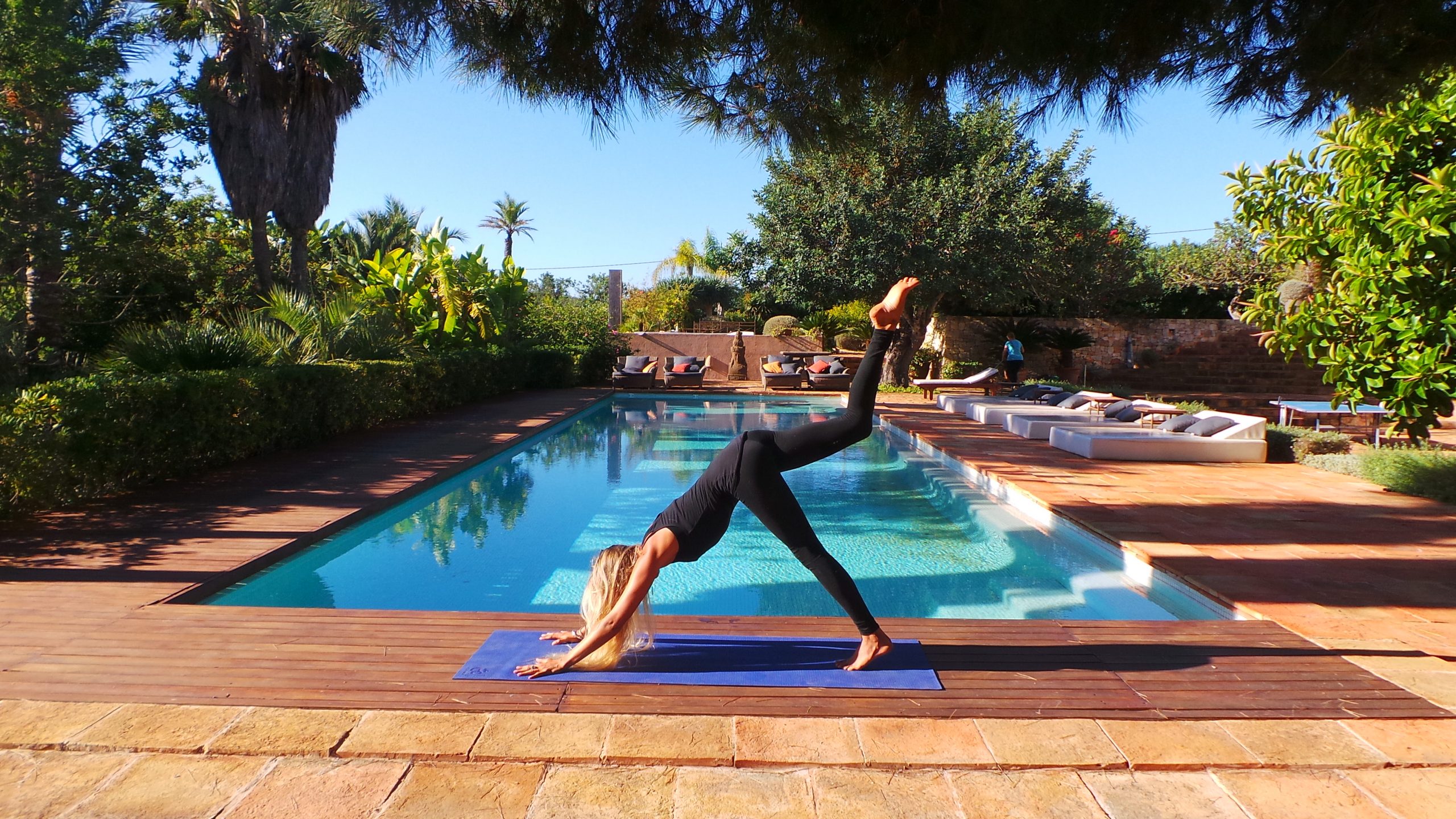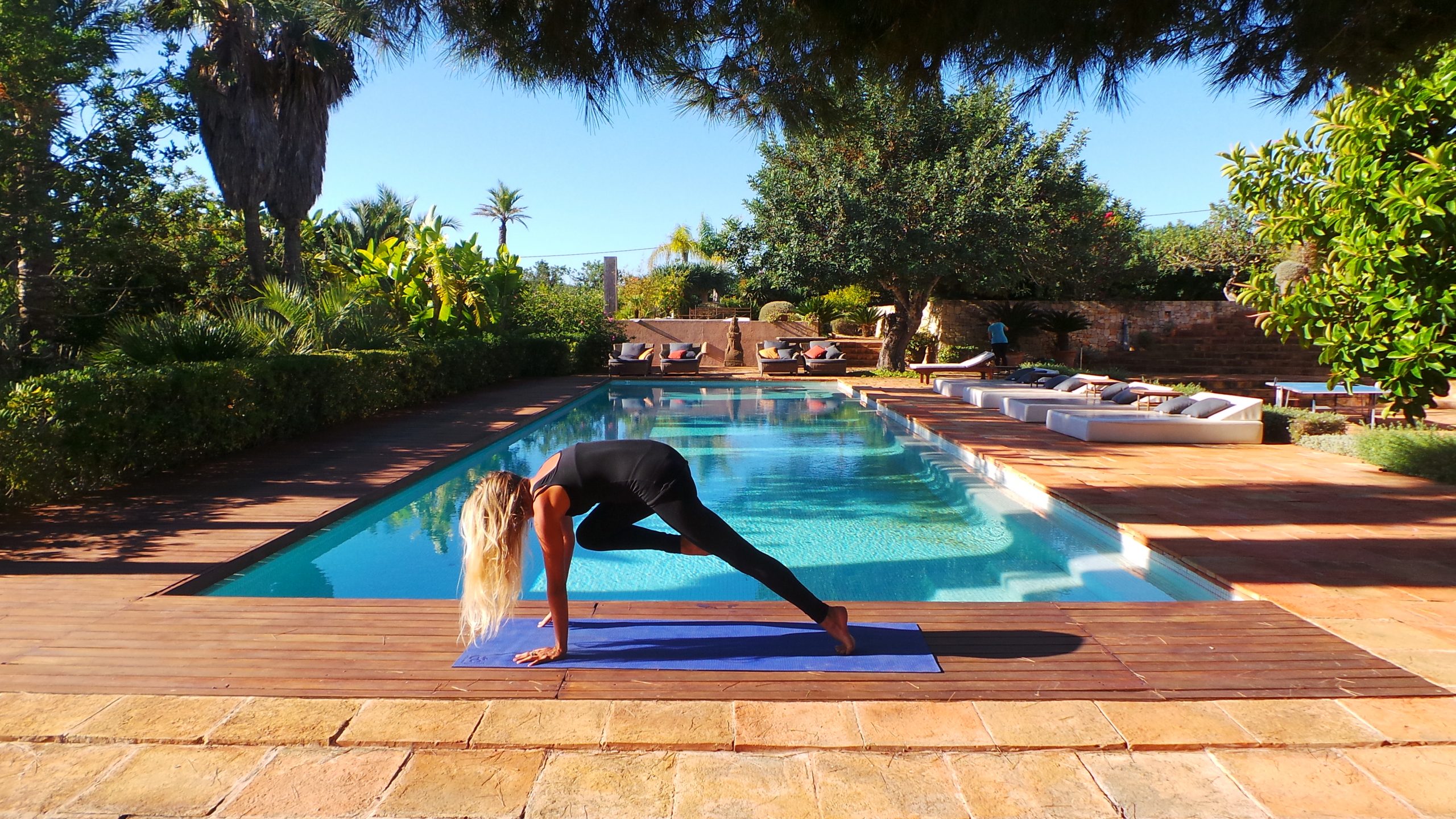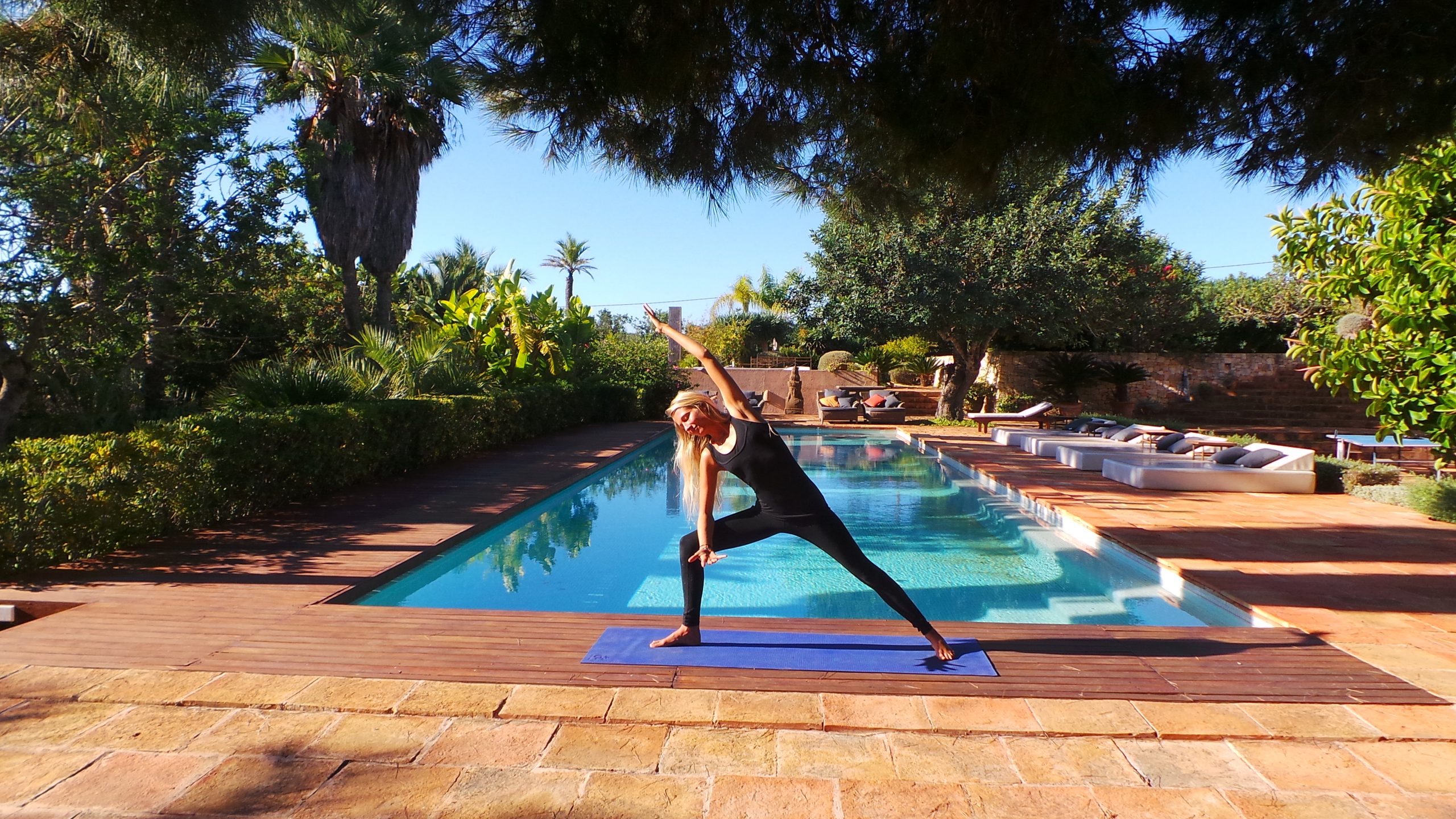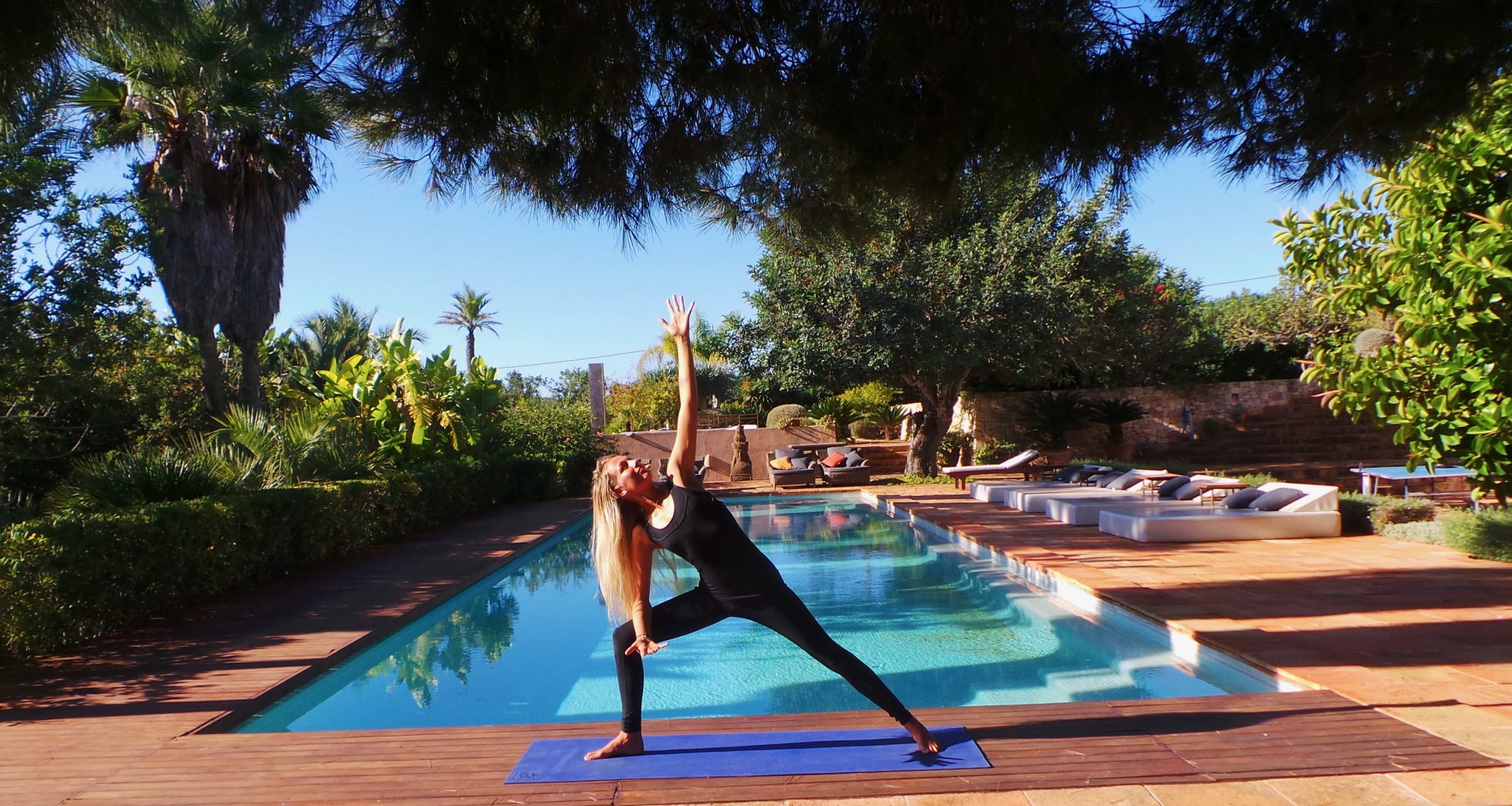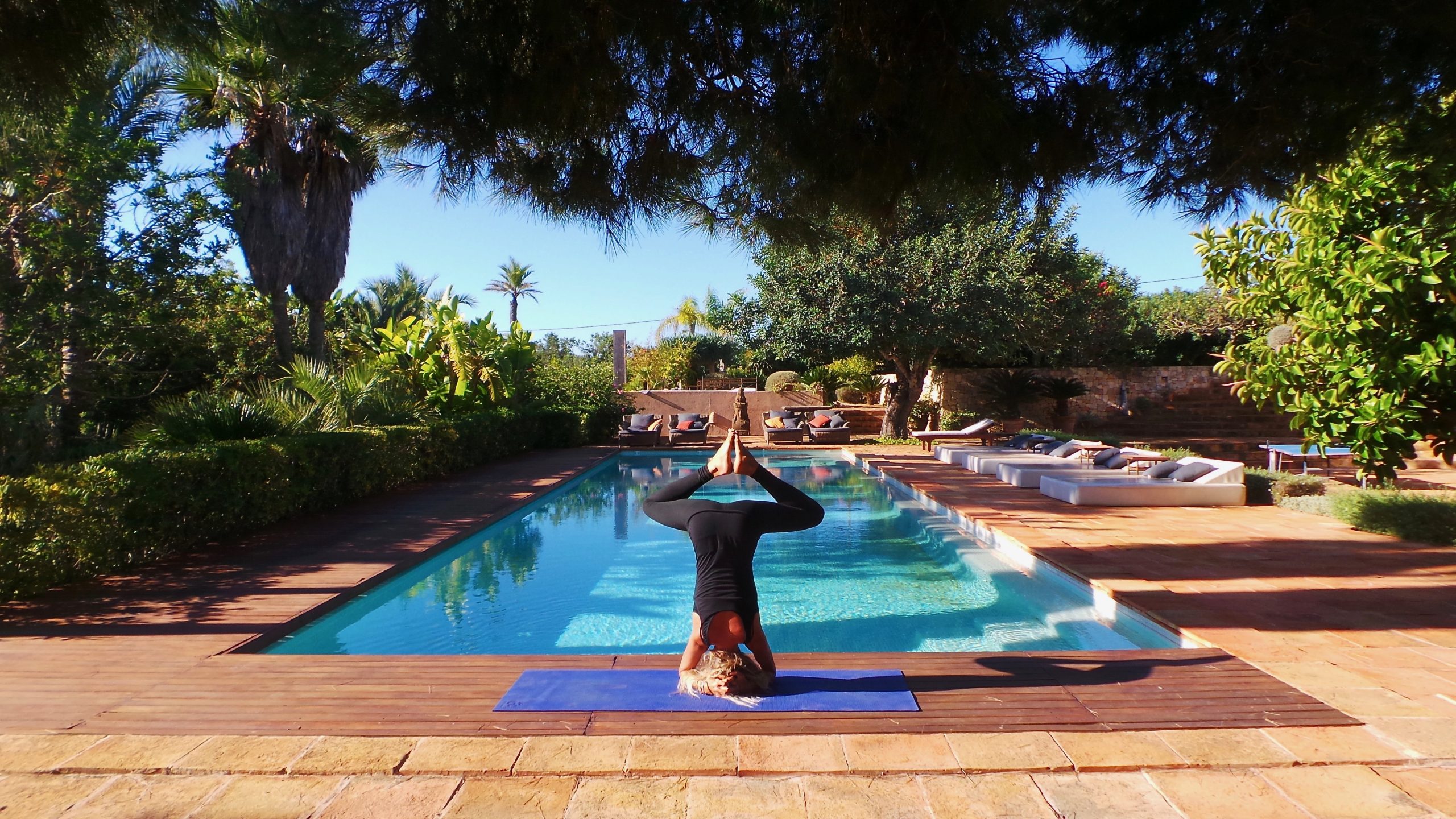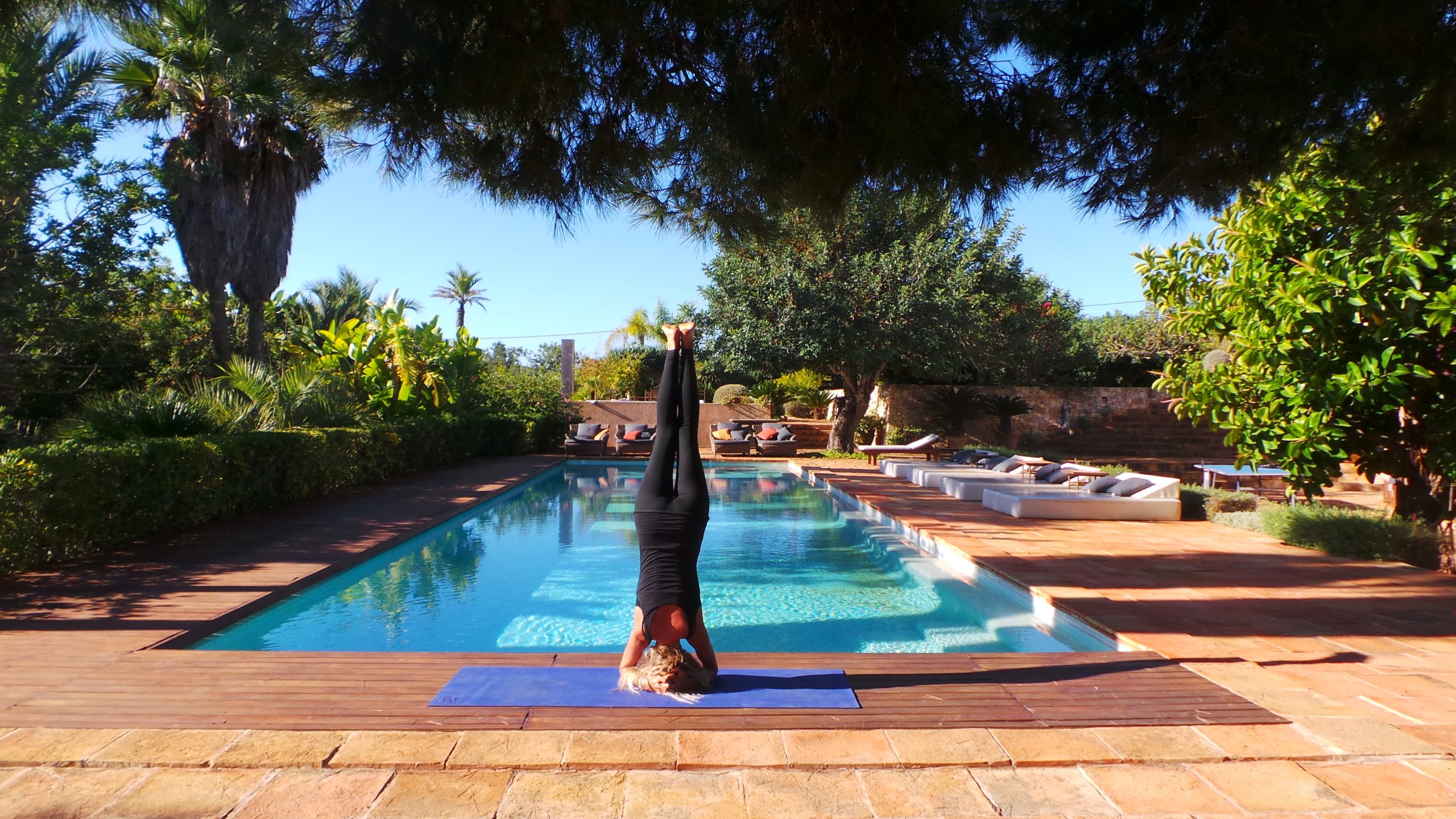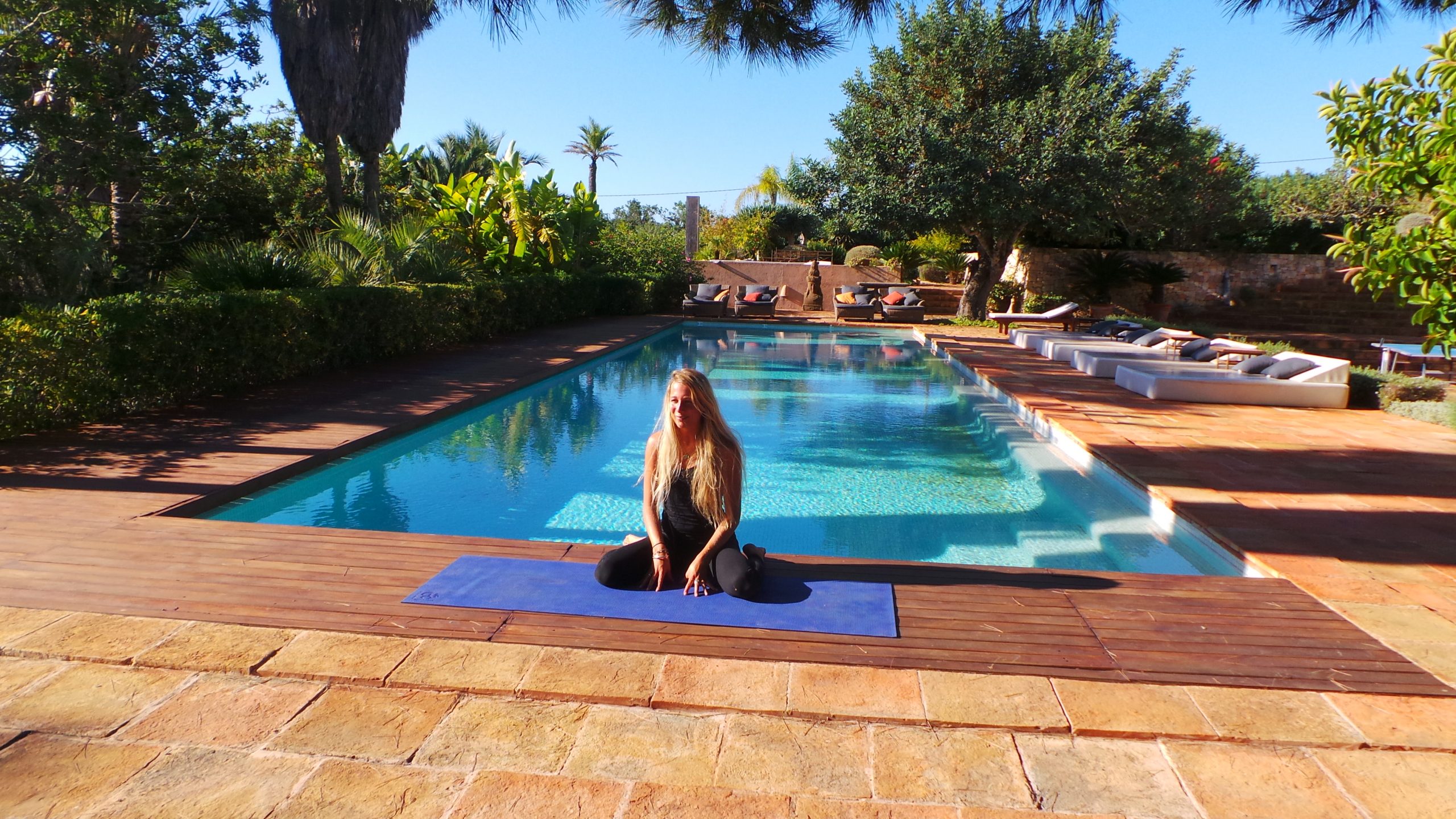 And here's some of the group work with Sophie managing to cater for such a range of abilities.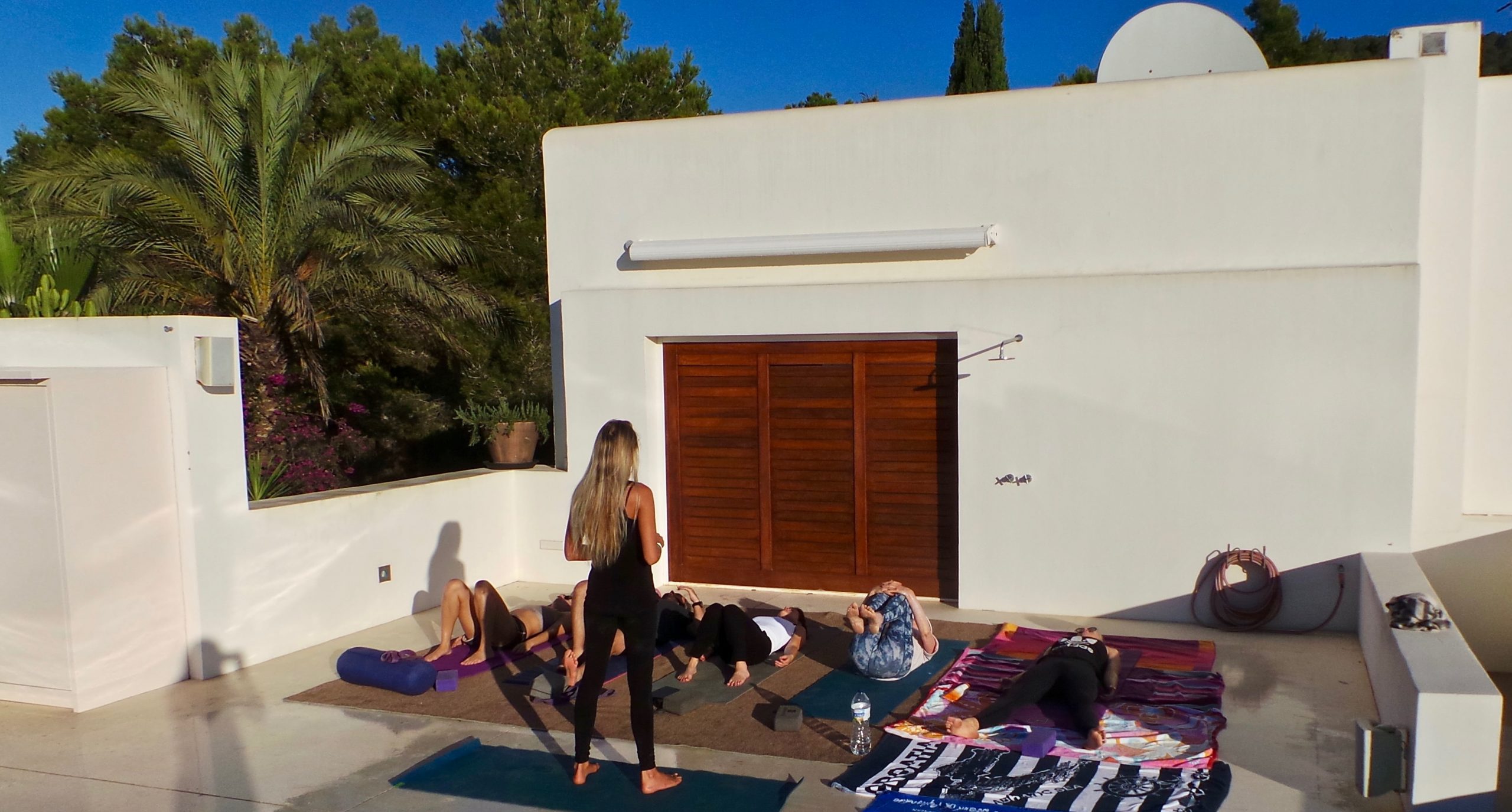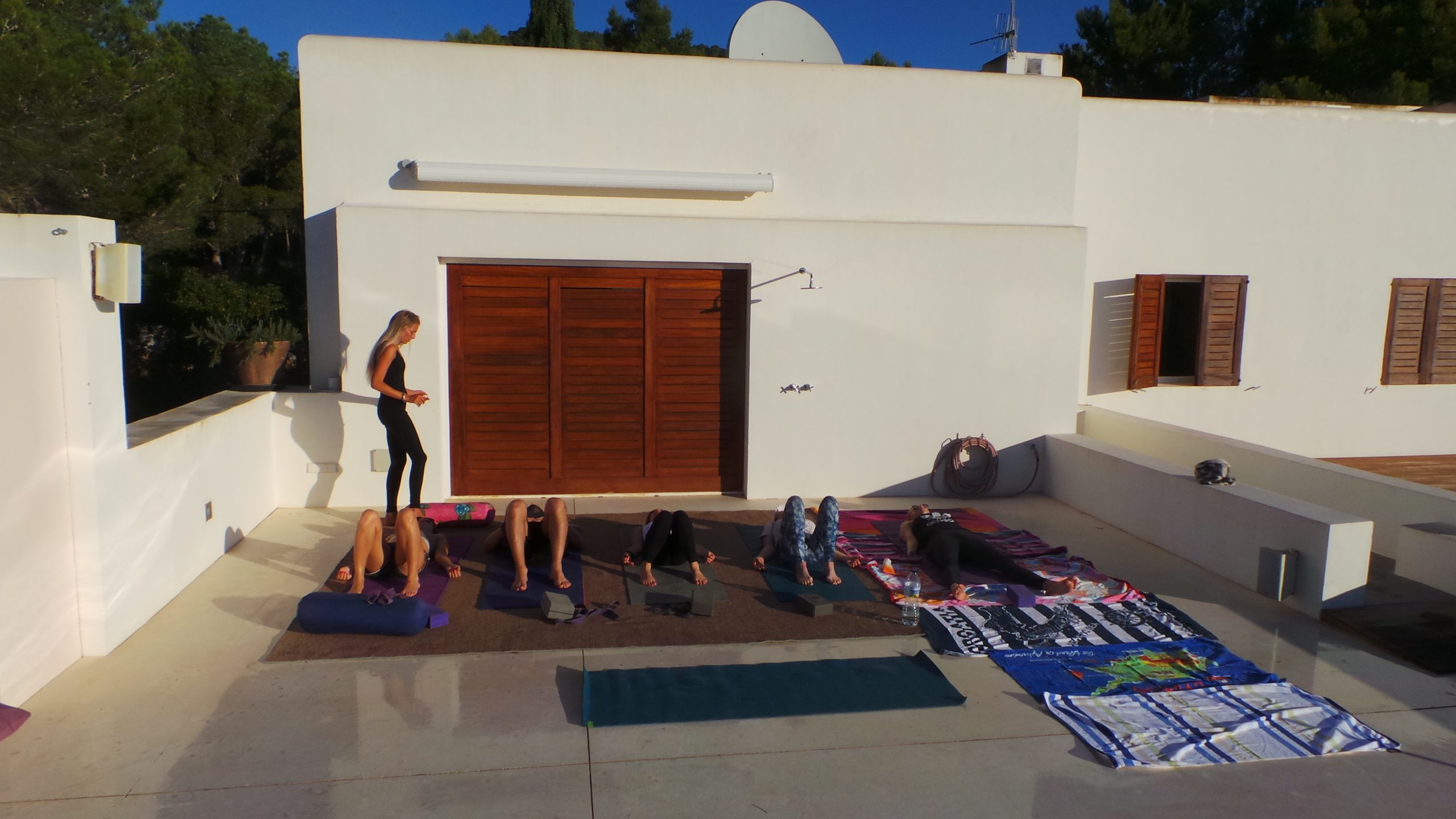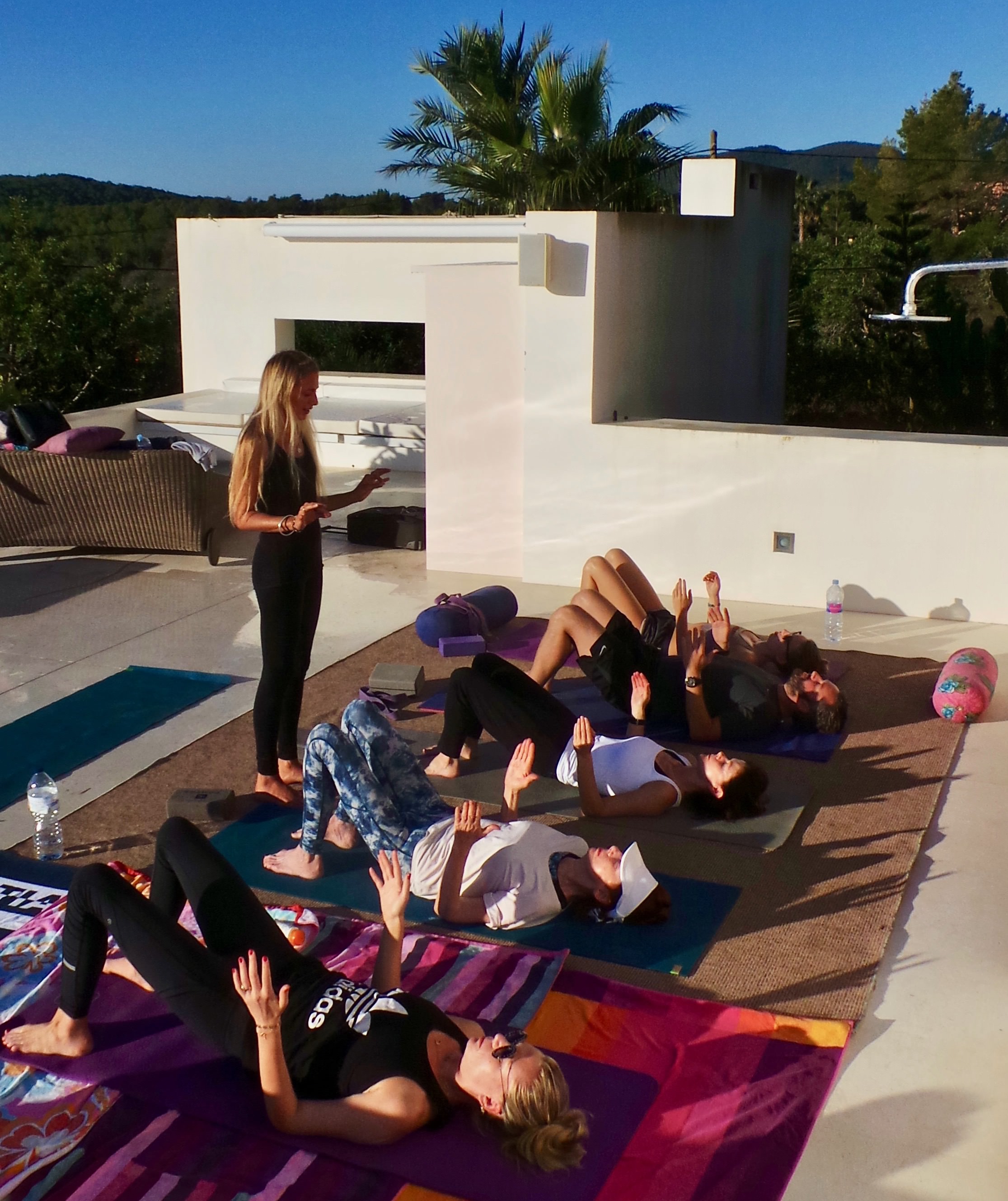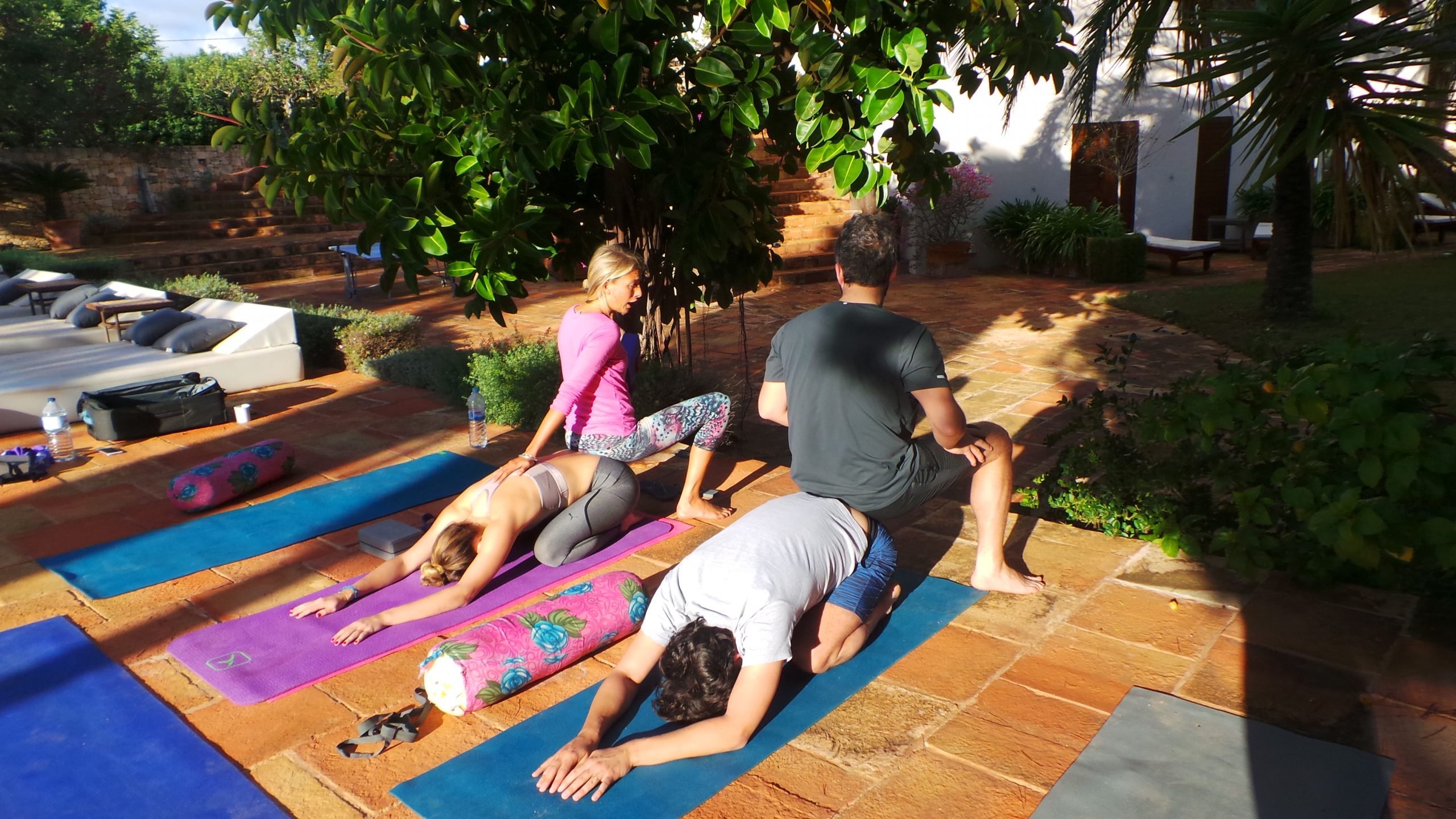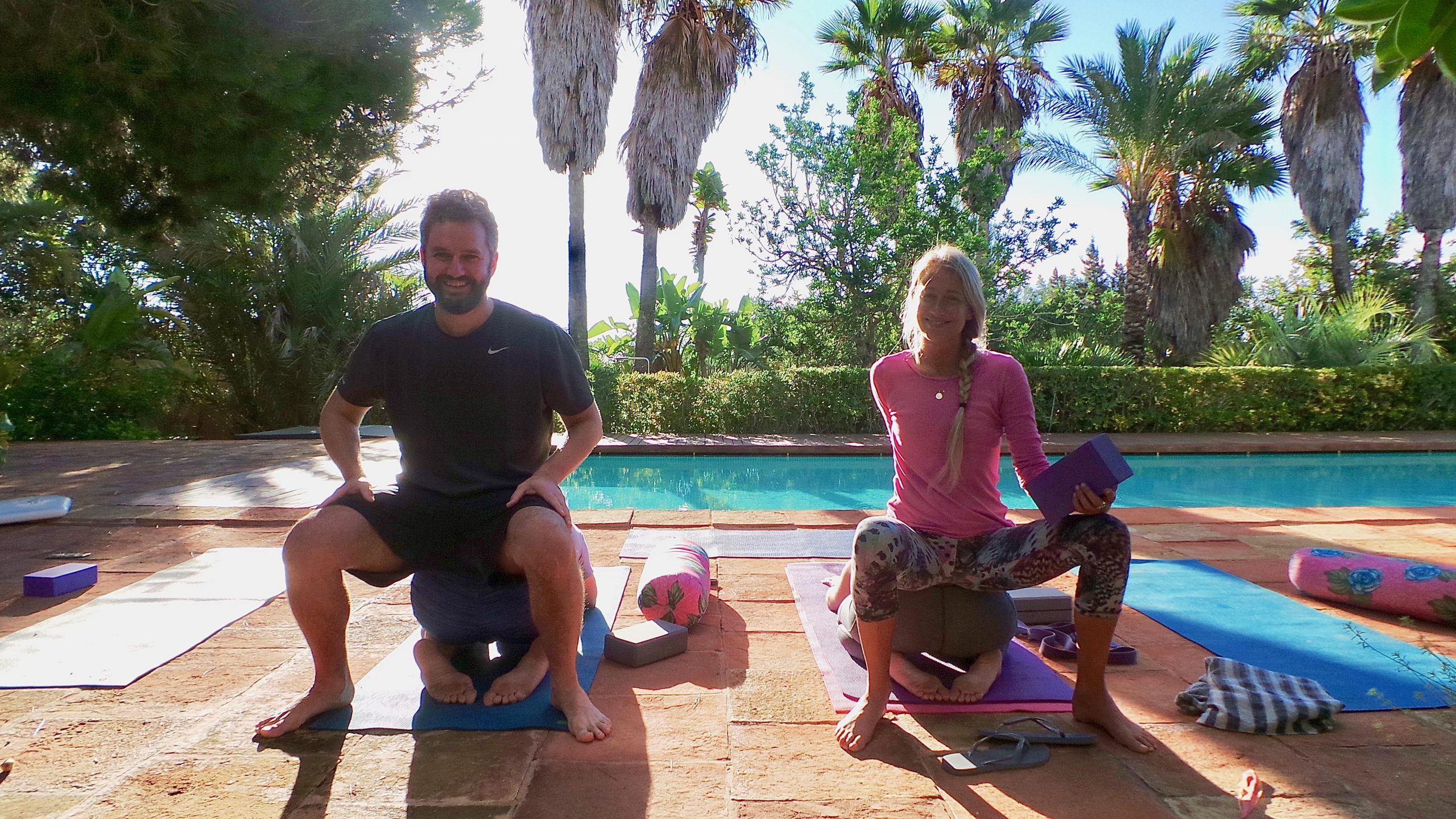 We had a lot of laughs too! We all felt the benefits – our bodies and minds felt lighter, we were more relaxed and energised and our flexibility and range of movement also improved. This made for an even more marvellous time away and it didn't end in Ibiza! Luckily, Sophie returns to London for a week each month and has come to my flat to give me one to one sessions which feels like such a treat! Serious VIP treatment! And for anyone wanting to beat the January blues, it just so happens that Sophie has an idyllic Caribbean retreat lined up. Click the link for more info and to book your spot!
Yoga together with any form of exercise, good nutrition, healthy lifestyle practises and being in nature can make a profound impact on your physical and mental health. It's so worth investing the time and the effort. Don't wait until you reach breaking point – make sure you never get there and enrich your life instead.