Poppy is a journalist, blogger, content creator, consultant, qualified PT and runner.
Poppy was born into a very active family. A lot of time was spent outdoors riding, surfing, hiking and skiing but mostly riding. Poppy's natural aptitude for riding and eventing positioned her to be selected for the Great British Junior team. Coached by GB trainers, eventing life took up the majority of her teenage years. Once A-levels kicked in however, something had to give and Poppy decided to see what life was like without the stresses and sacrifices of competing at high level.
When Poppy moved to London she realised she had to choose a career that allowed her to be active. She specialised in health and fitness journalism and has written for a number of leading publications including The Mail on Sunday, The Evening Standard, Tatler and Psychologies.
Poppy has completed the level 3 and level 2 Personal Training qualification from YMCA via Train Fitness. Her expertise in health and fitness lends itself to premium lifestyle and wellness brands and private members clubs where Poppy advises on strategy, marketing, events, PR, social media and products and services.
Poppy's work allows her access to the best personal trainers, fitness establishments, wellness brands,  member's clubs, fitness destinations, detox spa's and beauty practitioners across the globe. Concerned with facts and not fads, Poppy ensures any review or feedback is completely transparent and scientifically supported.
In September 2018 Poppy ran her first marathon in Berlin and is looking to participate in more races next year including a half iron man. She is always on the look out for challenges so any suggestions please leave in the comments! Poppy is mainly plant based with the exception of eating eggs and fish on occasion. Having watched the documentary "What The Health" she couldn't ignore the harmful impact the meat industry has on the environment, socioeconomics, sustainability, ethics and health. Not to mention the inhumane conditions many animals are kept and slaughtered in.
Poppy's aim? For every human to realise and achieve their full potential. To find their "why" and give their strengths to both themselves and those who need it.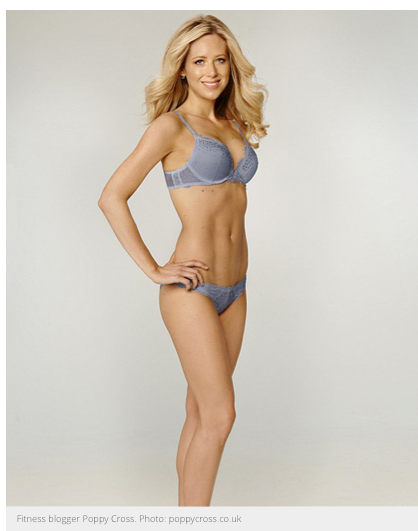 Poppy's Secret, the 12-week fitness ebook detailing the plan she followed for her Victoria's Secret article as seen in The Mail on Sunday is available on iTunes and Amazon Kindle.
Poppy is available for sponsored content, commissions, personal/corporate consultations and PT sessions. Please get in touch – [email protected]